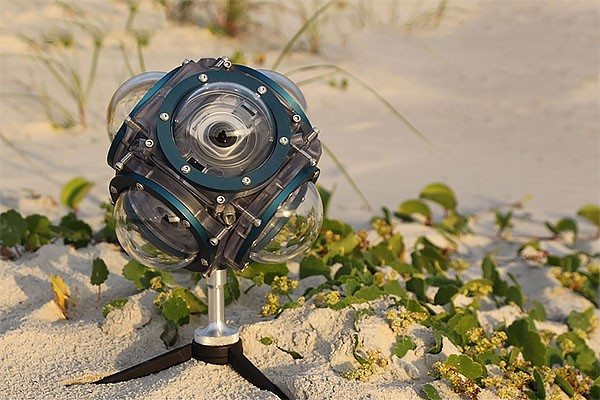 The people at 360Heroes offer a variety of products for mounting multiple GoPro cameras to generate 360 degree photos and videos. They also sell the software used to stitch the output from multiple GoPros into usable 360 degree formats without a lot of post production headaches.
The 360Abyss pictured above mounts 6 GoPro Hero cameras (Hero 3, Hero 3plus, or Hero 4 – not included, but available as a separate purchase on their site) inside a durable underwater housing. The kit comes with anodized doors for negative buoyancy, as well as poly-carbonate doors for a positive buoyancy configuration. Either configuration is rated to 1000 meter (3,280 feet) depth. Each camera is housed in a separate compartment within the 360Abyss to avoid damaging multiple cameras – in case the housing gets compromised by impact or other failure. More info about the 360Abyss and other 360Hero products available at www.360heros.com.
Some of our links in posts like this one are affiliate links, which means that we may receive a small commission on purchases at no cost to you.