We use affiliate links. If you buy something through the links on this page, we may earn a commission at no cost to you. Learn more.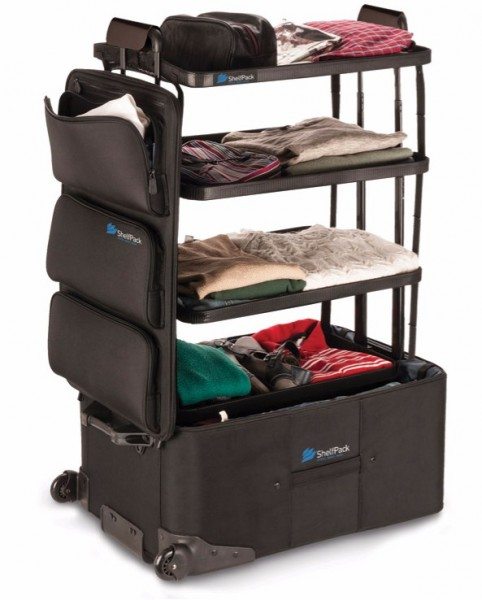 Whenever my family and I go on vacation we run into the same problem; there is never enough room in the hotel dresser to store all of our clothes. There are four of us and we usually end up "fighting" over who gets enough drawers. Inevitably, clothes end up scattered in drawers, in suitcases, and hanging in closets. The makers of Shelfpack have developed a suitcase that may be perfect for my family.
At first glance, the Shelfpack appears to be a standard suitcase. It has a retractable trolley handle and two wheels on the bottom; however, the Shelfpack conceals four collapsible shelves that enable it to act as a dresser. Once you arrive at your hotel, you open the Shelfpack, raise the shelves, and attach them to the built-in supports. You don't even have to remove your clothes, they fit on the shelves while collapsed and traveling.
The Shelfpack measure 28″ x 18.5″ x 14″ and is 42″ tall when the shelves are raised. Unfortunately, the Shelfpack's website is still under construction and doesn't have price information; however, if you are interested the website does list multiple ways to contact them. I tried contacting them, but it appears they are closed for the holiday.