We use affiliate links. If you buy something through the links on this page, we may earn a commission at no cost to you. Learn more.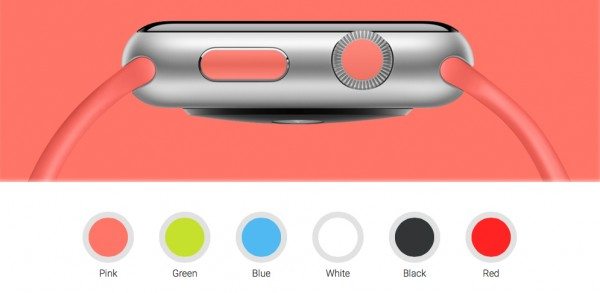 Have you noticed that, in addition to the white plastic charger instead of the metal charger, the Apple Watch Sport also is missing the colored dot on the top of the Digital Crown that's found on both the Watch and the Watch Edition models?  It doesn't change the function of the Digital Crown, but it does add some interest to it.  If you wish your Sport model could have a colorful Digital Crown, check out WatchDots.  The dots are made of high performance, premium-grade vinyl film with a life expectancy of 5-8 years.  The dots are weather-resistant, fade-resistant because of built-in UV protection, and the pressure sensitive adhesive will ensure a bond that gets stronger over time.  WatchDots are "proud to be American owned and operated"; manufacturing materials are sourced from American vendors.
WatchDots not only add color to the Digital Crown, they also cover the side button.  They are available in pink, green, blue, white, and black to match the Sport watchbands, and they are also offered in red.  The company plans to offer other colors and limited-edition versions in the future.  You'll get three sets of WatchDots per order for $9.99.  You can choose individual colors (listed above) or a multi-pack with a set each of red, white, and blue.  Order now at WatchDots.