We use affiliate links. If you buy something through the links on this page, we may earn a commission at no cost to you. Learn more.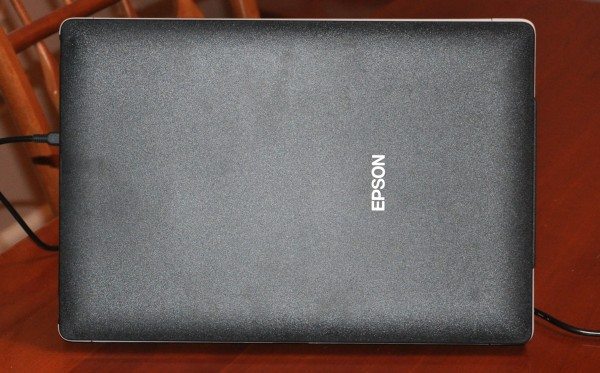 Capturing images has changed dramatically since 2007 when the iPhone brought in the expectation of having a really capable camera with you at all times. With the miniaturization of smaller image capture sensors, scanners, as well as phones, have gradually increased in processing power to the level that every office of any size will have a scanner that can turn that pile of paper into a digital document for active or archival storage. If you have a need that goes beyond your smartphone but doesn't require auto-feed, transparency backlighting, or quick response of a larger scanner, I may have found your sweet spot. It's called the Epson Perfection V19, and I was sent a unit for testing from Epson.
Note: Photos may be tapped or clicked for a larger image.
This may be the shortest review I've ever written – not because the product is bad or hard to operate, but because it does exactly what is expected with an absolute minimum of hassles. I've never owned a scanner, but I've used them and supported them for over 25 years as a Macintosh Professional. I've seen software that is buggy, doesn't install well, must be run using certain permissions, or any other number of horrible things. The Epson Perfection V19 has none of these hassles, at least as far as my testing went. Launching the software actually launched a copy of the Mac's built-in Image Capture software, which serves as a scanner interface for most applications that work with OS X. The only setup was to go to the Epson site and load the driver (which can be done from the alias on the CD that is packed in the box). The scanner immediately came to life and allowed me to preview, scan, and alter the resolution of the image captured as expected.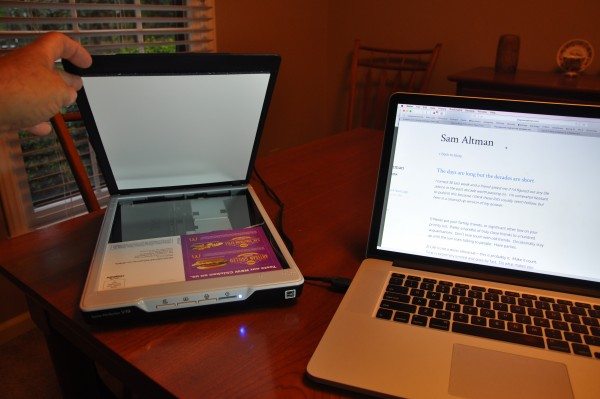 There are programmable buttons on the scanner that allow one to email a PDF or one-button copy a file, but for me, the scanner coming to life and previewing what's on the platen and allowing me to make choices is much better than having to choose things from a button. (My browsers also come up to an empty page, rather than some homepage. I'll choose where to go when I get there.)
The scans created were of good quality, and, as expected, better scans took longer. I'm using a MacBook Pro (Retina, 15-inch, Mid 2014) with a 2.2 GHz Intel Core i7 and 16 GB RAM, so scans are pretty quick. Even at 4200 dpi, a full letter page scan was only a matter of minutes. That's something that would have been an overnight process just a few short years ago. Also, color is gathered in a single pass, rather than three passes.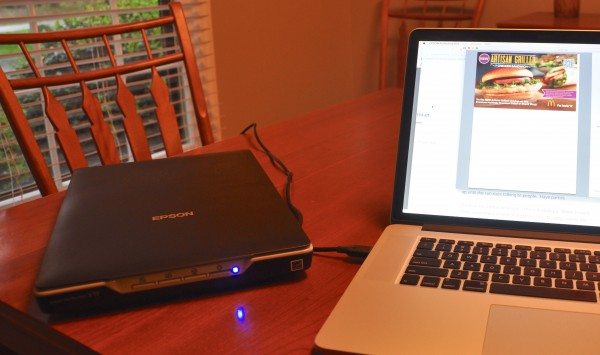 The unit itself is very thin and light, which not only belies it's power, but makes it difficult to keep it stable in some settings. Previous generations of scanners were massive motorized monsters, and required a fair amount of desk space. This little unit can go in a desk drawer until you need to gather a few scans, and then sit out long enough to import that data and then go back into the drawer. If you need things scanned constantly, it's not going to be a lot of effort to find a place for the Perfection. Just make sure that you don't actually pick up your laptop and walk off without disconnecting it, because it will follow you, because it's so light! With a size limit of a Legal page, the scanner doesn't need much more room on a desktop than half a ream of paper that size when lying flat.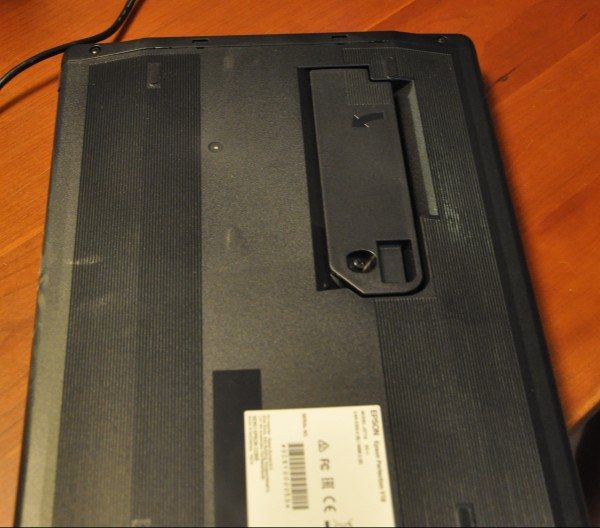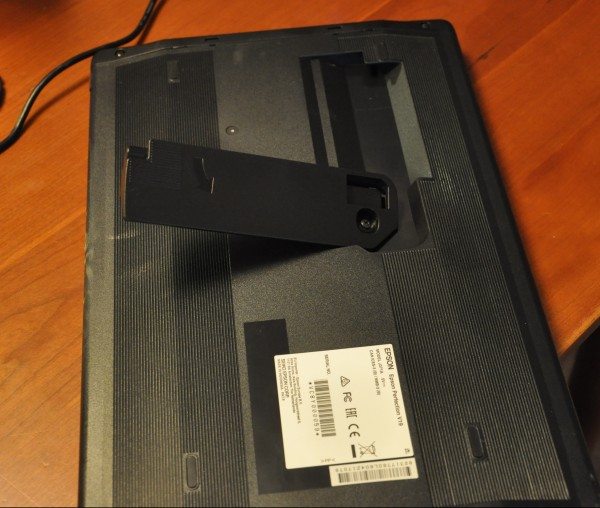 Fortunately, there is also a fold-out leg on the bottom of the unit (see photos above), which enables the user to have the scanner sitting up on it's side at a 26º angle. The lid will flap back at an angle, but it's so light, there's no real issue with holding it up while you arrange your page on the platen.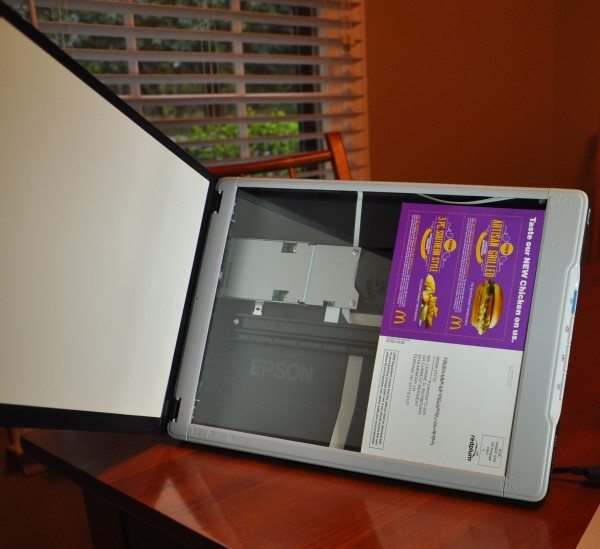 The lid, while easily opened and extended for thicker originals, can be easily removed, if need be.
I decided to compare the scan from the Perfection to my usual scanning tool – my iPhone 5s camera. Here's a picture from a photo taken of a postcard.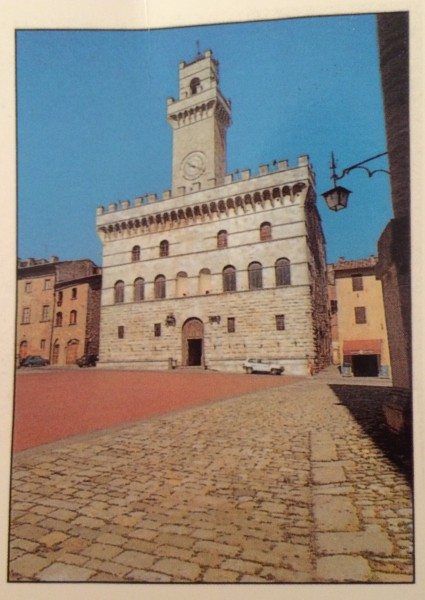 The same postcard, scanned with the Perfection: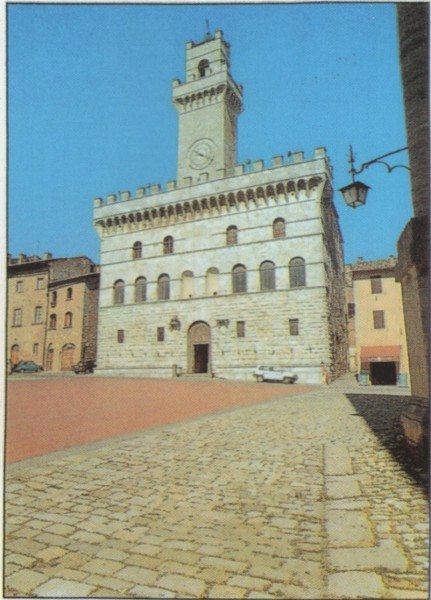 One of the benefits of using the scanner, rather than a camera in this manner is that Image Capture software will recognize individual photos on the platen, and scan them each into a file. With a camera, you have to focus in on each one individually. Here's the original postcard, so you can see what I mean: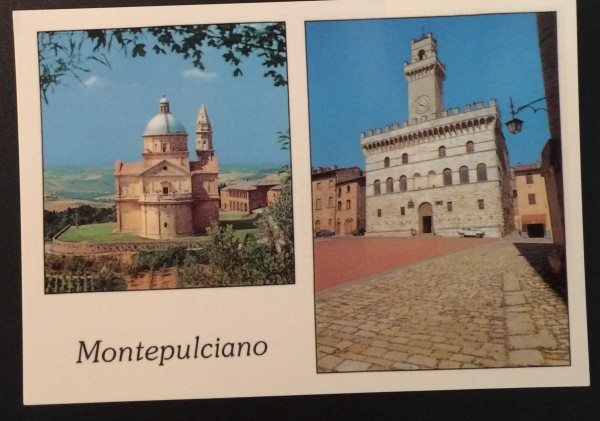 And, for those who have never seen the Mac Image Capture screen: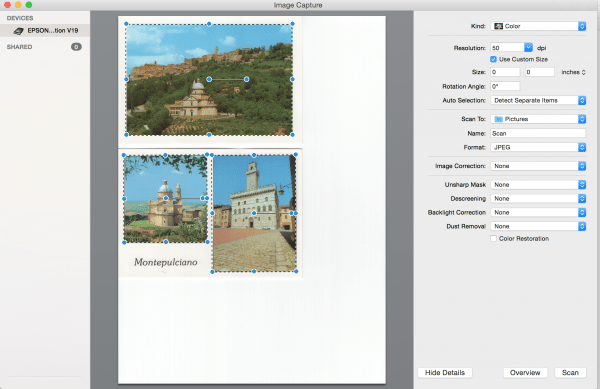 Notice the blue handles around each image, as well as the bar from the center toward the right edge, which allows you to rotate the area which will be scanned. That takes into account the poor alignment I made in the photograph of the whole card.
Scanning actual prints, of course, will give a much better scan, since they are not screen printed, but instead are continuous tone.
Even though I wasn't in the market for a scanner, I wanted to try this out, since it was so compact, yet handles a full page from a bound book. I like it quite a bit, and will make good use of it.
Updates 03/31/16
Even though our phones are capable of making passible scans, it's still sometimes nice to have this around. It lives in the office near the laser printer, and we all use it from time to time. Since it is so light and easy to move to where ever we're working, and works just fine with the standard Mac OS scanning software, everyone can use it without much effort. It's like a can opener or a microwave oven.
Source: The sample for this review was provided by Epson. Please visit http://www.epson.com for more info.
Product Information
Price:
$70
Manufacturer:
Epson
Retailer:
various
Requirements:

Mac or PC with USB for connection

Pros:

Light, compact (for a full page scanner!), and easy to move/setup.
Full legal page size bound items can be scanned.
Built-in stand for space-saving

Cons:

Requires a good bit of space in either orientation.
Almost too light!