We use affiliate links. If you buy something through the links on this page, we may earn a commission at no cost to you. Learn more.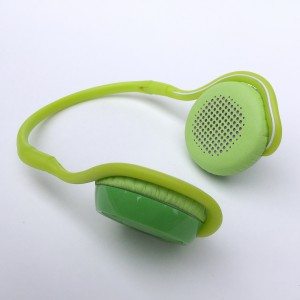 I use my earbuds daily: at the gym, working at my desk, mowing the lawn, and on and on. But sometimes I'd like to listen to my podcasts, tunes and other audio without having to deal with that annoying cable. I'd been wanting to try a pair of Bluetooth-based wireless headphones on the market today, so when I was given the opportunity to review the Arctic P324 BT Sport Bluetooth 4.0 Headphones, I readily agreed. In addition to wireless connectivity, it has on-board music/phone controls, a rechargeable battery and removable ear pads. Let's check it out. Gadget on!
Background
I have been using a pair of JVC Marshmallow earbuds for a long time; they are the only earbuds that I've found that will stay in my ears through virtually any activity.  Plus they are cheap to replace when I inevitably lose or damage them.  They are great for most of the occasions in which I would use them, but while sitting at my desk working on the computer, I often find the earbud's cables to be in the way, having to reach across them for phone calls and so forth.  For this reason, I'd been wanting to check out a pair of Bluetooth headphones but just hadn't gotten to it yet.  The Arctic P324 BT Sports Bluetooth 4.0 Headset looked like as good a place as any to start.
Technical Specs
Per the Arctic site, the P324 BT's specs are as follows:
Headphone Type – Supra-Aural On-ear, Neckband
Driver Size – 28mm
Frequency Response – 18 Hz – 22 kHz
Impedance – 32 Ω
Weight – 78 grams
Blutooth Version – V4.0
Range – 10 meters
Supported Profiles – A2DP, AVRCP, HSP, HFP
Rechargable Battery – 400mAh Lithium-ion Polymer Battery
Playback Time – 20 hours
Standby Time – Up to 400 hours
Compatibility: Smartphones – iPhone, Samsung, Sony, Blackberry and other phones with Bluetooth connection
Compatibility: Laptops and Computers – Laptops and computers with Bluetooth connection or Bluetooth adapter
Warranty: 2 year limited
Options
The P324 BT headphones are available in the follow colors:
Lime (reviewed here)
Black
White
Blue
Pink
Purple
Packaging & Contents
P324 BT headphones
Carrying case
Micro-USB to USB charging cable
Instruction manual

Features
First off, I have to say that Arctic may want to consider a catchier name for this product than "P324 BT."  Not only does it have no pizzazz (it sounds like the part number of an electrical sub-component), it is just plain difficult to remember because of this.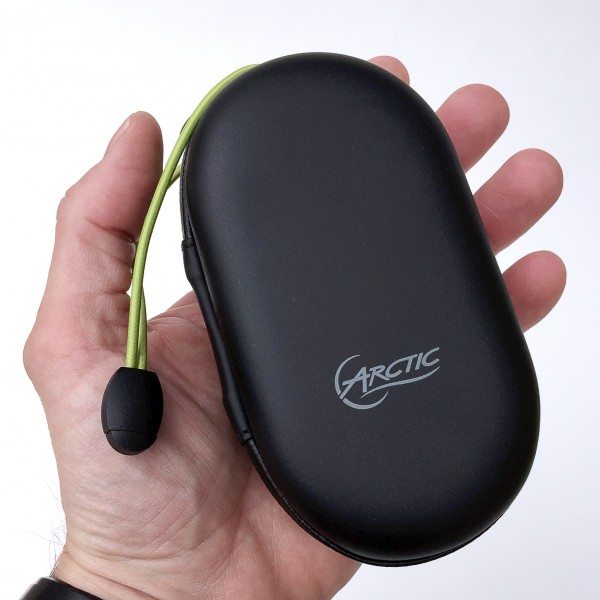 For starters, I do like the P324 BT's carrying case.  It appears to be made from a molded EVA foam and has a clamshell-style design with zipper closure.  The zipper is even a special self-closing type that helps to seal out things like sand or water.  It also has a shock-cord lanyard for attachment, which is handy.  The EVA foam provides a decent level of protection and is lightweight, but won't keep it from getting crushed if something really heavy lands on it.  Still, it's good protection and definitely better than just throwing them in the bottom of your ruck.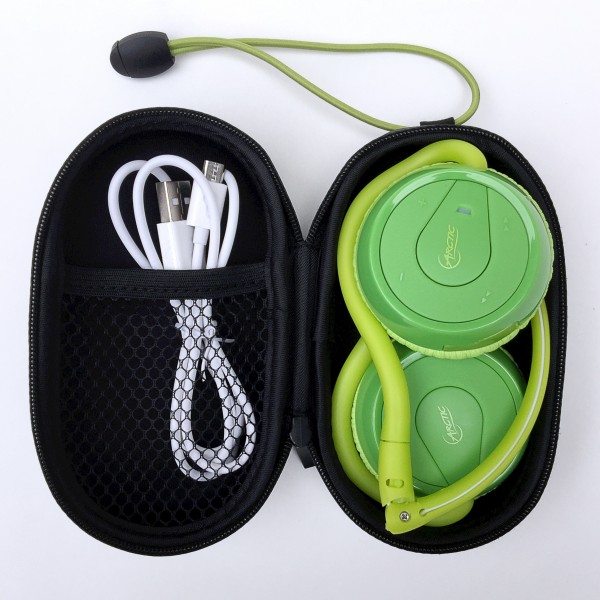 One side of the interior of the case has a small elastic mesh pocket in which the charging cable can be stored.  A nice touch.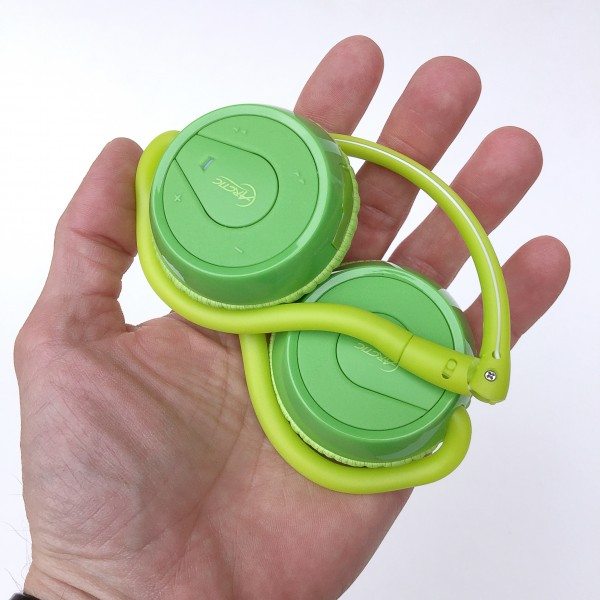 My first impressions of the P324 BT were that it looked and felt a bit cheap, a little like a toy.  But I wanted to give it the benefit of the doubt, so I decided to suspend this opinion, at least for the time being.  One of the features that I did like immediately is its folding design.  This allows it to compress down to quite a small, compact size.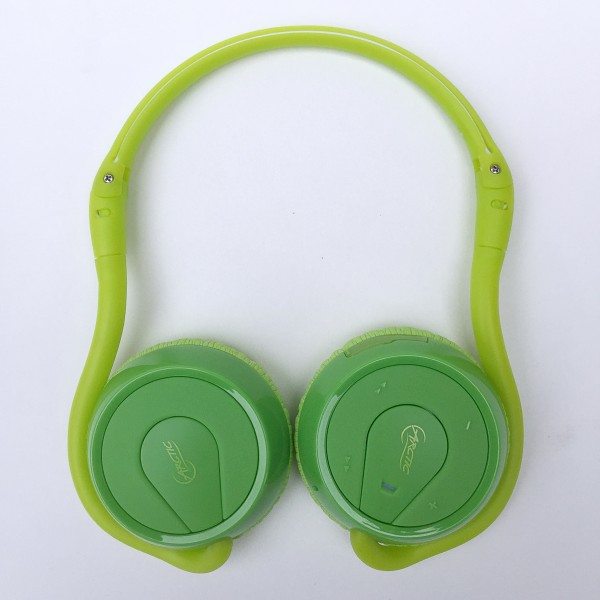 The right side of the P324 BT has a set of buttons which allow the user to control the music and phone features.  More on this below.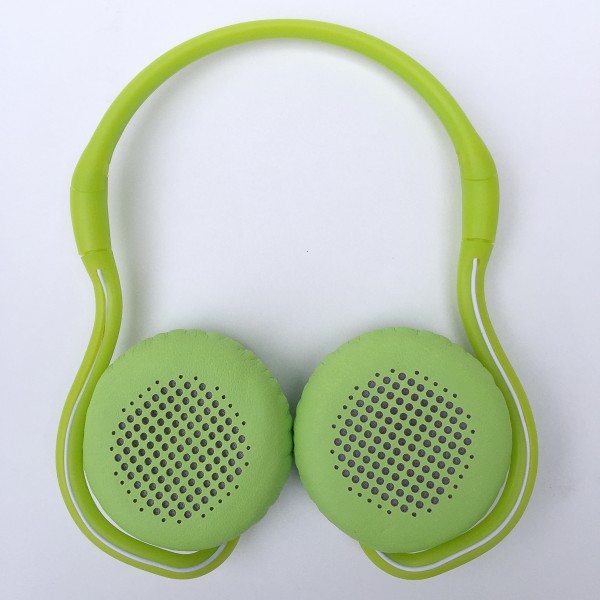 The P324 BT's ear pads are made from a synthetic material that make them easier to wash when they become full of sweat or other funk and gunk.  Additionally, they are a fixed size and not adjustable, which my daughter was a bit disappointed about.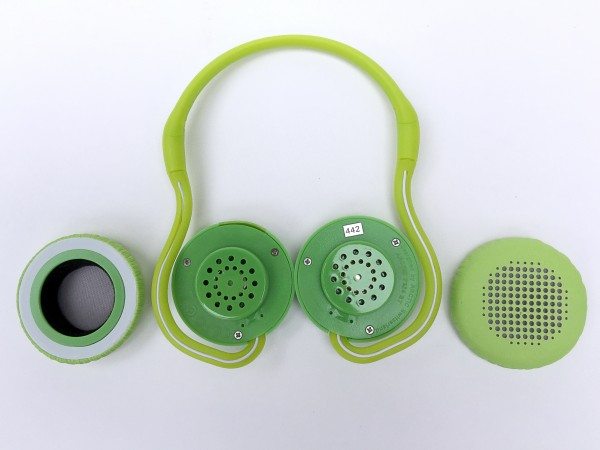 To further help facilitate cleaning, the ear pads are magnetically attached and so easily removable.  However, I once accidentally dropped the headphones onto a hard surface and one of the ear pads flew off.  The magnets are a good idea for convenience, but not necessarily very securely attached.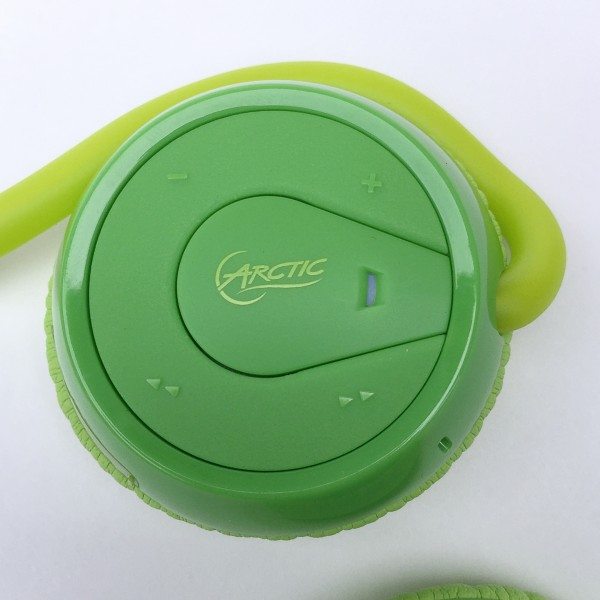 As mentioned above, the P324 BT also includes a set of controls on the right side.  The controls are relatively straightforward and easy to use, but without being able to see them, it took a while to become accustomed to the positioning of each button and to be able to use them "blind."  Included are the following:
Track forward
Track rewind
Volume up
Volume down
Pause / Play / Phone Answer / Phone Hang Up
Additionally, there is an LED that glows blue when the P324 BT is powered on, red when charging and lashes red when pairing.  Speaking of pairing, it was very easy to pair the P324 BT with my iPhon 6 Plus, my daughter's iPhone 6 and our family MacBook Pro.  However, despite my best attempts, I was never able to pair it with my work-issue Lenovo X230 laptop running Windows 7.  I've emailed Arctic but so far they have been unable to help.  This is a real disappointment considering that I had been planning to use the P324 BT while working at my desk.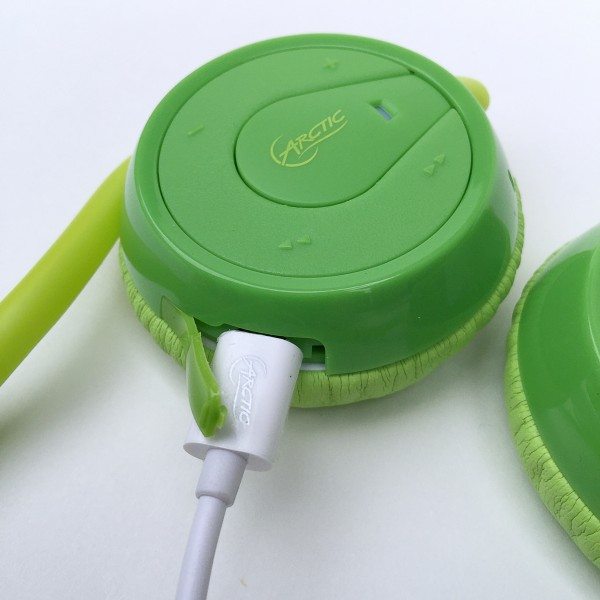 The P324 BT has a lithium ion battery that can be recharged via the included micro-USB to USB cable.  I was able to get some pretty decent battery life, on the order of several hours, but I never did push it to the claimed 20 hours.  Access to the micro-USB port is via a small silicone flap that provides at least some protection from the elements, sweat or other crud.  However, I am always concerned about this type of flap breaking off.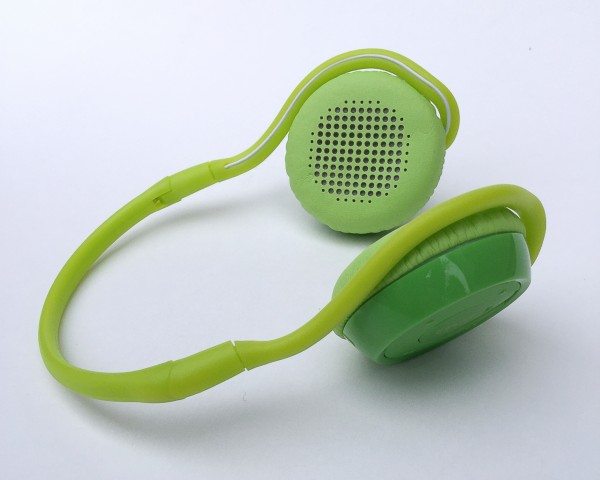 Performance
As mentioned above, I was able to pair the P324 BT with every device I tried except for the one that I really wanted, my work laptop.  Big disappointment.  It seems to be some type of driver issue or Windows 7 Bluetooth issue.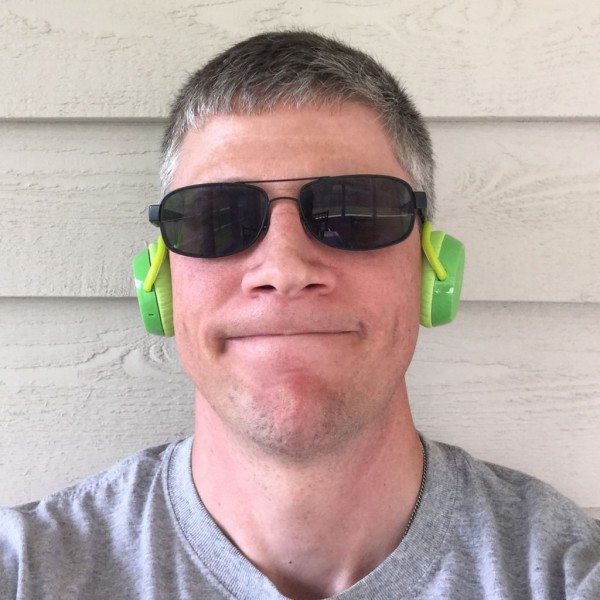 I wanted to try the P324 BT in some other situations, and the most strenuous that I could come up with was wearing them while working out.  One aspect to note is that I would consider the P324 BT headset to be more of an "on-ear" style rather than "in-ear" (earbuds) or "over-ear" (Beats by Dre, etc) headphone.  They don't provide full ambient noise blocking (which I like while at the gym), but do a decent job.  The sound quality is acceptable, but if you are looking for high-end audio reproduction, these are probably not the headphones you are looking for.
I walked into the gym and almost immediately started to get strange looks directed toward my head.  One of my friends joked that they looked like Skittles, another said, "Nice earmuffs!" and a third asked if I had borrowed them from one of my kids.  As mentioned at the outset, the combination of the size and color make them look a bit like a toy.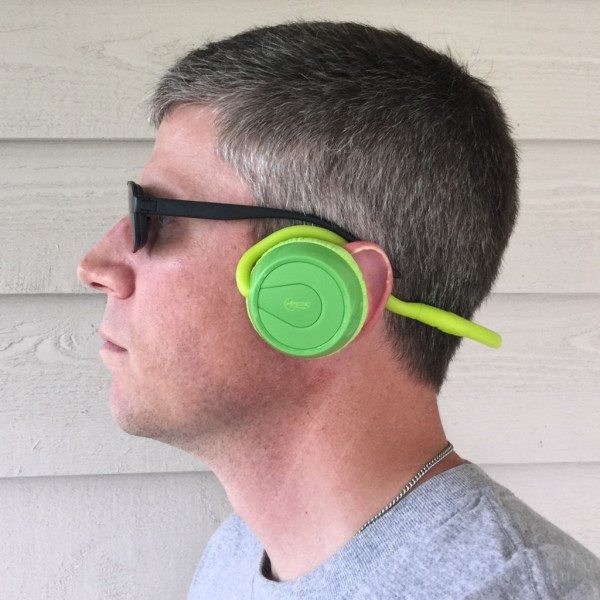 I wore them on a treadmill, from a warm-up jog pace all the way to a flat-out sprint.  I wore them doing 8-count bodybuilders (think of a burpee but with more moves), jumping jacks, push-ups and sit-ups and they stayed put through all of it, though they did bounce around a bit due to the inertia inherent in their mass.  The bars hook over the ear, and they feel a bit weird at first, but relatively secure.  I also set my iPhone on a counter top on one end of the gym and walked to the far end, which I would estimate to be a good 40 to 50 feet, and never lost Bluetooth reception once.
Conclusion
Although the P324 BT they feel a little cheap and look a bit like a kid's toy, they function fine and have some nice features.  The sound quality is decent and they stayed fairly secure on my head even during an active gym workout.   The audio controls work well but taking a bit of getting used to.  I like their folding design and the storage case is very handy.  I was able to pair them with all of my i-devices, but not my Windows-based laptop, which was a disappointment. Overall, the P324 BT is probably a decent set of headphones for the price, but I was not especially impressed.
Updates 04/11/16
No one in my household wanted to use the Arctic P325 BT headphones due to their bulkiness.
Source: The product sample for this review was provided by Arctic. For more information, visit their site at http://arctic.ac.
Product Information
Price:
$34.99
Manufacturer:
Arctic
Requirements:

Bluetooth-capable device or adapter

Pros:

Fold-down design reduces size for transport
Protective carrying case
On-board controls are handy

Cons:

Feels a bit on the cheap side
Look a bit like a child's toy
Could not pair with Windows 7-based laptop
Needs a catchier name