We use affiliate links. If you buy something through the links on this page, we may earn a commission at no cost to you. Learn more.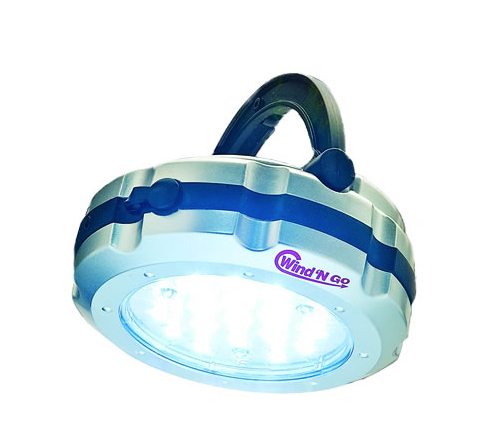 The Wind 'n Go Vers-A-Light is a rechargeable LED lantern that can serve as a hand-held flashlight, camping light, reading light, or an emergency light.  You can carry it or hang it by its loop handle, or you can attach it to metal items with its built-in magnets.  It has 16 white LEDs that operate on low or high brightness and three red LEDs that operate steady or blinking.  It's powered by a rechargeable 3.6-volt Ni-MH battery, but you can also power it with the hand crank in emergencies.  (Two to three minutes of cranking gives you about 15 minutes of light.)  It can even recharge your cellphone; three minutes of winding with the crank will give you enough power for a five minute call.
The Wind 'n Go LED Rechargeable Lantern with Magnet is $17.70 from Pegasus Lighting.  Order by 6/22/15 to receive a 5% discount on any online order; just use the special Father's Day coupon code WELOVEDAD.