We use affiliate links. If you buy something through the links on this page, we may earn a commission at no cost to you. Learn more.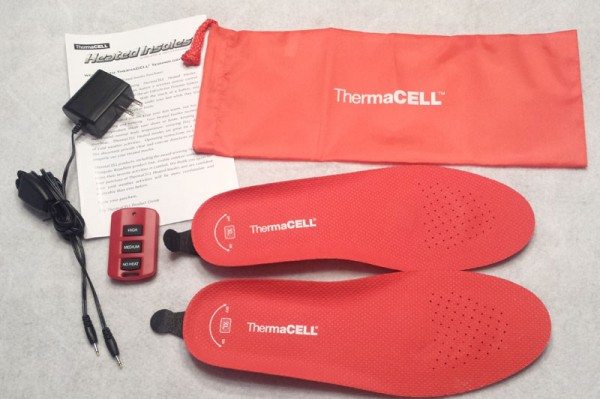 I spend a great deal of time on my feet walking around.  And a great deal of that time is spent outdoors, rain or shine, hot or cold.  About a year ago while I was walking around in the freezing cold and unable to feel my toes, I had a dream.  I dreamed that one day I would invent heaters for my shoes, so that my toes would never be cold again.  Then my eyes beheld the $134.99 ThermaCELL heated insoles, and my heart skipped a beat.  Could it possibly be true?  Could these be the heaters for my shoes that I longed for?  Would my dream come true?  Let's find out!
Let me first share the specs and product details.
Rechargeable lithium-ion polymer batteries in the insole
Adjustable to three temperature settings to warm cold feet by remote control: no heat, medium (100 degrees Fahrenheit), and high (111 degrees Fahrenheit)
Can be recharged at least 500 times using the included charger.
Charge lasts up to 5 hours of constant use (on medium heat setting)
Fits men's shoe sizes 3.5 to 13 and women's shoe sizes 4.5 to 14
Recharges in 4 hours or less
Wireless remote included
Water resistant
Included in the package are 2 Heated Insoles equipped with integrated rechargeable lithium-ion polymer batteries, 1 remote control with battery, 1 lanyard, 1 drawstring travel bag, 1 global charger, and one 1 instruction booklet.
When you first pick up the ThermaCELL insoles you immediately recognize how thick they really are.  Of course, to include all the electronics to make them work, the insoles have to be somewhat thick.  What I discovered when I used the ThermaCELL insoles with my shoes was that the thickness did make it a little difficult to use in some shoes.  I usually wear dress shoes on a daily basis, and I found that the ThermaCELL insoles were borderline too thick for me to use.  I had to really loosen the laces just to make the shoes comfortable to wear with the ThermaCELL insoles and even then it sometimes felt that I was busting out of my shoes.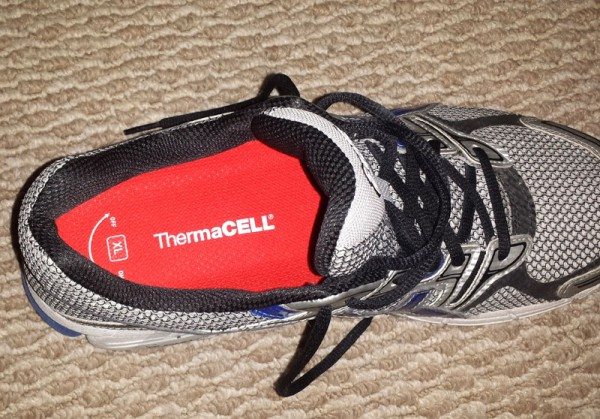 When I used the ThermaCELL insoles with my work books and my tennis shoes, I had no issues.  The shoes were still slightly tight because of the thickness of the insoles, but they worked great.  The insoles are also cushioned and quite comfortable and the best way to describe how they feel is that they are sturdy foam with a textured cloth top layer where your feet touch them.  They are slightly flexible to make it easy to insert them into shoes, but you won't be able to bend them in half because of the electronics inside them.  Just like any other normal padded insole you might buy, you can trim the edges off with a pair of scissors for a better fit, but it is clearly indicated on the bottom that if you cut beyond a certain line you will damage the insole and void the warranty.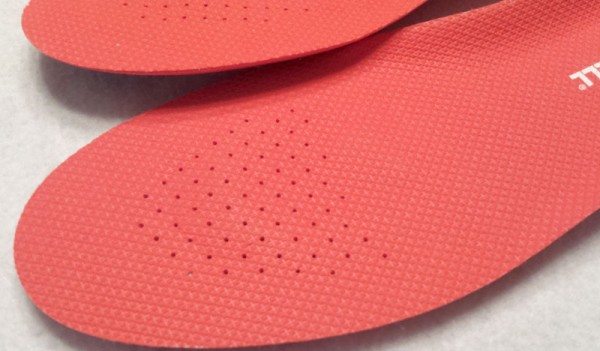 The insoles are designed to keep your feet just warm and not hot, and I would agree with that.  My feet never got soo hot that they sweated excessively.  I mean, feet sweat naturally I think when you wear shoes, but I never noticed my feet feeling 'sweaty' while using the insoles.  As you can see from the picture above the part of the insole under the balls of your feet are vented.  This is where the heat is generate, and in fact it is the only place the heat comes from.  The insoles never get warm under your heels or arches.
Attached to the heel of each insole is a thick black cloth tab that enables you to pull the insole out of the shoe when you are ready to remove them. Also located at the back of the heel is a rubber tab that when pulled back reveals the charging part and the on-off-switch.  On the surface of the insole where your heel goes you see the instructions about which direction to push the on-off switch to turn it off and on.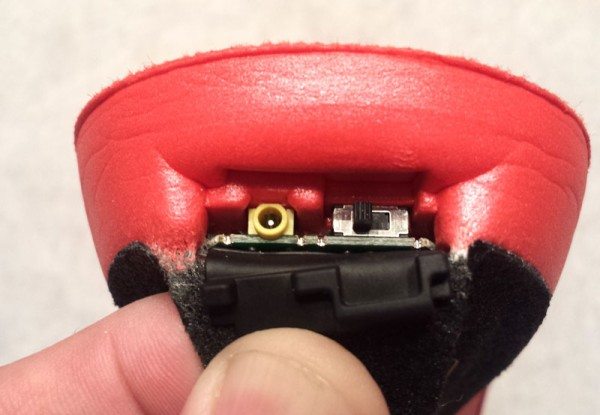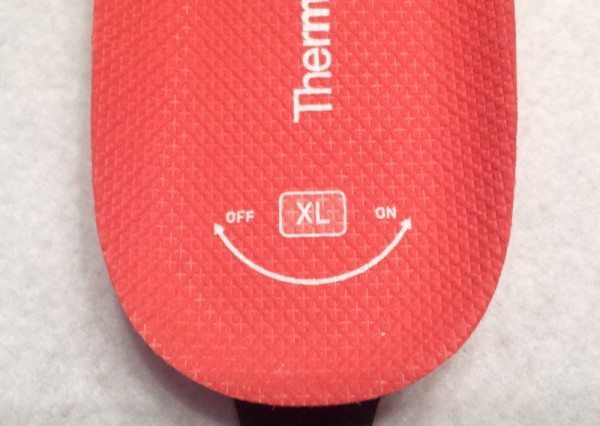 The manufacturer says that the insoles last 5 hours on a charge at the medium heat setting, but I found that I usually got slightly over 4 hours of use from the insoles at the medium setting.  To charge the insoles you simply plug the insoles up to the included charger using the custom Y cable that plugs into the heel of both insoles and charges them at the same time.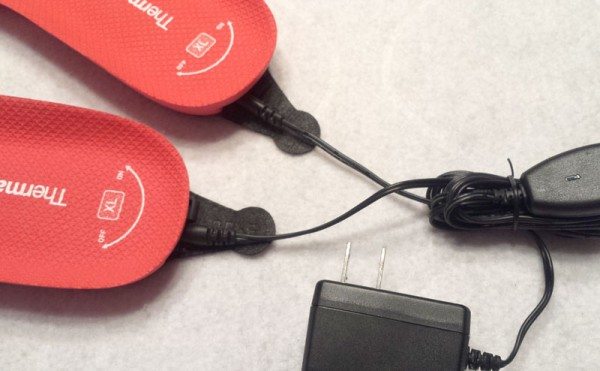 Perhaps the best part of the ThermaCELL insoles is the included wireless remote, and this is the feature that I think sets it apart from other heated insole products.  The included wireless remote is just slightly larger than the wireless remote on your car keys and it only has 3 buttons: 'no heat', 'medium', and 'high'.  So when you put the ThermaCELL insoles into your shoes you need to turn them to the 'on' switch on the heel before inserting them.  But they won't actually come on and start heating until you press the buttons on the remote.  And of course, if your feet get toasty enough you can turn them off.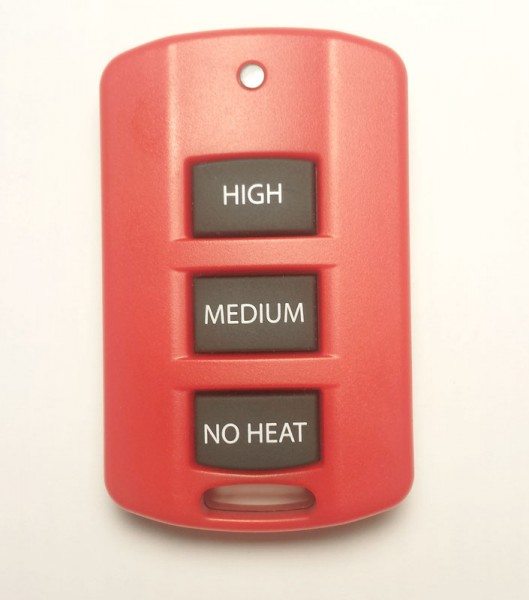 Bottom line
I have been pleased with the performance of the ThermaCELL insoles, and the included wireless remote makes using them pretty nice.  If I had to pull the insoles out and switch them off every time I wanted to turn them off, I probably wouldn't use them.  But the remote makes using them a breeze.  I didn't get quite the number of hours of use out of them as the manufacturer said I would.  And knowing electronic batteries, that will most likely go down, not up.  I had issues with the thickness inside my dress shoes, so I probably won't use them in those shoes, which is disappointing because that is where I wanted to use them.  But I will use them inside my tennis shoes so it's not a total loss.  I would caution users about a few things too.  Both the wireless remote and the Y charger are proprietary so you can't lose them.  If you damage them or lose them, the ThermaCELL insoles will be useless until you buy replacements.  Overall I do recommend the ThermaCELL insoles, especially for those who work outside, as long as you don't need more than 4 hours of heat.  They work as designed and kept my feet toasty.  Are they worth $134.99?  Depends on how valuable warm feet are to you!
Source: The sample for this review was provided by ThermaCELL. Please visit their site for more info.
Product Information
Price:
$134.99
Manufacturer:
ThermaCELL
Requirements:
Pros:

Kept feet toasty, not hot
Wireless remote works great
Comfortable

Cons:

Expensive
Battery doesn't last long
Too thick for some shoes