We use affiliate links. If you buy something through the links on this page, we may earn a commission at no cost to you. Learn more.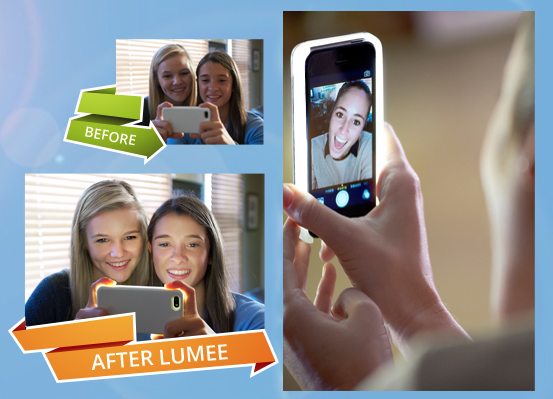 It's a shame you have to use the front-facing camera on your phone for selfies, because that camera doesn't have a flash.  When you aren't in well-lighted places, your selfies will be lacking in detail because of the poor lighting.  The LuMee Light Up Cell Phone Case with built-in lights that shine on your face when you hold the phone up will improve the lighting on your face for taking selfies.  The LuMee case was invented by Allan Shoemake, who noticed how terrible the lighting always was and how poorly faces were illuminated when he Skyped with family members.  He was inspired to create the LuMee case to "light and beautify Skypers, FaceTimers, women and girls putting on make-up, and everyone taking selfies!"
The cases have an internal battery that charges in 30-45 minutes and provides up to 2 hours of lighting at full power or up to 36 hours at the lowest brightness.  The cases are available to fit iPhone 5/5s ($39.95), iPhone 6 or iPhone 6 Plus ($44.95), and the Samsung S5 ($39.95).  Each case is available in black, white, Nantucket red, periwinkle, or orchid.  Go to the LuMee website for more information.