We use affiliate links. If you buy something through the links on this page, we may earn a commission at no cost to you. Learn more.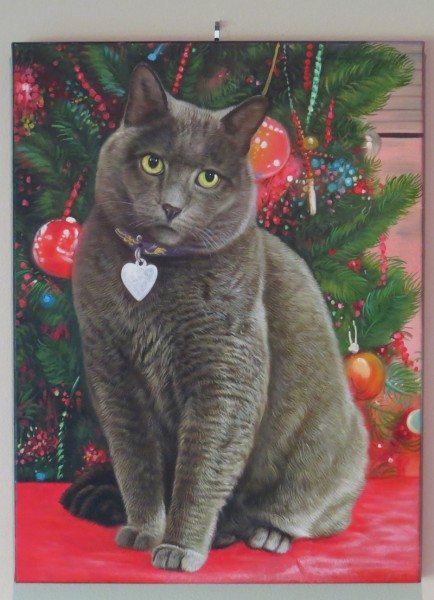 Have you ever taken a picture and thought how wonderful it would be if you could recreate that picture as a piece of artwork? Unless you have an artist handy or are gifted with art skills yourself, the picture just stays a photograph. I've been happy to see services cropping up that will paint the pictures for you, such as Pixelist, and was able to give them a try.
With Pixelist, you can turn your photo into a handmade, custom oil painting. There are eight standard sizes you can choose from on the website, ranging from 12″x 12″ to 30″x 40″. They also will paint a custom size for you if you contact them.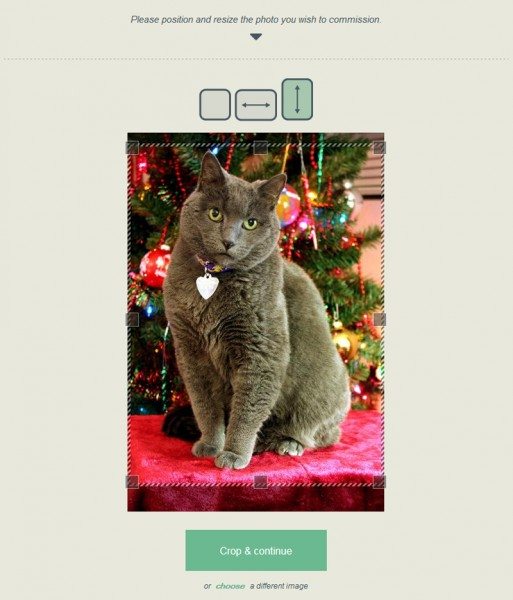 For my painting, I chose an 18″x 24″ portrait. Ordering was quite simple. First, you choose if you want a square, landscape, or portrait painted and then crop the area of the photo you want painted. Next, you'll choose how many subjects (animals or human) that are to be painted. When you do so, the prices will show for each size.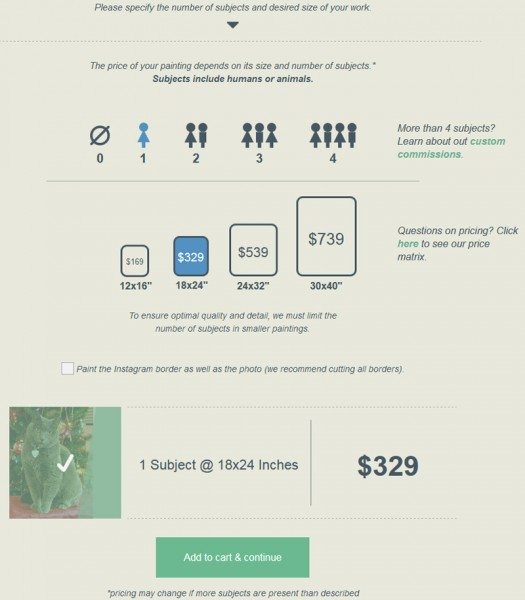 As you can see, I chose my cat to be painted. Not only is it a great picture of her, but I figured a solid grey cat would be a nice challenge. I had one subject, chose the 18×24, and added it to my cart. It really was a simple ordering process.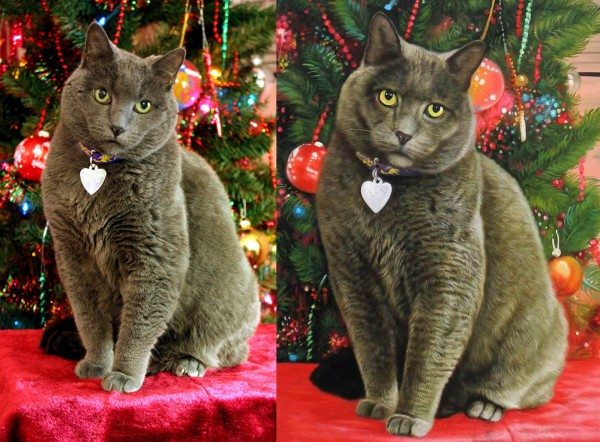 It takes between 4-6 weeks for them to finish your painting. A couple weeks after I ordered, I got a picture of the first draft, where they asked if any changes were needed. On this draft, I had them focus on the 'cheeks' that seemed too chubby and the tail that was a black blob.
Just as a disclaimer on the draft pictures; they only look darker or lighter due to the photo lighting.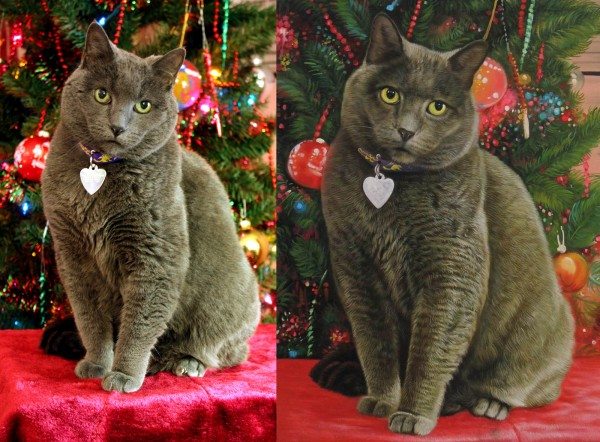 I am nitpicky, so when they sent the second draft, I wanted my cat to stop looking so sad and to have the nose fixed up a little.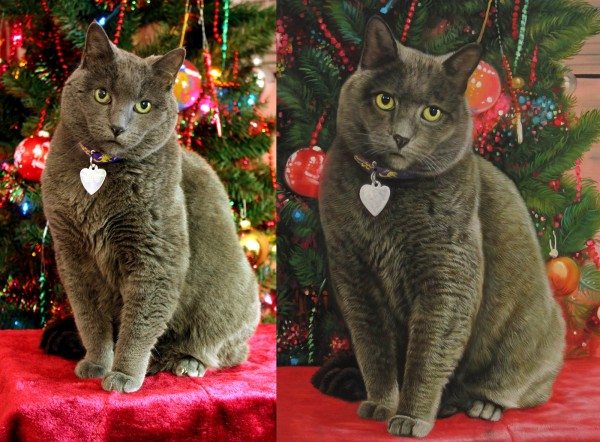 On the third draft, it looked pretty good to me except for the minor change in her mouth. I sent that back to be revised and waited excitedly for the final product to come in the mail.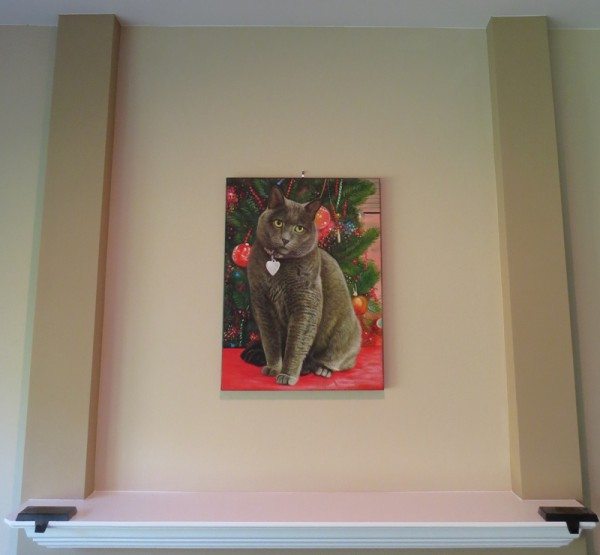 When the painting arrived, the first thing I noticed was the smell. Now, normally that's a bad thing, but it had that light smell of a real oil painting. It was nicely packaged in bubble wrap and cardboard, then wrapped in plastic. Looking at it in real life, it looked so much better than a picture could describe.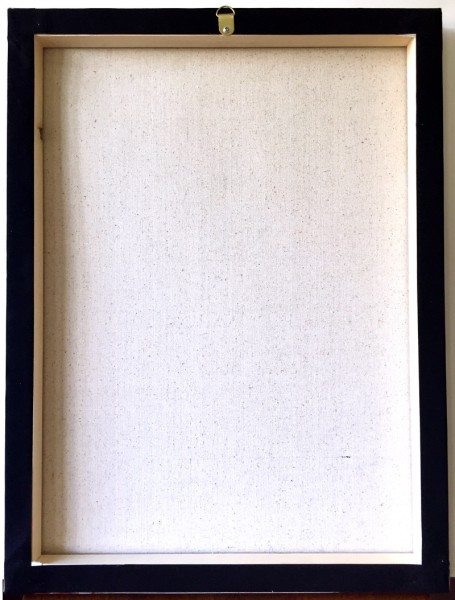 The canvas is framed by fir wood all around and the sides are also painted, while the canvas itself seems pretty thick and durable.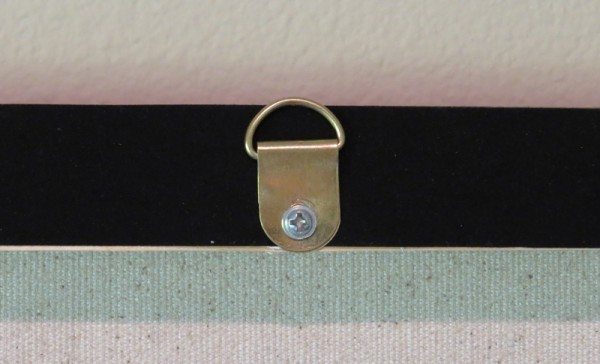 I will say this now, that there is only one thing that I didn't like about this painting, and that was where they placed the mounting bracket. Since it is located at the top, you will see the nail (or whatever you use to attach it to the wall) when it is hanging. I would suggest they find a different way to mount it. It is not a deal breaker, however.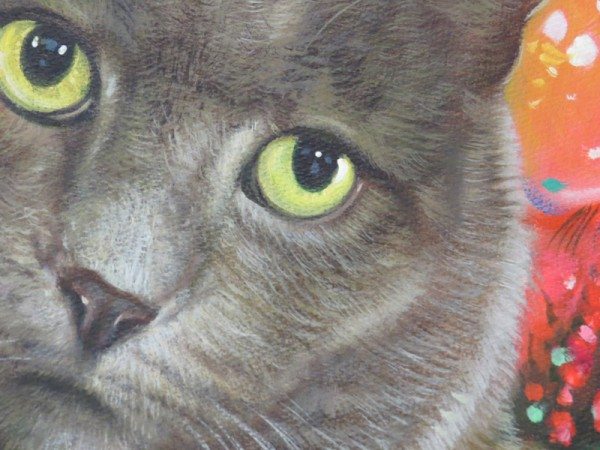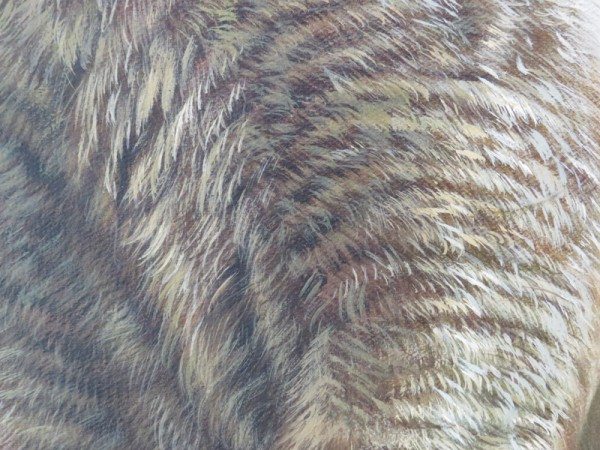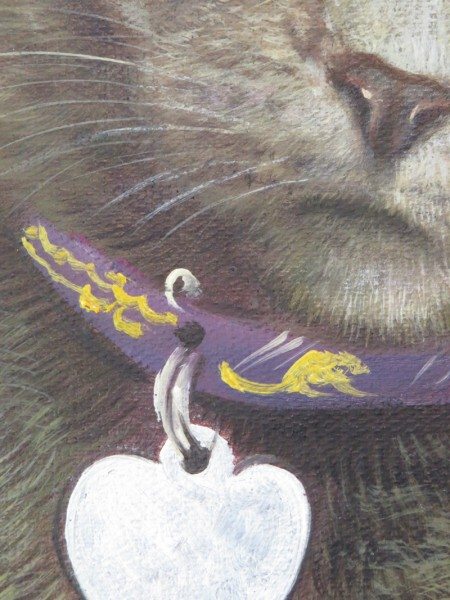 The detail of the painting is amazing. The fur and the eyes look so realistic. Some of the colors are not as vivid as the picture I sent, but I prefer it this way as the colors just fit the way they are. I asked both my husband and a friend their opinions. My husband loved it and my friend asked if it was done by computer. It was so realistic to him that he thought it was not done by hand.
The quality of the painting is hands down, great. You pay a premium to have your pictures hand painted, but in this case, I believe the price is worth the result you get. $329 for a custom 18×24 oil painting is not too high when you look at the prices of paintings in an art show. I loved how they would tweak the picture until I was satisfied. If you wanted a high quality painting of a picture you've taken, I would recommend Pixelist.
Source: The sample for this review was provided by Pixelist. Please visit their site for more info.
Product Information
Price:
$149 and up ($329 for 1 subject 18x24)
Manufacturer:
Pixelist
Pros:

- Excellent communication to perfect the artwork before it arrives
- Very high detail and quality
- Easy to order

Cons:

- Mounting bracket is too high, allowing the nail in the wall to be seen