We use affiliate links. If you buy something through the links on this page, we may earn a commission at no cost to you. Learn more.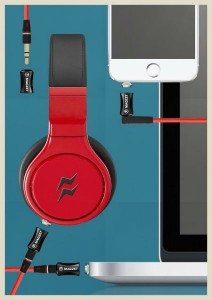 Our smartphones and tablets continue to evolve with more memory, faster processors, larger displays, and better cameras, but have you ever considered the design of the audio jack? The 3.5mm jack that you plug your earbuds and headphones into hasn't changed in decades. The old saying "if it ain't broke don't fix it" is true, but what if you could improve it? The MAGZET promises to do just that. The MAGZET is a Kickstarter campaign for an adapter that adds magnetic quick connect ability like MacBook fans have enjoyed to phones, tablets and other devices. The adapter is made up of two parts called the MAGkap and MAGjack. The jack fits into the 3.5mm jack on your device and the kap fits on the plug of your earphones or headphones. Once both parts are in place, you can then snap the two halves together to enjoy audio like you always have – but now you have quick connect and disconnect capability. This capability is convenient and also adds a safety breakaway feature that helps prevent damage to your device in the event of accidental cord yankage (I just made up that term – you're welcome). You're probably wondering if the MAGjack can be used along with a protective case. According to their FAQ for the MAGZET, it should work well with most cases that don't use the audio jack – like battery extender cases. I'm a little skeptical about using a case with it, but time will tell.
The MAGZET Kickstarter crowdfunding campaign is currently seeking $294,000 in funding. A minimum pledge of $35 will pre-order 1 MAGkap and 2 MAGjacks. Shipping is estimated for December 2015.