We use affiliate links. If you buy something through the links on this page, we may earn a commission at no cost to you. Learn more.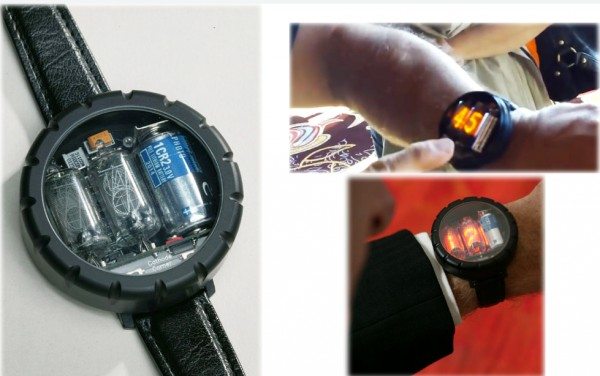 Steve Wozniak doesn't wear an Apple Watch or any other kind of smart watch.  The Woz wears a Nixie Watch.  We've shown you clocks made with Nixie tubes before, but who would have thought that the tubes came small enough to use in a watch?  The watch only has room for two tubes, so it shows the hours, then the minutes, then the seconds.  When you set up the watch, you'll teach it the angle you hold your arm when you view the time, and the tubes will light up automatically to display the time when you lift your arm to that angle.
The case is made of black anodized 1.6mm-thick 6061-T6 aluminum, and it has a mineral crystal and is sealed with an O-ring to keep out water, dust, and dirt.  It's 2.2″ in diameter and 0.79″ thick and uses a 20mm band.  It's powered by a CR2 disposable battery that should last about 4-6 months with 50 time viewings per day.  The source code is available on the firmware page, so you can even reprogram the watch yourself.
The Nixie Watch is available from Cathode Corner for $495 plus $15 shipping in the US or $85 to the rest of the world.  Spare Nixie tubes are available for $15 each.  The watch will ship later this month (February 2015).  You can even find a video at Cathode Corner showing Steve demonstrating his personal Nixie Watch.