We use affiliate links. If you buy something through the links on this page, we may earn a commission at no cost to you. Learn more.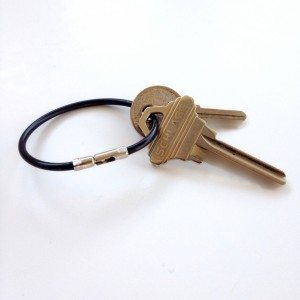 Key rings have been around for quite a while and a whole lot of us carry them in our pocket or purse every day, so there can't be a whole lot new with them, right? Not so fast, gadget fan! Have a look at Flex-O-Loc. It's a short length of plastic-coated cable that can hold your keys, small tools and other tidbits. Yes, there are other cable-type keyrings on the market, but what makes Flex-O-Loc unique is its quick, easy, secure locking mechanism—basically, you flex it, and it locks. It's all in the name! Let's check it out. Gadget on!

Click any image to enlarge.
Background
I'd been on the hunt for a cable-type key ring for some time.  I found one at a big-box hardware store on a rack near the key section.  It had a closure that threaded closed.  It did the job OK, but I wasn't a big fan of the threaded closure, which had a tendency to unscrew itself over time while carrying it in my pocket or ruck.  Not good!  A while later, while doing some online searching for alternatives, I stumbled on Flex-O-Loc, which appeared to have a unique locking mechanism.  I kept my eye out at the hardware stores in my area and finally found one in black, so I picked one up for less than $5.  Note that Flex-O-Loc is manufactured by Lucky Line, but they do not appear to offer Flex-O-Loc for retail sale online.  However, there are online retailers where you can find it, but your best bet is probably to stop by your local big-box or mom-and-pop hardware store and look in the key section like I did.
Packaging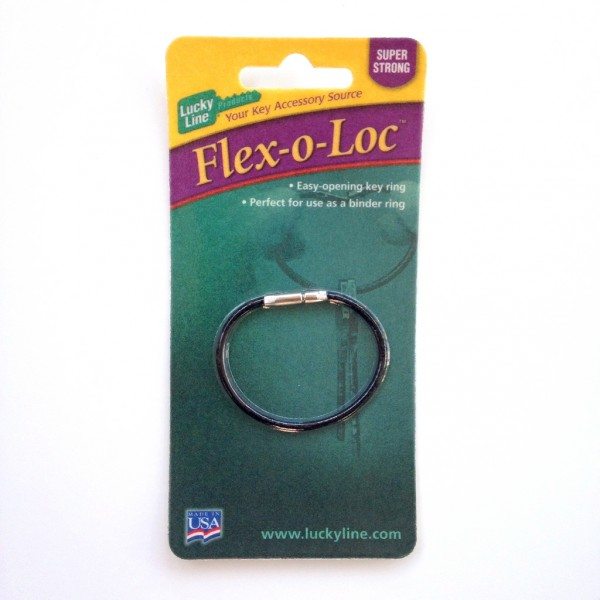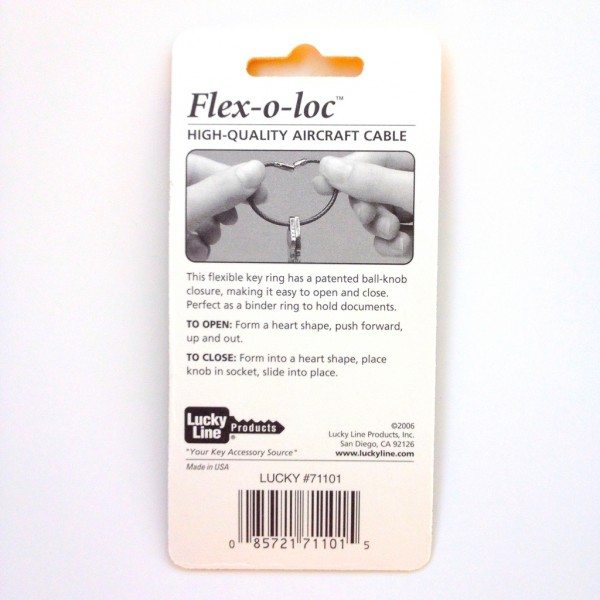 Flex-O-Loc's packaging is a pretty standard cardboard backing with shrink wrap.
Specs
Per the Lucky Line site:
Strong, flexible, corrosion-resistant aircraft cable core
Nylon coating
Length – 5 inches (forms a loop about 1 5/8″ in diameter when closed)
Location of Manufacture – USA
Options
Flex-O-Loc is available in the following colors:
Clear
Black
Blue
Teal
Magenta
Red
Features & Performance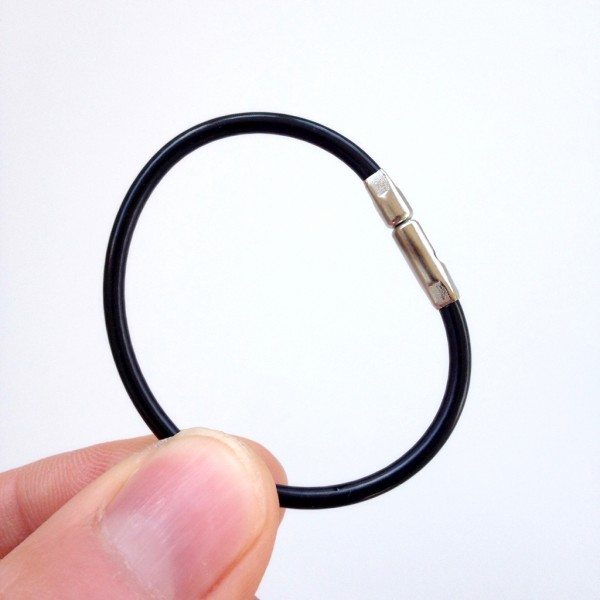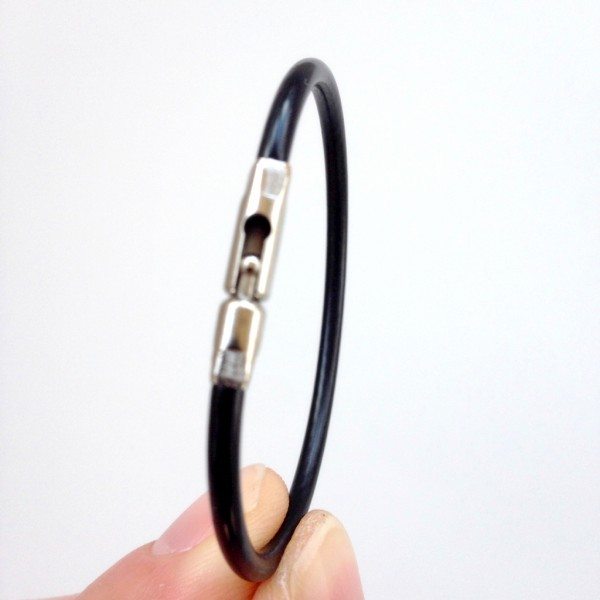 Above, a photo of the Flex-O-Loc's patented "ball knob and socket closure."  It's a ball on a post that fits into a matching socket on the opposite end, slides down a channel, then locks in place.  After releasing it, the tension from the cable keeps it locked.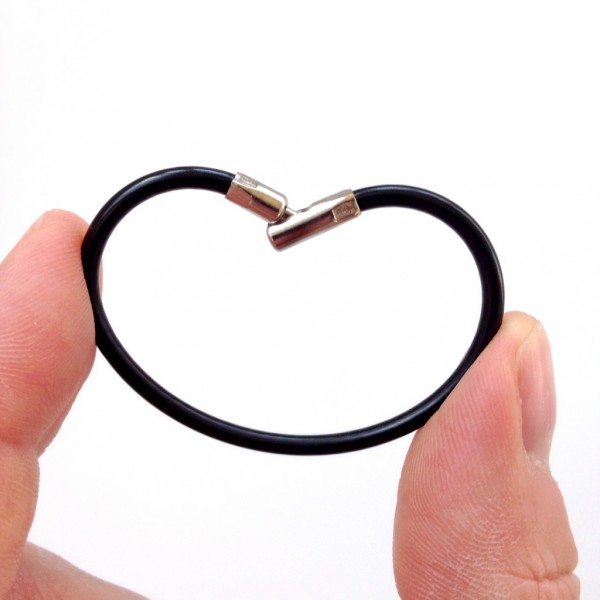 To unlock Flex-O-Loc, squeeze sides of the cable so that the ends curl into the center, forming it into a sort of heart shape.  This slides the ball back up the channel and releases the ball knob from the socket with a satisfying pop.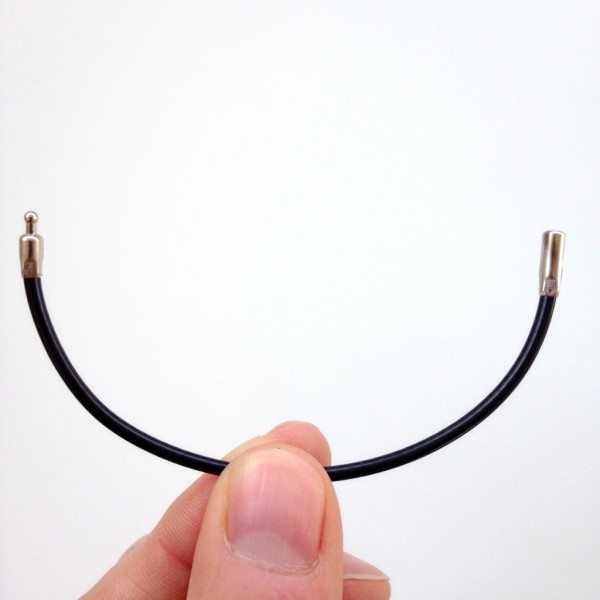 Once unlocked, keys or other items can be loaded onto Flex-O-Loc.  Then reverse the process described above to lock it closed.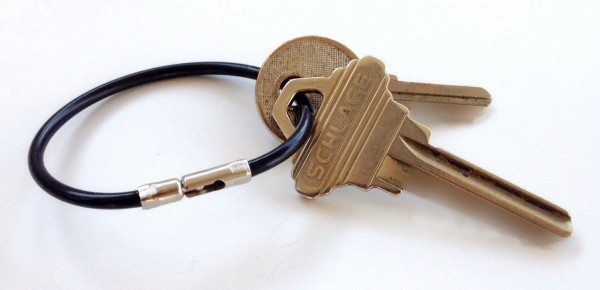 Conclusion
I've only been using Flex-O-Loc for a few weeks, but so far I like it.  It hasn't unlocked spontaeously yet, and it's quick and easy to add or remove keys or other items from it.  Plus, it's cheap and comes in multiple colors.  What's not to like?
Update 04/18/15
Flex-O-Lock is exactly what I had been looking for in a keychain for a long time. I still use it today and am looking for more of them.
Source: This product was purchased with the reviewer's own personal funds.  For more information, please visit http://www.luckyline.com.
Product Information
Price:
about $5 or less
Manufacturer:
Lucky Line
Retailer:
Hardware stores or various sites
Requirements:

keys or other key-type items

Pros:

Quick and easy to open and lock
Strong
Flexible

Cons: