We use affiliate links. If you buy something through the links on this page, we may earn a commission at no cost to you. Learn more.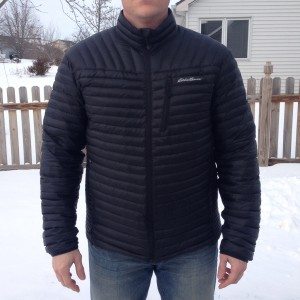 Living in the Midwest, we get more than our fair share of inclement weather. As I type this, in January, it is -8 F air temp with -27 F wind chill. Brisk, baby. Well, more like painful. I've tried many types of winter coats over the years, but I hadn't owned a "puffy" coat since I was a kid. The style has made a comeback in recent years and when my wife wanted to get me one for Christmas 2013, I picked the Eddie Bauer MicroTherm StormDown Jacket. It looked like a good combo of weight, warmth and thinness with the added bonus of packability. Gadget on!
Click any image to enlarge.
Background
As mentioned above, I live in the Midwest.  Born and raised in Indiana, to be exact, and right up the highway from our very own Julie, in fact.  And, I also lived in Minnesota for five years, so I know what cold weather is like and these last few have been particularly brutal.  I've had plenty of different types of winter coats over the years, from wool pea coats to technical ski parkas and many in between.  I'd been wanting something warm but lightweight and not so bulky that I could take on business trips.  My wife and daughter had each bought "puffy" style coats for themselves and really liked theirs, so my wife wanted to help me pick one out for Christmas.  We looked around a bit but ended up at Eddie Bauer so I could check out their First Ascent line, of which I'd been a fan for some time.  It only took me a few minutes to pick out a MicroTherm StormDown Jacket.  It was thin and lightweight but very warm, plus it packed down into its own pocket and even looked good. I picked out the jacket version, but also note that in addition to the version reviewed here, Eddie Bauer also sells a hooded version, a vest version and a bit heavier-duty Field version of the MicroTherm StormDown Jacket.
Specs
The MicroTherm StormDown Jacket is part of Eddie Bauer's First Ascent line of clothing.  This award-winning line of outdoor clothing has been designed with the help of guides, mountaineers and other adventurers from around the world.  Per the Eddie Bauer site, the specs on this jacket are as follows;
Construction – Microtherm®: streamlined, micro-channel design for maximum thermal efficiency and compressibility
Shell – Durable windproof 20D recycled ripstop polyster shell with water-repellent StormRepel® DWR finish.
Insulation – Moister-resistant super high-loft 800 fill StormDown™ powered by DownTek™
Shoulder panels – Stretch fleece for added range of motion and mobility
Packable – entire jacket packs down into chest pocket
Options
The Eddie Bauer MicroTherm StormDown Jacket is available in the following colors:
Black (reviewed here)
Ascent Blue
Carrot
Cinder
Leaf
Navy
Scarlet
Features & Functions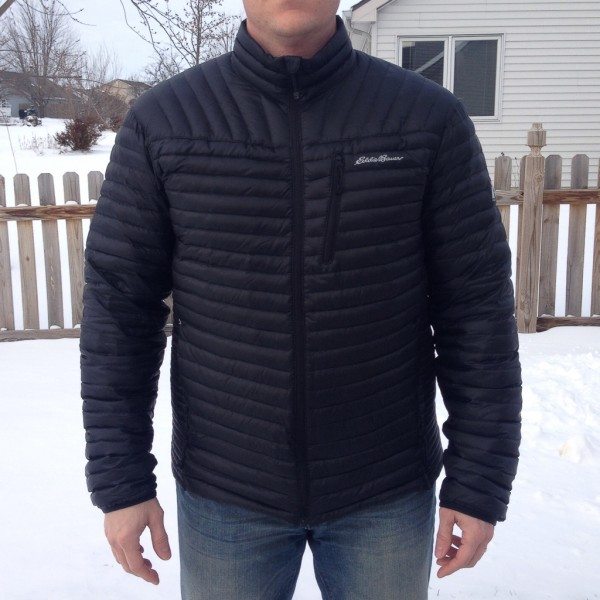 One of the first things I really liked about the MicroTherm StormDown Jacket was its appearance. I feel like many of the puffy coats make the wearer look a bit like the Michelin Man.  But the MicroTherm StormDown Jacket didn't have that look.  To me it looked more like a retro Euro-style racer jacket.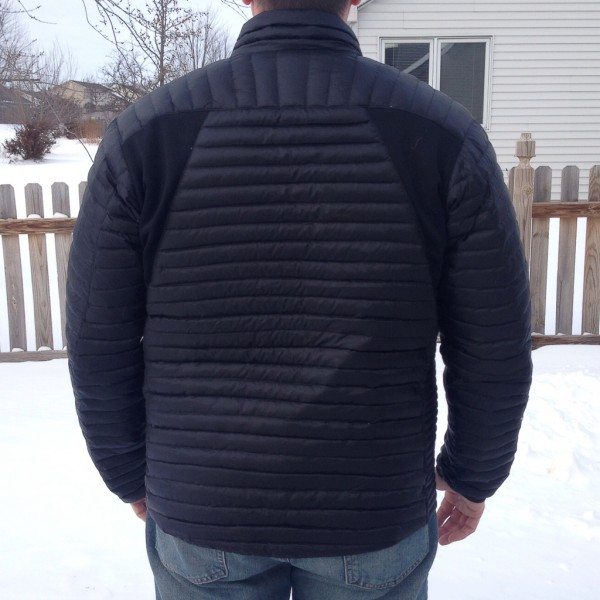 The back of the jacket includes Stretch Fleece Panels in the shoulders that run down into the pits area, which provide both additional stretch for mobility as well as some extra ventilation.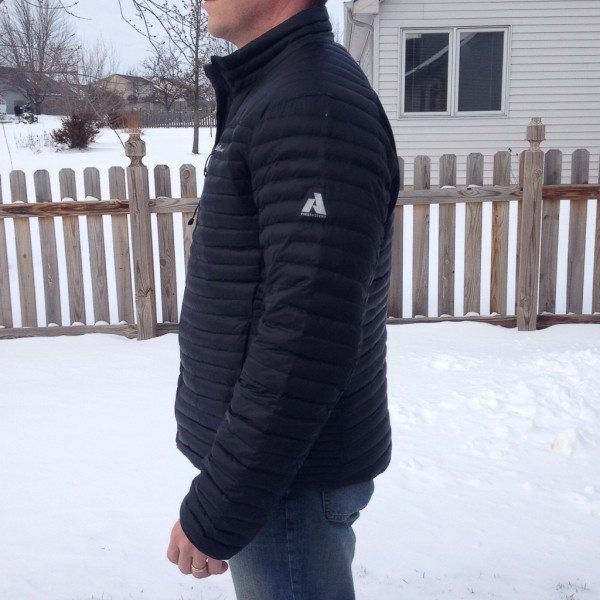 The jacket has a nice athletic cut–not too tight to restrict movement, but not too loose so as be sloppy either.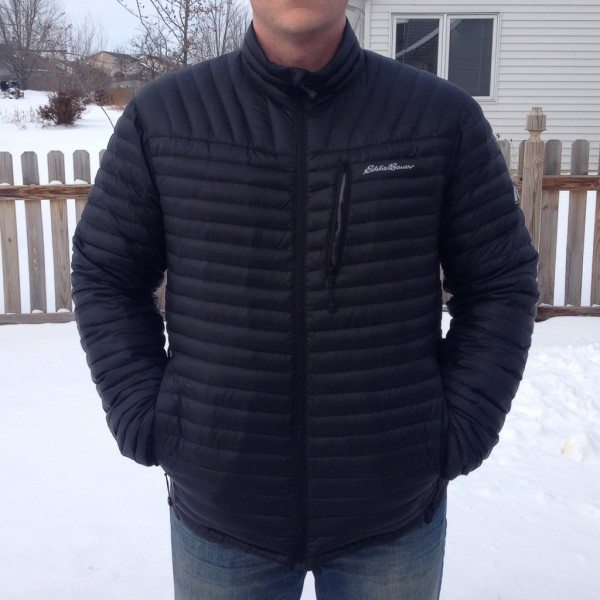 In addition to the Secure Zip Chest Pocket, it also includes Zip Hand Pockets.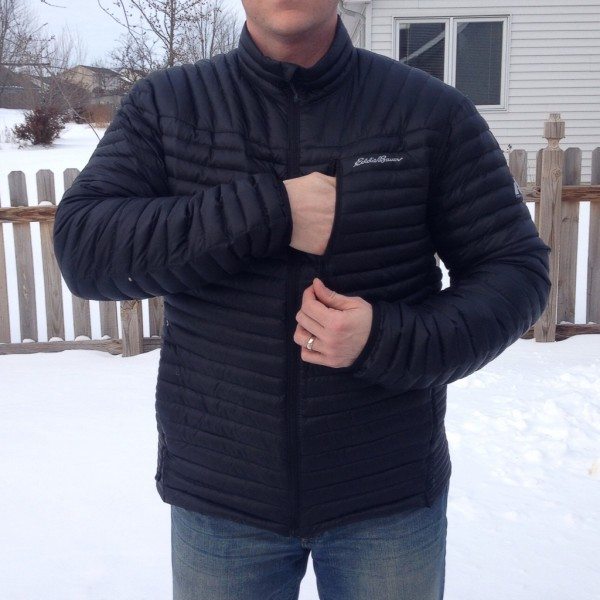 The Secure Zip Chest Pocket allows for quick access to a phone or keys.  It also includes a media port.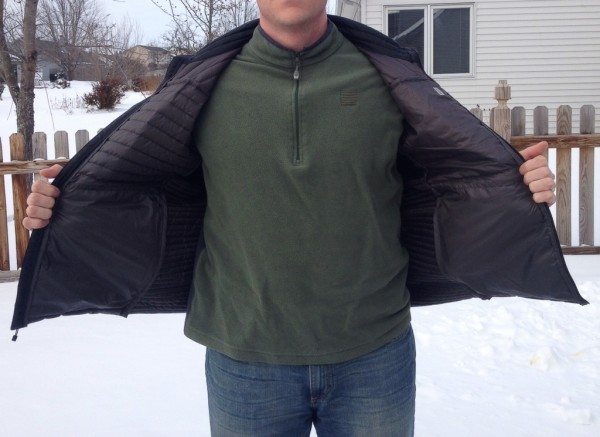 The cut of the jacket works great as either a top layer, like I'm wearing it in the photo above over a fleece pullover, or as a base layer under a shell.  Also, note that there are two inside pockets, one on either side.  These are nice and roomy, but beware—because of how slick the material is, things can fall out of them easily, and they don't have any sort of closure.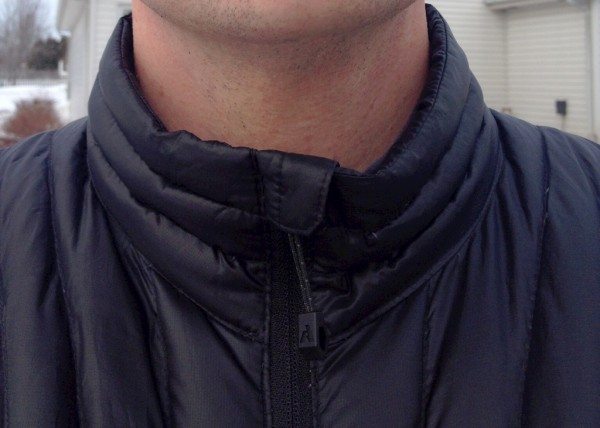 The MicroTherm StormDown Jacket has a puffy collar that is high enough to help keep out the cold.  It also has a small flap of material that covers the top of the zipper, so the zipper doesn't scratch against your neck.  Nice touch.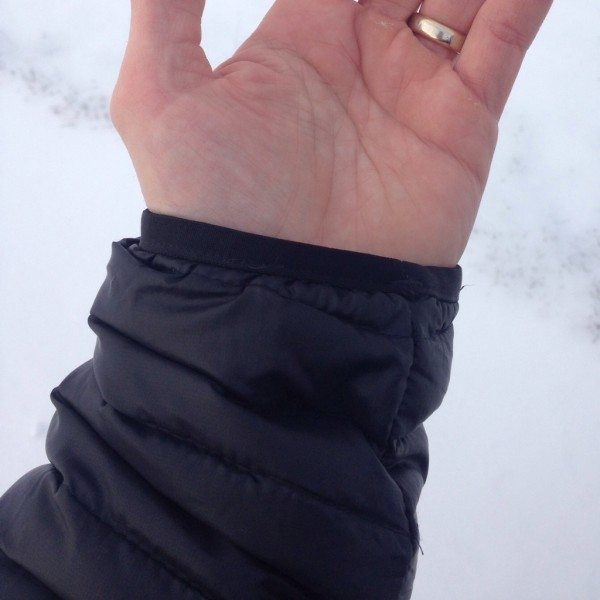 The jacket's sleeve cuffs have a bit of elastic in them which help keep out the cold as well.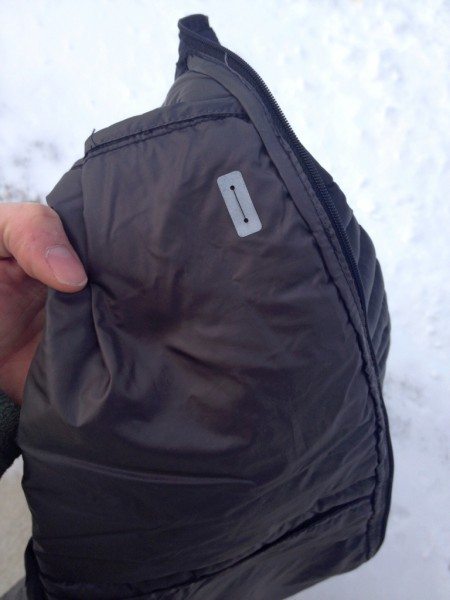 As mentioned above, the MicroTherm StormDown Jacket's Secure Zip Chest Pocket also includes a media port as shown in the image above.  The media port is basically a reinforced slit that lets the wearer pass an earbud cable from the pocket to the inside of the jacket.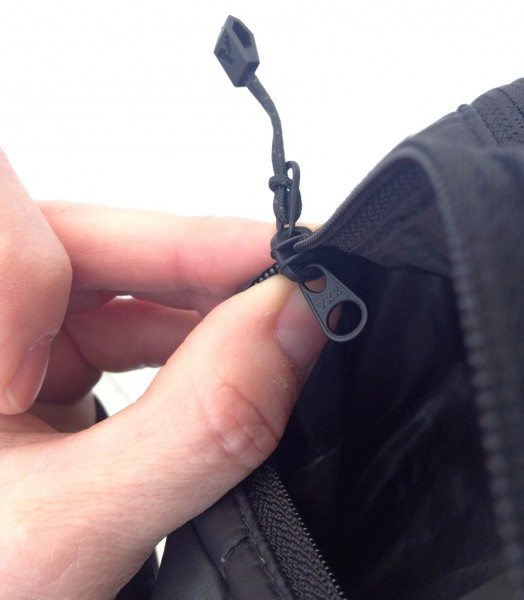 The Secure Zip Chest Pocket is the pocket into which the entire jacket can be compressed down for packing.  Note that the Chest Pocket has a special zipper with two zipper pulls, used for normal use from the outside, the other used when the jacket has been packed down into the pocket.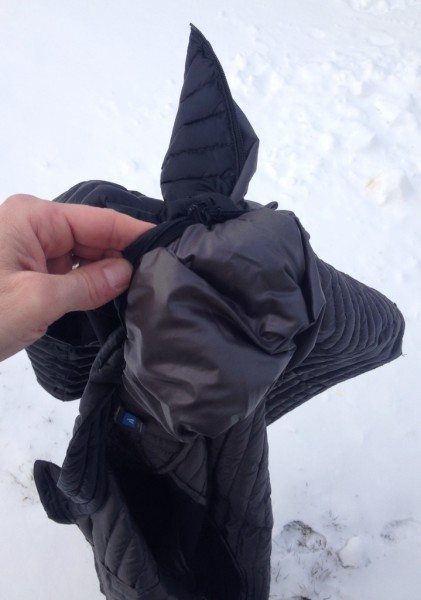 Packing the jacket down into the Chest Pocket is done by stuffing the jacket into the Chest Pocket from the inside out.  Just keep scrunching it down and pushing it into the pocket, and you'll end up with…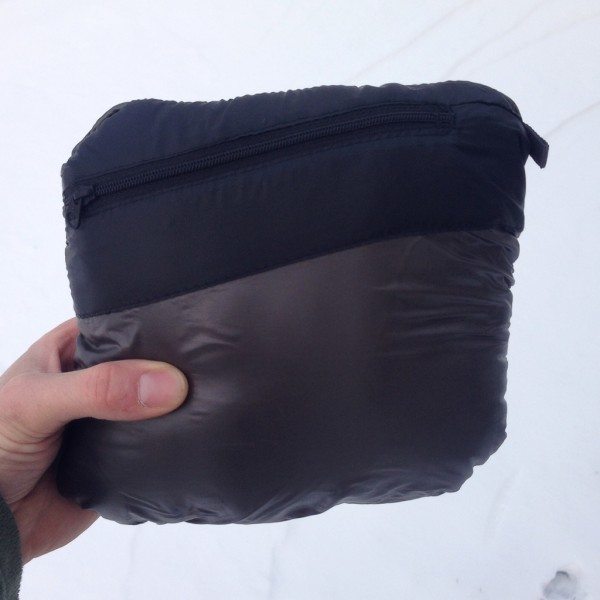 The entire jacket compresses down into what resembles a small pillow, as shown in the image above.  I found this to be a great feature.  I don't utilize this much when I am at home, wearing the jacket while commuting to and from work, out running errands and so forth.  But this feature came in very hand while traveling.  On several trips out of town on business, I would depart my home state of Indiana in cold weather wearing the jacket.  Once at the airport, I would pack the jacket down and throw it into my ruck or suitcase so that I didn't have to fumble around with the jacket through airports.  Once at my final destination, if it was a cold locale, I could then either unpack it and wear it again, or if I were at a warm locale, I could leave it packed and stored until returning home.  Also note in the image above that there is a small webbing loop at the upper right corner of the packed jacket.  This can be used to attach the jacket to things with a carabiner or similar type device.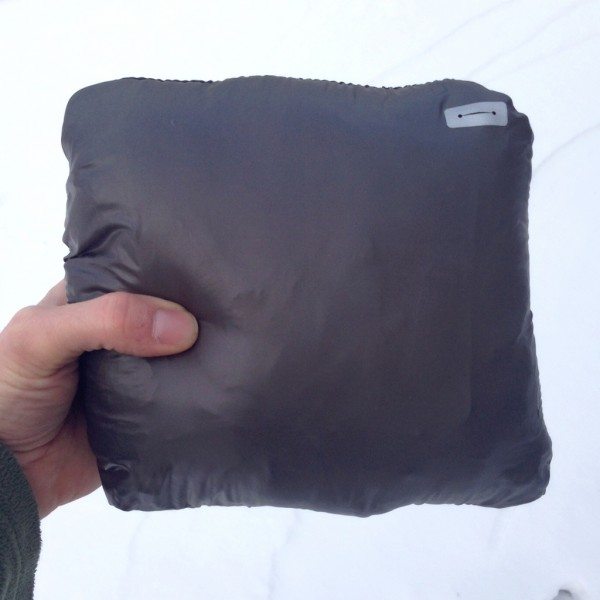 In addition, I've actually used the packed jacket as a pillow on airline flights.  Comes in handy!

Finally, one other thing I should mention is the tiny down feathers. Dozens, maybe hundreds of tiny down feathers, presumably from the super high-loft 800 fill StormDown™ powered by DownTek™ insulation layer.  These itty-bitty feathers, while giving the jacket excellent warmth while allowing it to be super compressible, unfortunately constantly make their way out of the jacket—through the sewn seams, mainly, but also right through the ripstop polyester shell.  And these micro feathers attach themselves to anything else you might be wearing.  It's very frustrating to have to pick tiny feathers—which have a tiny quill on one end that sticks to most any type of fabric—out of all of your clothes.  This is the only real con to this jacket as far as I'm concerned.
Conclusion
I really like the Eddie Bauer MicroTherm StormDown Jacket.  It is thin and lightweight, yet very warm.  It can be worn as an inner layer under a shell, as an outer layer with a fleece or by itself.  It has a useful set of pockets and in fact can compress down into its own chest pocket for packing.  This jacket is great for winter weather in cold areas and looks sharp, too.  About the only downside of this jacket to me was the dozens of tiny down feathers that keep working their way out of it, sticking to anything I wear under it.  Too bad Eddie Bauer couldn't find a way to correct this.  But overall, I really like this jacket and expect to use it for some time to come.
Update 04/18/15
I wear this jacked regularly both around town and also on business trips. Great item, but all the tiny feathers that continue to come out of it still annoy me.
Source: This product was purchased with the reviewer's own personal funds.  For more information, please visit http://www.eddiebauer.com.
Product Information
Price:
$199
Manufacturer:
Eddie Bauer
Requirements:
Pros:

Thin & lightweight yet warm
Great fit as an outer or mid layer or by itself
Compresses down into its own pocket for packing

Cons:

Tiny down feathers work their way out of the material and get stuck to everything