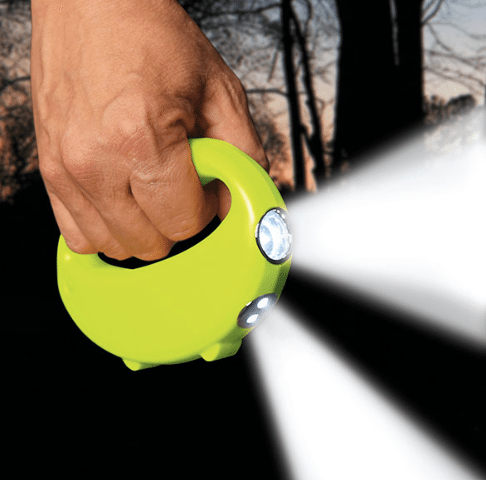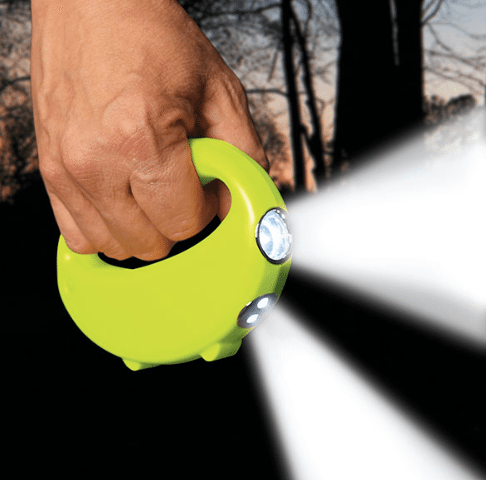 Do you find yourself having to constantly move the flashlight around when you're walking at night to see what's ahead and to make sure you're not going to trip over something?  With the Nightlighter Flashlight, you'll be able to light up both directions without moving your hand.  The Nightlighter looks about the size and shape of the handle of those retractable dog leashes, but it's a dual-light flashlight that illuminates both the area at your feet and ahead of you.  The forward-facing light uses 4 ultra-bright 5mm white LEDs to shine a narrow-angle beam on the path ahead of you. The downward-facing beam has two ultra-bright 5mm white LEDs that cast a wide-angle beam at your feet.  The three-way switch lets you choose only the forward-facing beam, only the downward-facing beam, or both.  The Nightlighter produces 20 lumens of light.
The body is made of high-impact polymer, and the ergonomic design and oval handle makes it easy to carry.  You'll receive your first set of 3 AA batteries with purchase.  The Nightlighter Flashlight is available in random colors for $19.95 from firstSTREET.
Some of our links in posts like this one are affiliate links, which means that we may receive a small commission on purchases at no cost to you.