We use affiliate links. If you buy something through the links on this page, we may earn a commission at no cost to you. Learn more.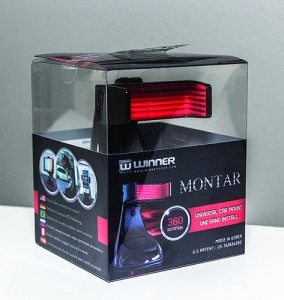 I need my phone to be out of my pockets and within reach when I'm in my car. So having a car mount is not only an option, but a necessity. Unless I want my phone to go sliding off my dashboard, or sliding off the passenger seat and then me trying to find it on the car floor and under the seat, a car phone mount is essential.
Before I received the Montar Universal Car Mount from WinnerGear to review, I noticed their claim for a single hand install of your device to this car mount. Basically, what this means is that you should be able to put your phone in the car mount using only one hand and without the use of your other hand. But before I get into that, let's take a look at this universal car mount's build.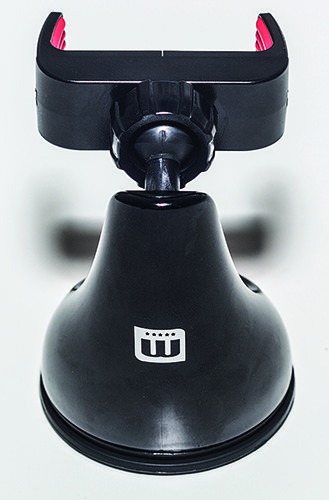 The Montar mount has a sturdy plastic body and does not feel cheap by any means. It has a U.S. patented gel-like suction cup on the base which was surprisingly strong.  Although it took a couple of tries, I attached it to the dashboard of my car and it held on strong. In fact, it was attached on my dashboard for quite a while. I now have it on my windshield and that thing isn't going anywhere. Keep in mind that the dashboard can't be too porous or textured. Fortunately, my dashboard has very little texture so with a little finesse, the Montar had a good strong hold. If you find that your dashboard has too much texture or is too porous, a circular base pad with a 3M adhesive mount is included. Unfortunately, the Montar only comes in black with the red rubber trim. I have seen other car mounts that were all white. I think it's time to have a more colorful choice in choosing car mounts for a little more personal customization. But maybe that's a personal preference for me since all car mounts I've seen are that typical black color.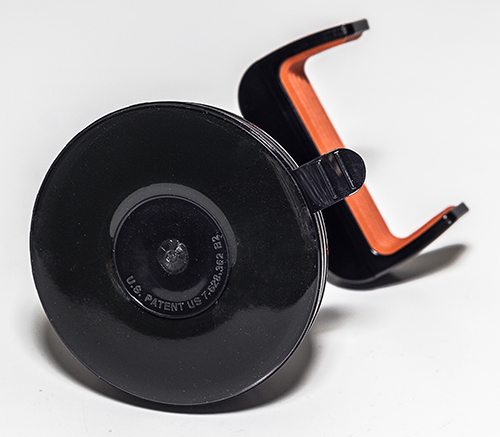 The Montar has a spring-loaded, 360° rotating clamp with a rubberized strip that holds cellphones, GPS units, or similar devices up to a 6″ screen size. The clamp is held securely in position by an adjustable lock to prevent the clamp from sagging. Which, by the way, is very rigid and seems like it can hold a full soda can with no problem. At the base of the Montar is a lever that helps lock in the suction cup.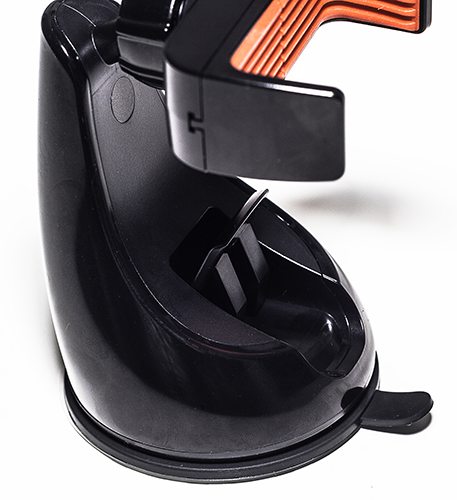 The first time I tried attaching the Montar to my car's dashboard I was hesitant that it would actually adhere to the dashboard itself. To my surprise, the Montar suction cup did a fantastic job sticking to the dashboard. I wiggled the Montar a few times and waited to see if it would let up the suction and eventually pop off. Nope. The suction held its grip and even after giving the Montar a few wiggles here and there. Of course, there is also the circular adhesive pad I could have used had the Montar not been able to hold its suction to the dashboard.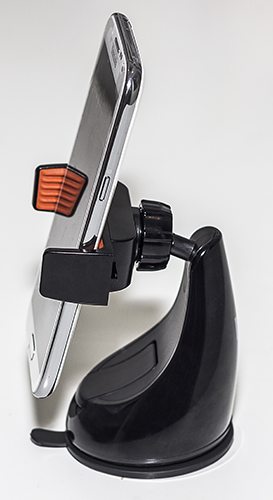 Keep in mind that if you have a deep-set windshield you may have to lean in a bit to reach your phone. I know there are other car mounts that have an articulation arm, or stem, that sets the phone closer to you as you are sitting in the driver seat. Your best bet is to mount the Montar on your dashboard close enough to you so you aren't over extending your hand or leaning in to touch the screen on your phone.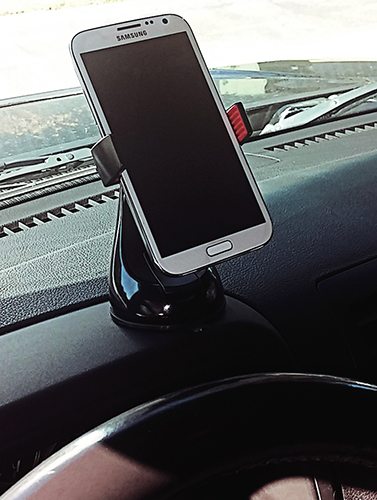 I tried placing both my LG G2 and much bigger Samsung Note 2 in the Montar and both phones fit inside the rubberized clamp with no problem. The Montar claims to be a single hand install car mount, meaning that you should be able to insert your device into the Montar's clamp using just one hand. With a little practice, I did find that this can be done. However, removing a larger device, such as the Samsung Note 2, from the Montar was another story.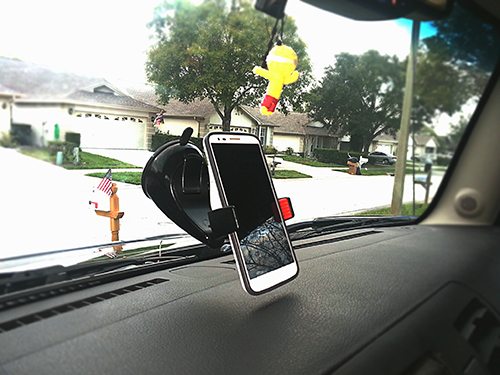 The first few times I had to use both hands to remove the Note 2 from the Montar because I had to pry open the clamps holding the phone. I did try to do a one hand removal by sliding one side of the phone away from the Montar, but the phone ended up flying from the clamps and onto the floor since the clamps wanted to spring shut. Keep in mind though, that removing a smaller phone, like the LG G2, is fairly easy.
I think the Note 2's larger size just took some practice to doing a single hand removal. I can now install and uninstall both phones with no problem. Previous car mounts I have owned had a release button on the side to slowly separate the clamps holding the phone and allowing the phone to fall into my hand. With the secure clamps on the Montar, you will get used to freeing your device with one hand in no time. No need for a release button.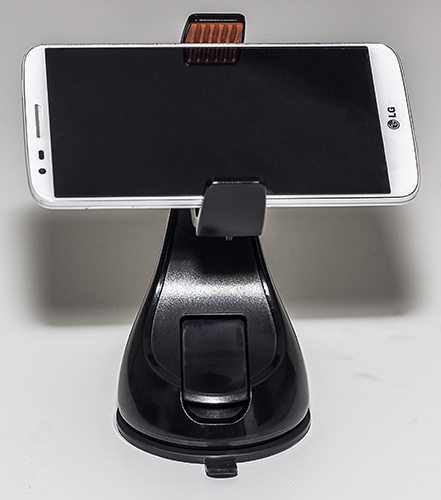 The Montar Universal Car Mount has a built solid and can stick on almost any surface, thanks to its super sticky suction cup, plus having the 360° rotating clamp is very useful to have since it allows you to view your phone in portrait or landscape position with absolutely no effort. Montar is an ideal car mount for any device, whether holding an iPhone or a Samsung Note or even a GPS unit. And I love that I can pop in and pop out my phones with a single hand. Since I don't have to fumble with my phones, it makes it easier to get in and out of my car without having to find any phones on my car floor.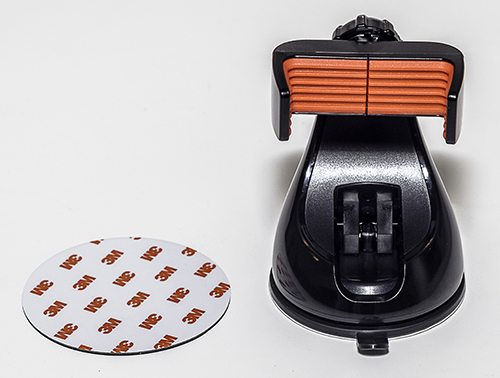 Update 02/19/15
This car mount has been holding strong, so to speak, in sticking to my car's windshield and in holding my phone. I use the Montar to hold my Samsung Note 2 and the car mount keeps a firm grip on the phone. It's still been easy to mount and dismount my phone with little effort, which is always nice. I think I'll be using the Montar until it becomes brittle and crumbles away, which by the way, doesn't seem like any time soon. After being in the sun all this time, it doesn't appear to have faded in any way. It's still as shiny as the first day I received it.
Updates 04/23/15
This mount worked very well since I received it but about the middle of March one side of the mounting arm broke. I think a spring broke since that one side wouldn't retract back and hold my phone. It wasn't a big deal since the other retracted and would hold my Note 2 in place. Fortunately my phone is a phablet so the Montar mount could still hold the phone by squeezing it because of the phone being oversized. About the beginning of this April, the other side finally broke so the mount can't hold on to anything.Too bad because I really liked this car mount when it worked.
Source: The sample for this review was provided by WinnerGear. Please visit their site for more info or Amazon US or Amazon UK to order.
Product Information
Price:
$29.99
Manufacturer:
WinnerGear
Pros:

Sturdy build.
Super sticky suction cup.
Mountable almost anywhere.
Strong rubberized clamp.
Accommodates devices with screen size up to 6" inches.

Cons:

Black color with red rubber trim only.
Sits far back on some windshields.