We use affiliate links. If you buy something through the links on this page, we may earn a commission at no cost to you. Learn more.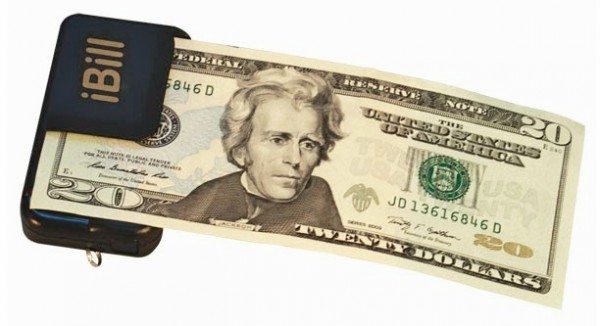 The iBill scans US currency in just a couple of seconds and indicates to the user what the denomination of the bill is.  It identifies most bills in less than a second, and it will announce the denomination in a female voice or will use tone and vibration modes for privacy, or you can plug in some earbuds for privacy when using the vocal mode.  iBill recognizes all bills currently in US circulation:  $1, $2, $5, $10, $20, $50, and $100.  If a bill can't be read because of its condition, iBill will indicate it is unidentifiable instead of incorrectly identifying it.
It's made of polycarbonate for durability, and it's small enough to carry on your keychain.  iBill uses one AAA battery, which should provide over a year of typical use.    It's easily upgradable to recognize new banknote designs, too.
iBill is available now from Orbit Research for $119.00.  Beginning January 2, 2015, the US Treasury will begin making the iBill available to eligible blind and visually impaired individuals.  Read more at the U.S. Bureau of Engraving and Printing to learn about their currency reader program.