We use affiliate links. If you buy something through the links on this page, we may earn a commission at no cost to you. Learn more.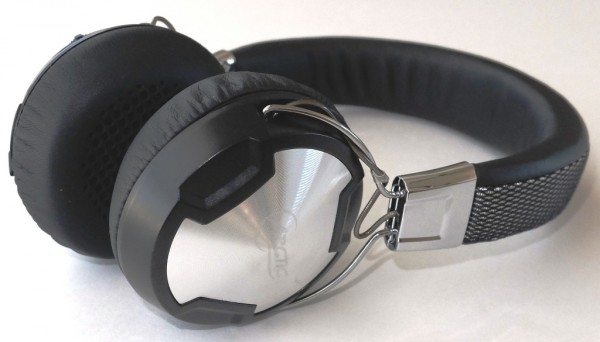 What would the world look like without music? Much less happy I would guess. Music is a vital part of our lives, however, it is not always appropriate to share that music with those around you (like at work) making earbuds or headphones a necessity. The Arctic P614 BT (for Bluetooth) headphones are one of the many out there. Will they enhance your music experience or detract from the awesomeness that is your music collection?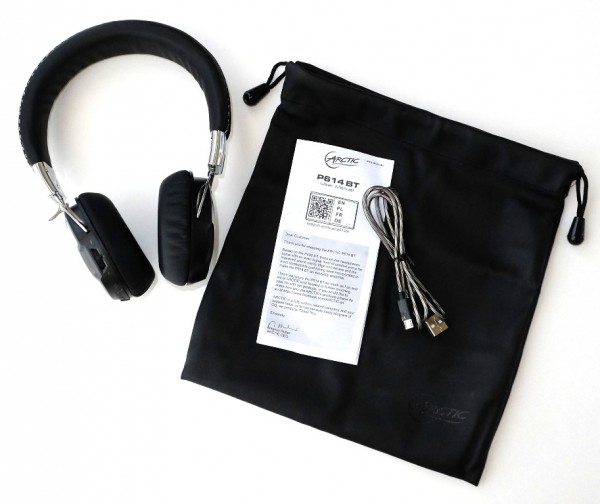 Package contents
Arctic P614 BT headphones (2 year warranty)
Micro USB charging cable
Travel pouch
Manual
Technical Specifications
Bluetooth Version: V4.0 Class 2
Frequency Response: 20 Hz – 20 kHz
Driver size: 40mm
Impedance: 32 Ω
Microphone Sensitivity: -42dB +/- 3dB
Sensitivity: 105dB
Battery: Rechargeable 850mAh Lithium-ion battery
Playback Time: 30 hours
Weight: 142 g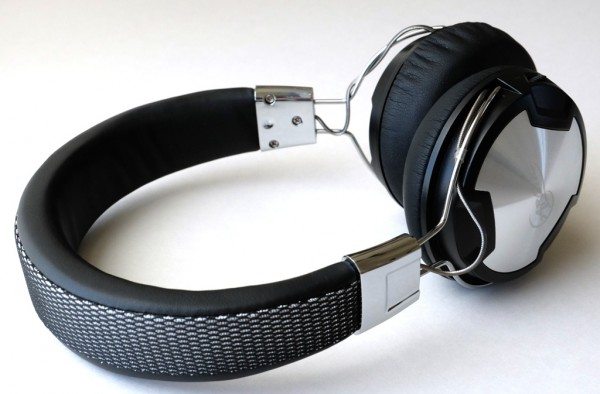 The headphones appear to be fairly well made. The headband is flexible and will expand. The earphones are attached to two metal pieces on the headband with a rigid metal wire. The audio wires appear to be surrounded by braided metal which is covered by a clear plastic coating and they are about the same thickness and flexibility as the wire on earbuds.

The outer portion of the headband also has an attractive gray and black woven mesh covering a thin layer of foam.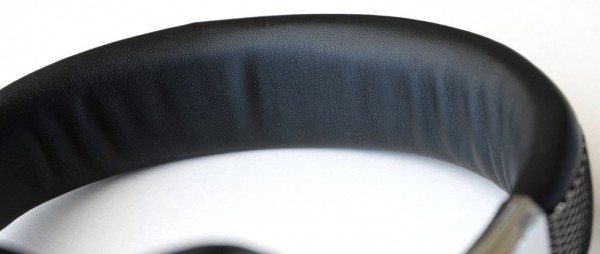 The inner portion of the headband has a comfortable foam layer covered in leatherette (faux leather).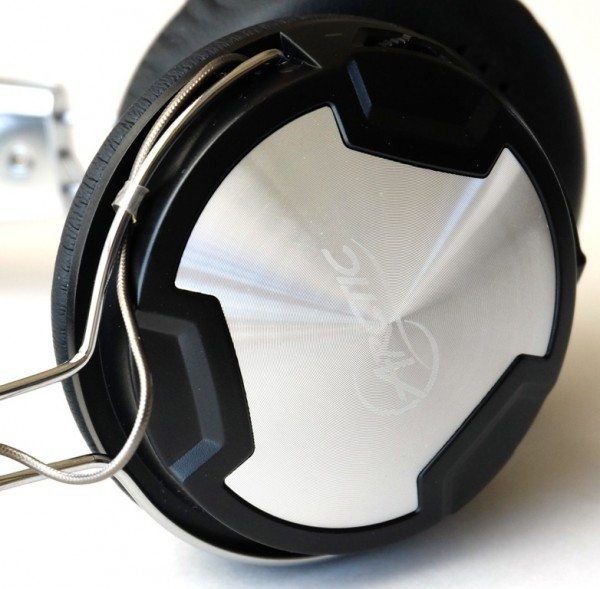 The outer covering of the ear pieces is made of metal with imprinted concentric circles and the brand name.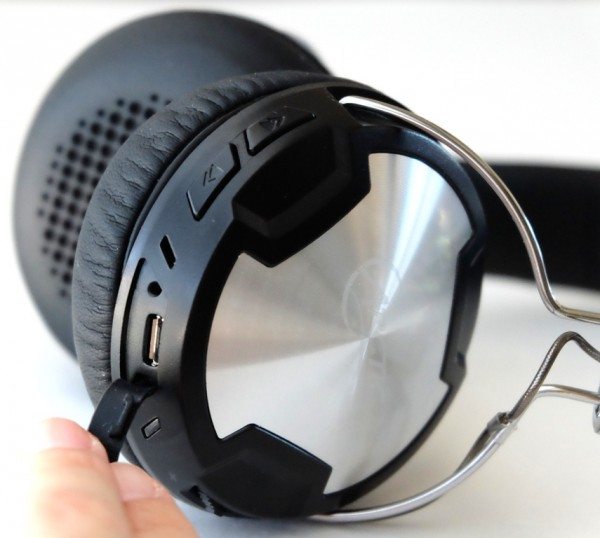 The left side of the headphones has all the controls. From the top of the photo: previous/next track buttons, microphone, micro USB charging port, LED indicator, and at the bottom of the photo the multifunction button. It is also important to note that there is no noise cancelling feature on these headphones.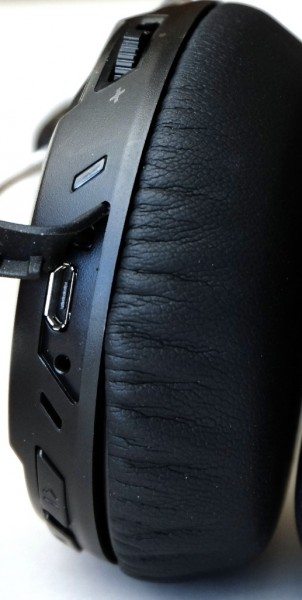 Here is another picture of the controls. The micro USB charging port has a rubber flap to cover it when not in use. When I received the headphones, it was necessary to charge them using the provided micro USB cable. The LED status light shines red when the headphones are not fully charged and blue when charging is complete. Initially, it only needed about 15 minutes worth of charging; but when completely depleted, they require somewhere between two to two and a half hours to completely charge.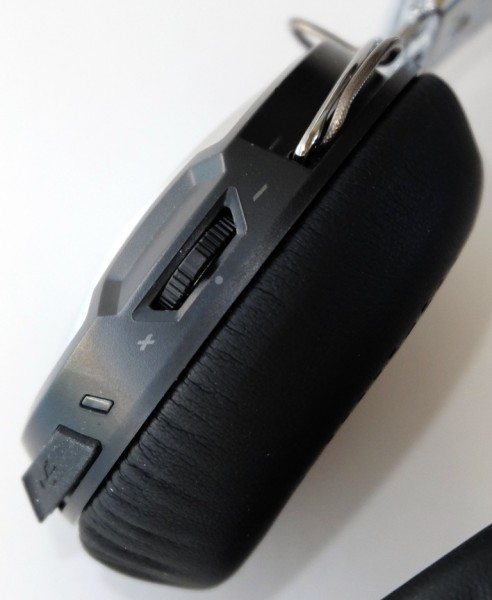 The multifunction button is used to power on/off the headphones, pair the headphones, adjust the volume, pause and play tracks, and is used for the phone features (answering and ending in-coming calls) of the headphones. To turn the headphones on or off you must push this button for three seconds. When turning them on, the LED status light will flash blue and red alternately to indicate that it is ready to pair. If your device is NFC enabled, you can easily pair the headphones with the device by slowly moving it over the upper part of the left earphone and tapping "Yes" when asked if you want to pair. Otherwise, you will need to go into the Bluetooth settings on your device to find and select the P614BT for pairing. When paired, the headphones will emit a tone and the LED status light will flash blue about every five seconds indicating connectivity.
When adjusting the volume, I needed to rotate the multifunction button up or down several times to change the level in increments. Holding the volume in the up position will not continue to decrease the volume or vice versa. The multifunction button can also be pushed in to pause or play a track. It may also be pushed once to answer or hang up a phone call. If you hold the multifunction button for three seconds you can switch from the headphones to your phone (and visa versa) to continue with a phone call. The call quality through the headphones was very good and the controls worked well.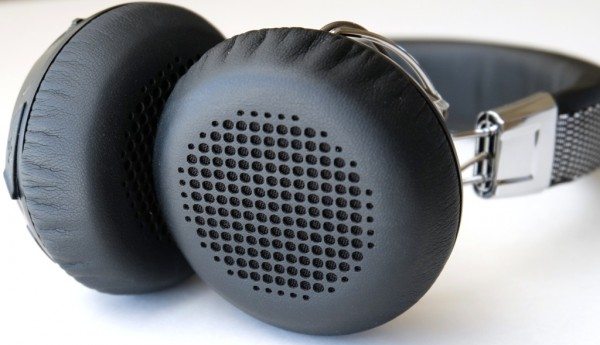 The earphones have a layer of foam covered in the same faux leather as the headband. The Arctic supra-aural headphones (on-the-ear) are not quite as comfortable as some others because of the somewhat stiffer foam covering each earphone. I'm not a huge fan of the supra-aural type headphones in general because I wear glasses and when I wear them with my glasses on, my ears immediately begin to get sore. I found this to be true with these. Taking off my glasses helps somewhat; however, even without my glasses, after an hour of wearing the headphones, I had to give my poor ears a rest.
These are Bluetooth headphones and will only work with Bluetooth devices (there is no Aux in port to use with non Bluetooth devices). So, when testing the Bluetooth connectivity, I found that my ancient HTC One X phone could only maintain connectivity to about 15 feet. I attribute this problem to my phone as I have had issues with my phone's Bluetooth in the past. When testing the distance on my iPod Touch 5G, it started to drop audio at about 21 feet. I also found that I could maintain connectivity through one wall but not two using my iPod.
I also tend to be curious about the frequency responses of the audio devices that I receive. According to the low frequency response test on Audiocheck.net, the headphones were able to reach as low as 20 Hz. When performing the Bass Shaker test for headphones (turning up the volume and playing sweeping bass frequencies to determine if any buzzing or rattling can be heard), there was no buzzing or rattling detected. The upper frequency response test revealed that the headphones were capable or reaching 19 kHz (according to my kids).
The audio quality is crisp and clear. The headphones did not favor any frequency when compared to the flat preset on my phone's equalizer app; so, when listening to a song like "Blue" from Gemini, I needed an equalizer to better emphasize the deep bass. The equalizer was more of a nice addition (not necessary) to increase listening pleasure while playing other music like "Main Title (Game of Thrones)" from Ramin Djawadi, "In the Air Tonight" by Phil Collins, and "NY2LA" by Press Play (a pop dance song). In each of these cases the audio quality was nice and clear but for me the middle frequencies were just a tad stronger than the others for which the equalizer helped to create a fuller sound.
The controls seemed a little finicky depending on which apps I streamed from. While listening to Pandora and Spotify, I found that I was able to use the volume and previous/next track buttons but unable to use the pause/play functions. However, I was able to use all of these features successfully when streaming music from Amazon Music or playing music directly from my phone or iPod.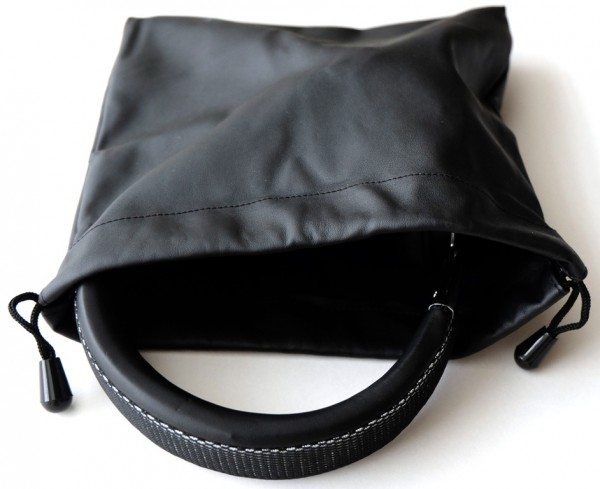 The travel pouch, the outer part of which is leatherette and the inside lined with nylon, has easy to use drawstrings and is a nice feature making the headphones more portable since they don't fold up.
Final Thoughts
The Arctic P614 BT headphones are nice mid level type of Bluetooth headphones. I was quite pleased with the audio quality. For those who enjoy classic rock, pop, classical music and even some dance music, the audio quality is quite nice without any adjustments. However, to capture the deep bass frequencies from most dance music or electronica, I found it necessary to use an equalizer to emphasize more of the bass to really enjoy this music. As far as comfort was concerned, I found that it was only possible for me to wear these on-ear headphones for an hour at a time before needing to give my ears a rest. Even so, I enjoyed listening to music using these headphones while untethered, I liked that they work for up to 30 hours, and that they recharge in as little as two and a half hours.
Music used:
"Blue" by Gemini
"Main Title (Game of Thrones)" by Ramin Djawadi
"In the Air Tonight" by Phil Collins
"NY2LA" by Press Play
Updates 07/20/16
I gave these headphones to my husband and he still enjoys using them. The only notable thing is that underneath the outer faux leather covering over the earphones, there is another layer of fabric covering the speaker that came loose and the rubber cover over the USB port is getting loose as well.
Source: The sample used in this review was provided by Arctic Switzerland. Please visit www.arctic.ac for more information or visit Amazon to purchase a pair at a discount.
Product Information
Price:
$89.99
Manufacturer:
Arctic Switzerland
Retailer:
Amazon
Requirements:

Bluetooth 4.0 (although you may order these without Bluetooth)

Pros:

Audio quality quite nice and is clean and clear
Works for up to 30 hours on one charge
Completely charges in less than 2.5 hours

Cons:

Audio needs an equalizer to improve bass on bass heavy music
Not quite as soft and comfortable as some supra-aural headphones
No Aux in jack for non Bluetooth devices