We use affiliate links. If you buy something through the links on this page, we may earn a commission at no cost to you. Learn more.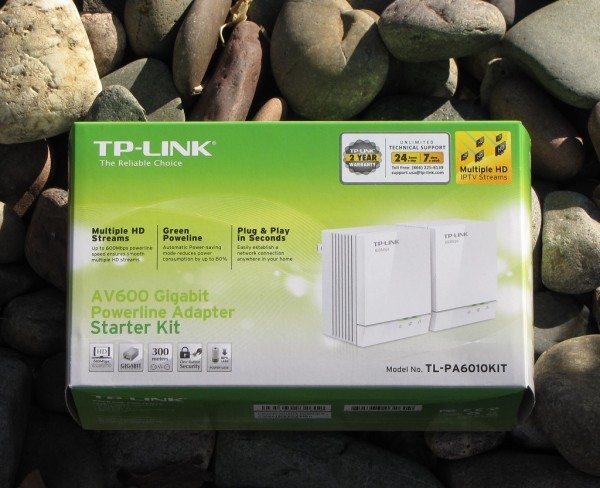 Home internet, wired or wireless? That's a big question now days with more folks working from home. With a lot of newer homes being built today having the house pre wired for Ethernet connections is a common practice. In older homes wireless seems to be the way to go, especially with faster speed wireless routers. But, what happens when you live in an older home and your wireless signal wont reach all of your desired computing locations? TP-Link has a solution, the AV600 Gigabyte Powerline Adapter starter kit.
Note: Images can be clicked to view a larger size.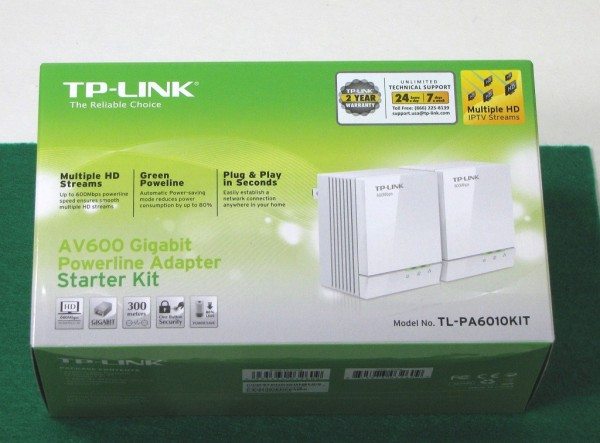 While this networking method is not new, the listed data transfer speeds for uploads and downloads are, up to 600Mps. The AV600 sent to me to review is a starter kit containing a sending unit and one receiver. Basically what this system does is turn your home wiring into a data conduit by using the sending unit to send data and the receiving unit to (you guessed it) receive the data. The sending unit is paired with the receiving units so in theory you could run multiple lines throughout your house.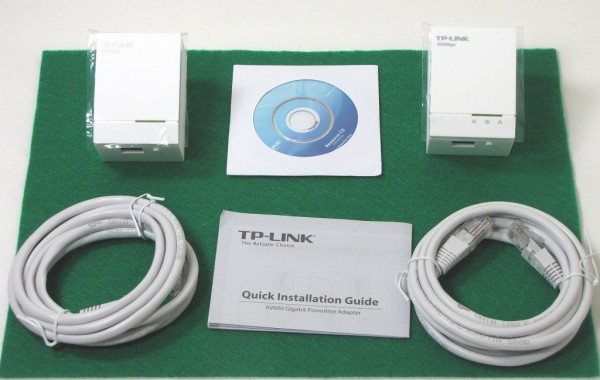 The packages contains the following:
Two TL-PA6010 model powerline adapters
Two RJ-45 Ethernet cables
Quick installation guide
A resource CD
Has the following features listed on the TP Link website:
High-speed data transfer rate of up to 600Mbps, ideal for bandwidth-intensive HD video or 3D video streaming and online gaming
No new wires, use existing electrical wiring
Up to 300-meter range over a home's electrical circuit for better performance through walls or across floors
Easy to install, just plug in and play
Patented Power-Saving Mode, automatically reducing power consumption by up to 80%
128-bit AES encryption ensures network security simply by pressing a button on paired devices
Built-in QoS assures the quality of bandwidth sensitive applications such as voice, video and online games
Supports IGMP managed multicast IP transmission, optimizing IPTV streaming
Compatible with all AV500 & AV200 Powerline adapters (HomePlug AV)
And the following hardware specs as listed on the TP-Link website:
Standards and Protocols: HomePlug AV, IEEE802.3, IEEE802.3u, IEEE802.3ab
Interface: 1*Gigabit Ethernet Port
Plug Type: EU, UK,US
Button: Pair Button
LED Indicator: PWR, PLC, ETH
Dimensions ( W x D x H ): 2.5x 1.9 x 1.6 in. (63×47×40mm)
Power Consumption: Maximum: 6.84W (220V/50Hz), Typical: 6.68W (220V/50Hz), Standby: 1.50W (220V/50Hz)
Range: 300 Meters over electrical circuit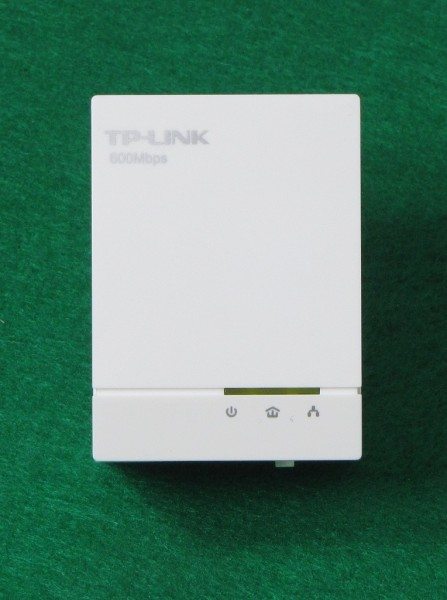 In this kit both of the units can be used as a sender or receiver so there is no difference in either unit. As you can see from the front view you have the TP-Link logo and 600Mps, at the bottom you have three LEDs with symbols below each one. From left to right the symbols are: the power indicator, the powerline indicator and the Ethernet indicator. The power indicator LED lights up and shows that you have power in the outlet you are using. The powerline indicator LED light is solid when the unit is connected to the powerline network and the LED flashes when data is being transferred. The Ethernet indicator LED is solid when it is connected and no data is being transferred and the LED is blinking when data is being transferred.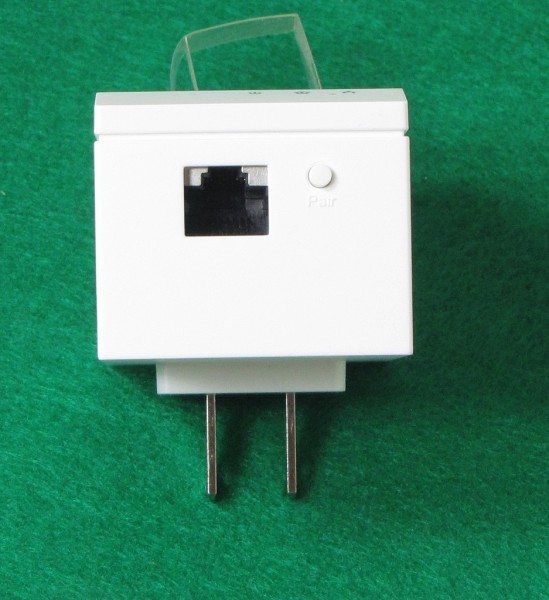 The bottom of the AV600 units have the pairing button and the Ethernet port.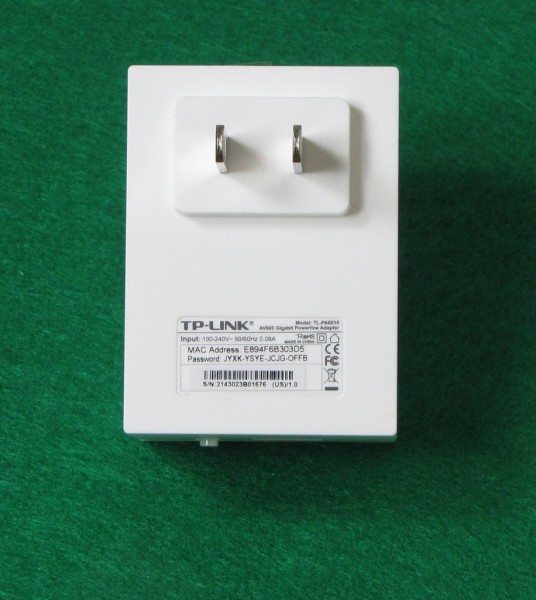 The rear of the AV600 units have the plug and unit information.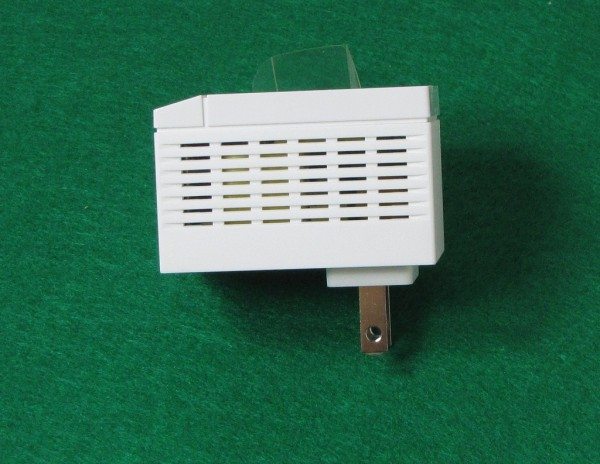 The sides of the units have what appear to be ventilation slits in them. The top of the units are solid with no apparent functionality.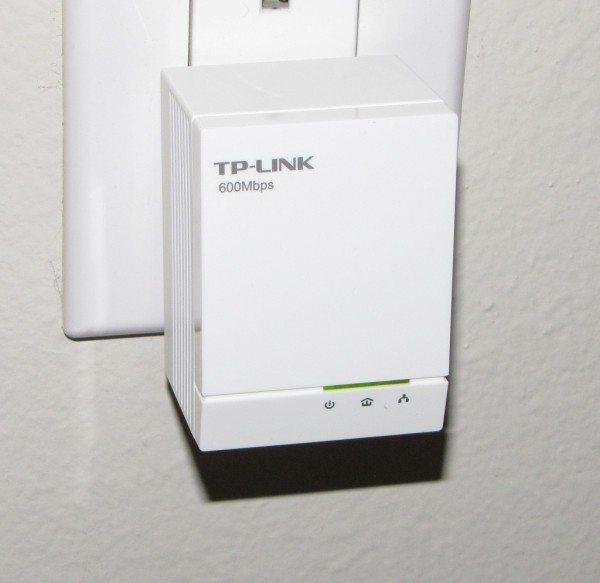 Setting up this system is as easy as plugging one of the units into a wall outlet close to your modem, plugging the other unit (receiver) in the room where you want to use it, and the using the pairing buttons to pair the two units. After the units are paired you can connect the Ethernet cables to your modem and computer and you should see all of the lights power, powerline and the Ethernet LEDs are either solid or flashing depending on the data transfer. For my testing purposes I will note that I ran my connections from a 10/100 hub. I could have also ran it from a router or directly from the modem, but I figure that most households will have a similar set-up running a computer at the modem location and possible a hub and router.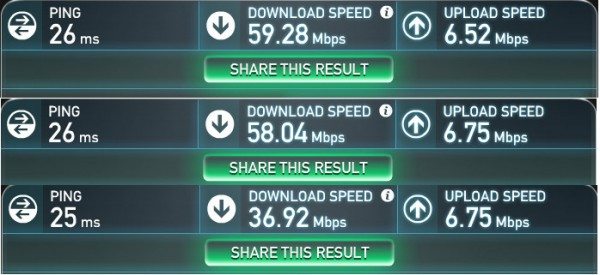 I am guessing the question on everyone's mind is, does it work? And the simple answer is yes. As you can see from the images above (the listing from top to bottom are; wired, TP-Link AV600 and wireless connection) the TP-Link AV600s download speed is comparable to that on the connection running from the hub and significantly higher than the wireless. The upload speeds varied a lot from test to test which surprised me since the wireless seemed to have a better upload speed. The test was run using www.speedtest.net for the speed test, the TP-Link AV600, a Linksy EFAH05W 10/100 hub and Netgear N900-WiFi Router model WNDR 4500 and an ARRIS/ Motorola SURFboard model SB6141.
So, what's my bottom line here? First, let me hit on the speed issue. Although the TP-Link AV600 boasts a data transfer rate of up to 600Mpbs, the reality at this point in the US is that most folks can never achieve that transfer rate. Our systems are not geared for that speed and neither is our current infrastructure. That being said, the AV600 delivers on good data speeds over my in home wiring. It was consistently faster on download speed over the wireless and comparable with my wired 10/100 hub. I will admit that I mainly wanted this unit for my gaming. I live in a small house so my Wi-Fi signal is great all around, but I do notice that when gaming I can get lag and that can cause me to lose my edge. The TP-Link AV600 has changed that. Overall, I think that the AV600 can be a great solution for those with Wi-Fi connectivity issues or those who have older homes and want a simple wired solution for their internet activities. Available at many online and retail outlets the AV600 price averages between $73 and $79.
Source: The sample for this review was provided by TP-Link.
Product Information
Price:
$73 - $79
Manufacturer:
TP-Link
Retailer:
Various
Requirements:
Pros:

Easy set up
On average faster than wireless
Expandable

Cons: