We use affiliate links. If you buy something through the links on this page, we may earn a commission at no cost to you. Learn more.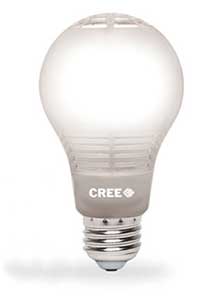 In the past few years a lot of people have traded their power sucking incandescent bulbs for CFL bulbs as a way to cut energy costs. They get a big thumbs up for cutting energy, but there are problems with CFL bulbs including the fact that they have mercury in them. Not disposing of these bulbs properly when they burn out means this deadly chemical will end up in landfills and eventually in the soil and water which is obviously a not good thing. An alternative that saves even more energy than CFL bulbs, and lasts even longer, are LED bulbs like the new 4Flow LED bulbs from CREE. Starting Friday (Nov. 14, 2014) in NYC you can trade one of your CFL bulbs for one free CREE 4Flow LED bulb. CREE will also be visiting Boston and Washington DC where they will end up giving away 15,000 bulbs throughout their entire tour. Click through for more details about these events.
THE CREE "GREAT AMERICAN BULB SWAP" VISITS MANHATTAN, BOSTON, AND D.C.
TRADE UP AND SAVE MONEY & ENERGY WITH THE NEW CREE LED BULB
THOUSAND OF BULBS BEING DISTRIBUTED IN EXCHANGE FOR MERCURY-LADEN CFLs AND ENERGY GUZZLING INCANDESCENT LIGHT BULBS
What:
Haven't switched to LED bulbs? Now's the perfect time as days are shorter and getting darker earlier. Americans can participate in the Cree Great American Bulb Swap. Just bring in any CFL or incandescent bulb and trade it for a New Cree® LED Bulb for free. The New Cree LED Bulb is up to 85 percent more energy efficient compared to energy-hogging incandescent bulbs – and it pays for itself in a year or less!
Forget the frustration and inconvenience of constantly changing burnt out bulbs– Cree LED Bulbs last up to 22 years (that's potentially 5 presidents from now!). Just imagine all the money you'll save on energy bills and fewer replacement bulbs. Cree LED Bulbs are also mercury-free and provide superior light quality, unlike those squiggly compact fluorescent (CFL) bulbs.
When and Where:
South Street Seaport Pier | New York, NY
11:00 AM- 2:00 PM, Friday, November 14th
10:00 AM- 4:00 PM, Saturday–Sunday, November 15-16th
Readers Park in Downtown Crossing | Boston, MA
11:00 AM- 2:00 PM, Friday, November 21st
10:00 AM- 4:00 PM, Saturday–Sunday, November 22nd and 23rd
Eastern Market | Washington DC
11:00 AM- 2:00 PM, Friday, December 5th
10:00 AM- 4:00 PM, Saturday–Sunday, December 6th-7th
For more info about Cree LED bulbs visit Cree.
Source: The Gadgeteer received promotional items to facilitate this post.