The Gadgeteer is supported by readers like you! If you buy something through links on our site, we may earn an affiliate commission at no cost to you. Thank you! Learn more.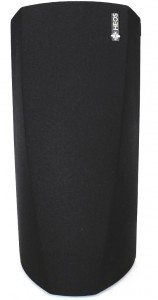 Installing a whole home audio system used to be a chore. Now with wireless systems like the Korus V400 and V600 (reviewed on the Gadgeteer), Sonos, and others, you no longer have to deal with the hassle of hard wiring the speakers into your home. You can even buy speakers one at a time and easily expand when your budget permits. Now Denon has entered this market with their Heos wireless speaker system. The Gadgeteer was offered the Denon Heos 3 to review. It is the smallest of the three Denon WiFi speakers but one that I had the privilege to review.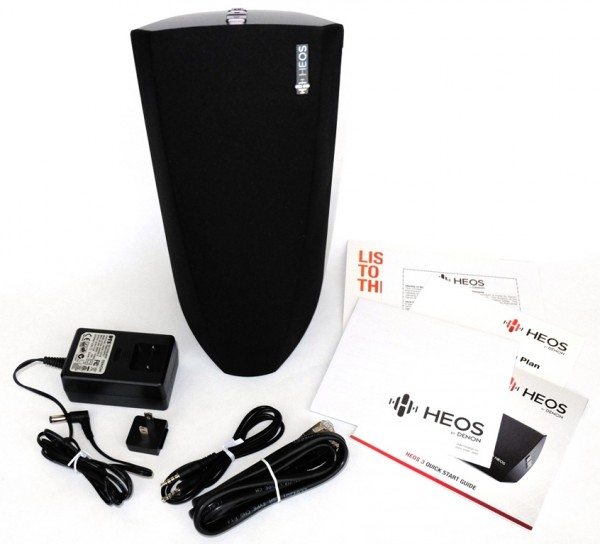 Package Contents
HEOS 3 Speaker
Quick Start Guide
Safety Information Sheets
Warranty
Extended Protection Plan
Audio/Setup Cable
Ethernet Cable
Power Supply
Technical Specifications
AUDIO SYSTEM

Amplifier: Dual Class D digital amplifiers
Speakers: Dual driver speaker system with two precision full range drivers in a ported enclosure. Each driver is powered by a dedicated Class D digital amplifier

MUSIC SOURCES & FILE FORMATS SUPPORTED

Music Services Supported: Rhapsody, Pandora®, Spotify® and, TuneIn with more coming soon, subject to availability in your area
Music Stored On Phone/Tablet: iTunes music stored locally on your iOS device or music files on your Android device
NAS (Network Attached Storage): play from your home network: DLNA compliant
Music Downloads: DRM-free downloads from any service, subject to audio format support
Internet Radio Supported: Streaming MP3, WMA (via the TuneIn service)
Album Art Supported: JPG, PNG, BMP and GIF picture formats
Audio Formats Supported: MP3 and WMA music files, including purchased WMA downloads, as well as AAC (MPEG4) and FLAC (lossless) file types, along with WAV files. Supports 32 kHz, 44.1 kHz and 48 kHz sampling rates

NETWORKING

Wireless Connectivity: Works with standard 802.11 a/b/g/n networks on 2.4 GHz and 5 Ghz bands
Wired Connectivity: Single RJ-45 jack for connection to wired Ethernet

DESIGN

Dimensions: (H x W x D): 5.1 x 10.7 x 6.5 (in) / 130 x 272 x 165 (mm)
Power Supply: AC 100~240V, AC 50~60Hz, auto-switching power adapter
Weight: 4 lbs., 1.9 kg
Operating Temperature: 41°F to 95°F (5°C to 35°C)
Design & Build Quality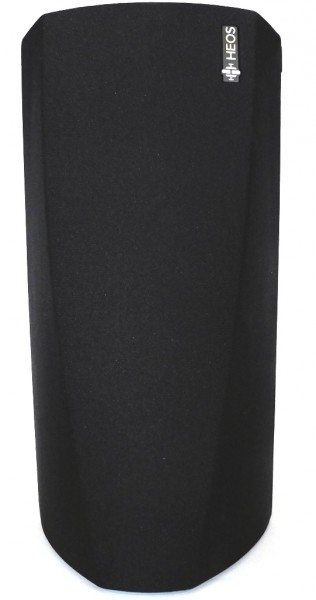 Just pulling the speaker out the box, my first impression was that this was a well made speaker. The speaker has an angular design (front and back), measures 5.1 x 10.7 x 6.5 (in), and has a cloth mesh covering the two full range drivers powered by two two-channel class D amplifiers.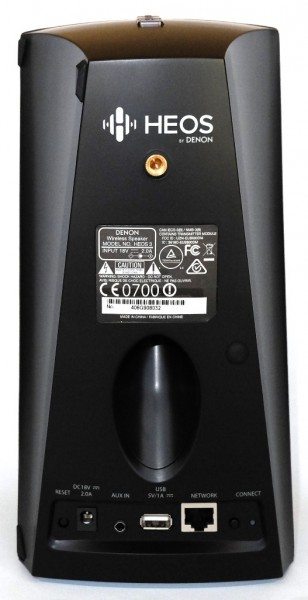 The back of the speaker is made up of smooth, matte, black plastic. It features a gold colored threaded mounting hole to mount the speaker to the wall or ceiling (standard 1/4 inches threaded speaker or camera mounts which support up to 10 lbs, according to the manual) and the various inputs shown in more detail below. You'll also notice the ported design to improve the depth of the bass.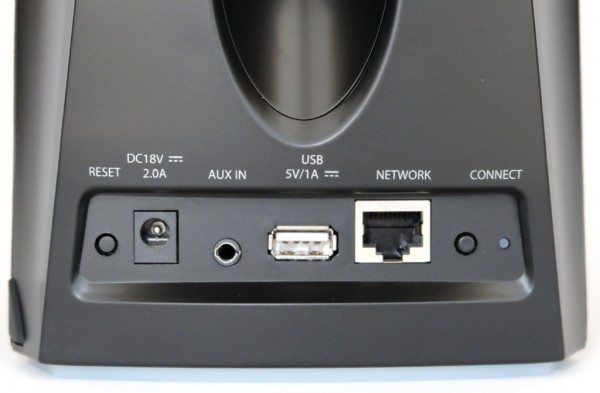 The back of the speaker features a reset button, a DC power port to provide power to the speaker, a 3.5mm AUX input, a USB port for playing audio files from a flash drive or portable USB hard drive, an Ethernet port to connect to a wired network (not required), and a connect button with associated status light used to connect the speaker to your WiFi network.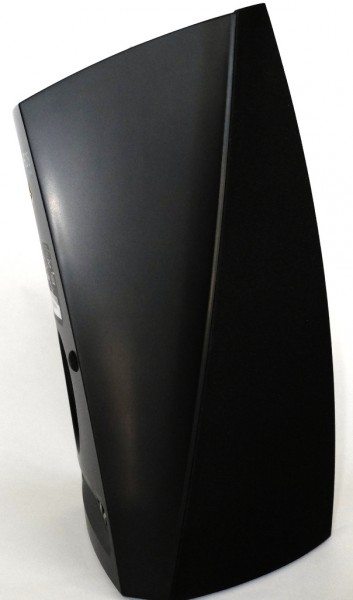 The side of the speaker shows the sleek angular construction.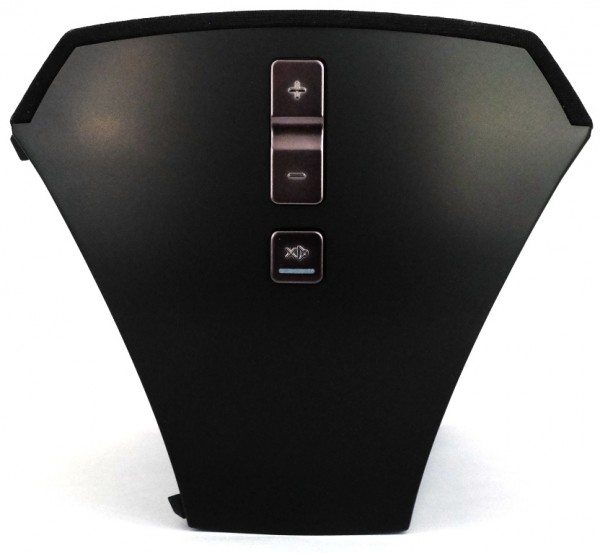 The top of the speaker (when used vertically) features on-board volume up and down buttons as well as a mute button (which has a status light to indicate when it is muted).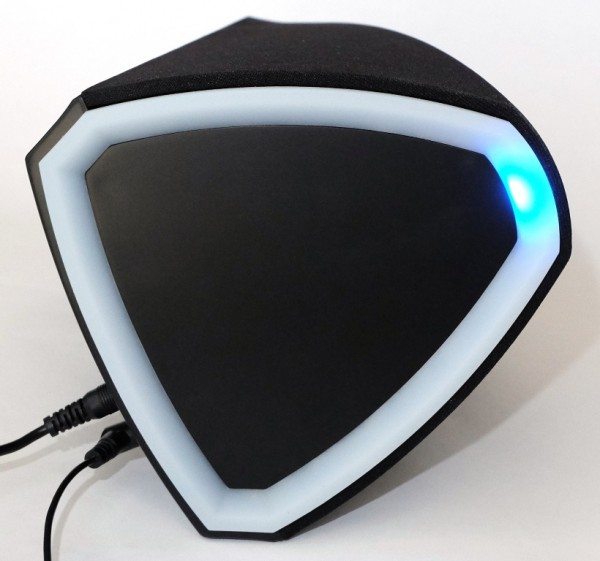 The bottom of the speaker has a white rubber ring on which to set the speaker in the vertical position to keep it from getting scratched or moving when listening to bass heavy music. This ring also contains the status light for the speaker. The solid blue light indicates that the speaker is connected to the network. This light will flash orange when the speaker is updating the firmware.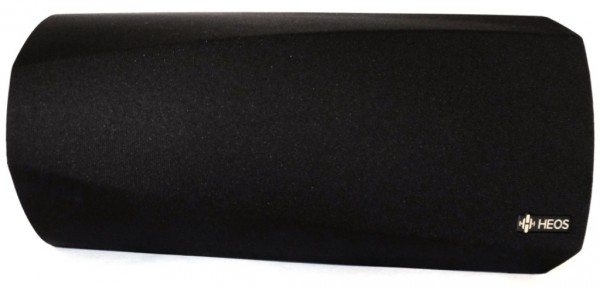 The Heos 3 speaker may also be oriented horizontally and has three rubber pads to keep it from getting scratched or moving during music playback.
Setup & Use
It necessary to download the iOS or Android app (iOS 5.0 or later and Android 2.3 or later) to connect the Heos speakers to your WiFi network and to control them.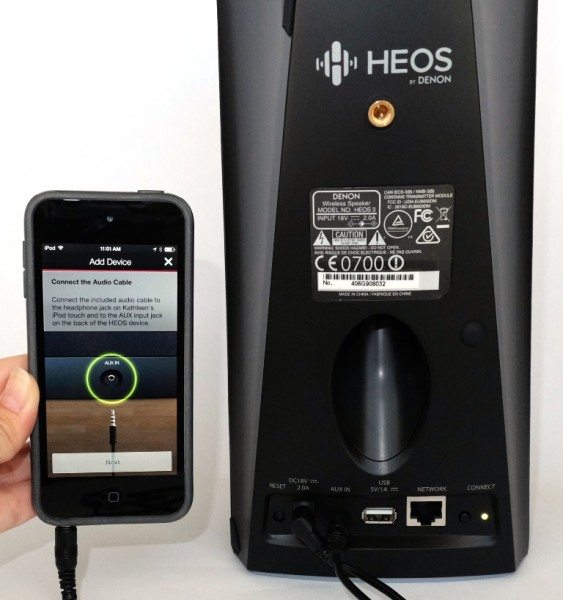 After downloading the app, setup is a snap. Power up the speaker using the provided power supply then connect the speaker to your mobile device using the the provided audio cable.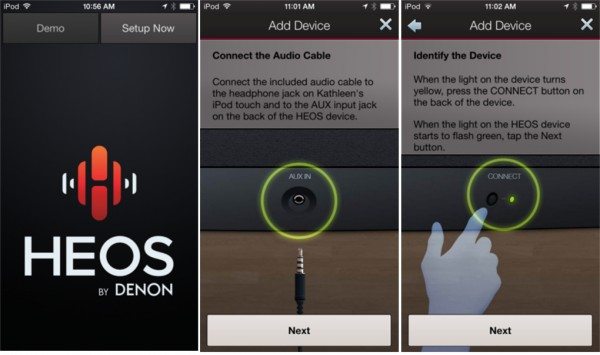 Follow the prompts on your device. Here I am using my iPod Touch 5G. You must press the Connect button on your speaker to proceed.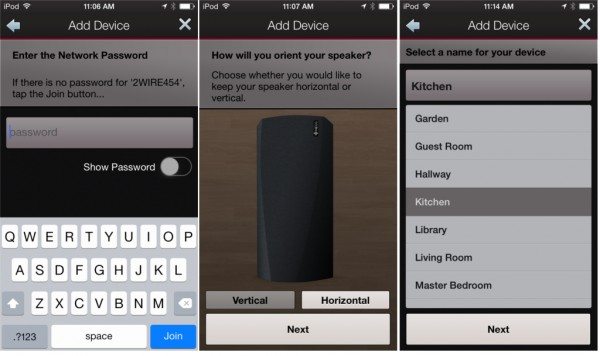 You need to enter the password to your home's router to connect to your home WiFi network. You will then have to indicate whether you will use the speaker in the vertical or horizontal position and name your speaker.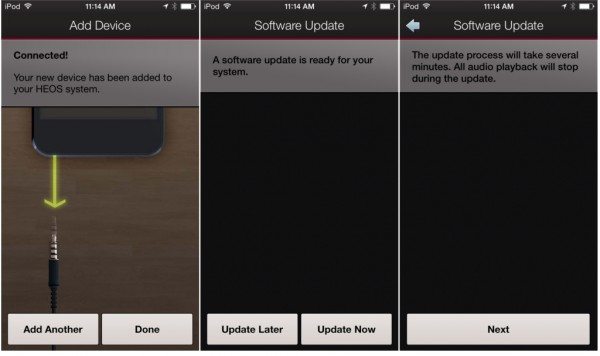 Once you are connected, you will most likely be alerted to a software update for your speaker.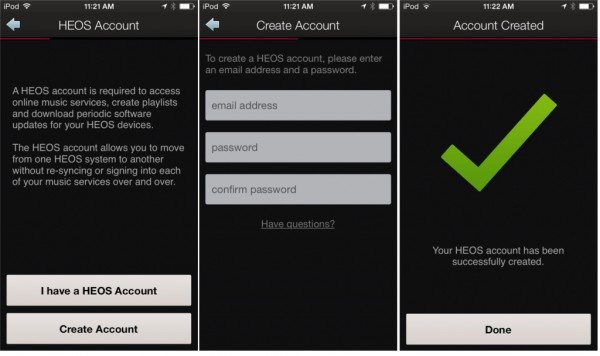 Once the update has been completed, it will be necessary to setup a Heos account in order to play internet music.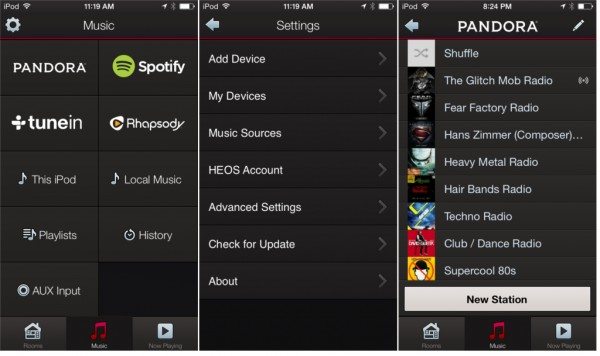 To log into each music service you will need to tap on the Music tab at the bottom of the app, go to Settings (the gear icon) → Music Sources, and then log into each one. After which you will be able to launch each service from the Music tab.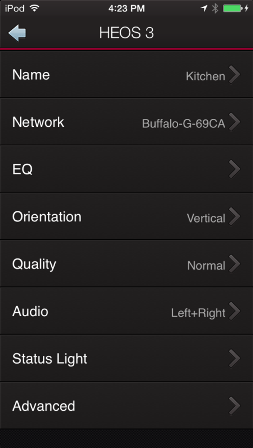 Also in Settings → My Devices → (select your speaker), you may change the name of the speaker, choose another network to connect to, change the equalizer settings (treble and bass only), the orientation of the speaker, and the audio quality (normal or high). Of the Heos speakers, only the Heos 3 may be paired for stereo sound by selecting the Audio (Left+Right) tab. The status light intensity may also be changed and in the Advanced tab you may look at or change your network configuration (wired vs. wireless settings, IP address settings, etc).
Under Settings → Advanced Settings, you may submit diagnostics logs to Denon, turn on the music sharing setting for locally stored music on your mobile device, and reset the controller (app).
At the moment I only have one Denon Heos 3 speaker. But as our budget permits we intend on expanding our system. It is easy to add new speakers by going into Settings → Add Device and stepping through the setup prompts.
A benefit to having the Heos system is that you may play different music through each speaker or play the same music to as many speakers as you like (perfectly synchronized, according to the website) by simply dragging and dropping the additional speakers (under the Rooms tab) on top of the one that is currently playing the music. If you want to group all of your speakers at once, you may pinch them all together and use the opposite action to ungroup them.
You can play music from only one of the following four internet music services: Pandora, Rhapsody, Spotify, and TuneIn; but Denon mentions on their website there are more to come. This is obviously a drawback since Sonos allows you to stream from Amazon Music, Google Music, Beats Music, Rhapsody, TuneIn, Rdio, iHeart Radio, SeriusXM, Songza, Spotify, and about 17 others.
You can also play music stored on your computer, NAS, locally on your mobile devices, or through the Aux input. This allows you to select a song to play immediately or to place in a queue within the Heos app. You can also edit the song order in the queue, delete a song from the queue, or create playlists under the Now Playing tab by tapping on the menu icon, then either the edit, delete, or star icon (creates playlists which you name).
I streamed music from Pandora and was also able to access and successfully play music from my computer, our phones, my iPod, and from a USB flash drive. There were some problems with songs periodically stopping mid stream then sometimes starting back up (possibly our WiFi limitations), but sometimes the app needed to be closed and reopened. Sometimes an error would pop up saying that the app stopped working (Android). Other times, the app would report that it could not find the speaker while still playing music uninterrupted, then moments later find the speaker again (again, possibly our WiFi limitations). In addition, when changing volume settings, there was often a lag in response time. Denon recently updated their iOS app, which seemed to help so far; however, there are still problems with the Android app.
Audio Quality
First, I tested the frequency response of the speaker just to satisfy my curiosity. To determine this, I used downloaded WAV files from Audiocheck.net. When testing the low frequency response, the speaker seemed to emit what I would call a very quiet low buzzing sound between 10-20 Hz (this range is beyond the range of human hearing and really should only be felt rather than heard). At about 20-24 Hz, I began to hear a low tone with the buzzing sound and definitely hear a very quiet tone above 30 Hz. The speaker was able to reach 19 kHz in a high frequency response test (my kids heard up to this frequency, while my husband and I could only hear up to 16 kHz. Oy! We're getting old!!).
When the app was working, the audio quality from this speaker was impressive. I loved it and so did my family. It filled our open concept living room, kitchen and breakfast nook (estimated around 500 square feet total) with sound even though this speaker is meant for small to medium sized rooms.
This is the smallest of the three Heos speakers, thus the deepest bass frequencies are missing when compared to systems with a dedicated subwoofer. This was evident when I listened to the bass heavy "End of Line" by Daft Punk from the Tron Legacy soundtrack. I still think it sounded wonderful (it had a nice balanced sound) as long as you listened to the song at a moderate volume. Increasing the volume to beyond the ¾ mark did result in a large amount of distortion. Adjusting the equalizer helps with this a little.
While listening to "Trodori" by Kodo, a Japanese taiko (a traditional Japanese barrel shaped drum) drumming ensemble, the lower bass drum rattles the speaker in a few spots. The other mid bass drums have deep, full tones and when the piccolo-like woodwind instrument joins them, none of the frequencies overpower the others, it's just a nice balanced piece. The Heos 3 does a fairly good job of capturing some of the depth of Kodo's live performance; however I imagine that I would have to surround myself with all the Heos speakers to do Kodo complete justice.
And finally, while listening to Maurice Ravel's "Bolero", you begin with the ever so quiet, soft, graceful notes of a flute which passes the melody onto the beautifully clear, dulcet tones of a clarinet. The Heos 3 very nicely captures this and the emotion of the piece as each instrument passes the melody onto another eventually adding more instruments to the melody and slowly building to an amazing skin tingling crescendo with the crash of the cymbals and the constant rhythm of the snare drum driving you to the end.
Final Thoughts
I must admit that even with the app problems (the app freezing up, losing connection to the speaker, and volume lag responses), the Denon Heos 3 has what I would consider fantastic audio quality (although it should be noted that I am not an audiophile). The app seems twitchy and unreliable, and there are a very limited number of music services to choose from, but these can be remedied in the future. As I receive app and firmware updates, I will be watching to determine if the improvements warrant expanding this system. But for now, when it works, I find that I thoroughly enjoy the Denon Heos 3 speaker and the quality of audio output.
Music used:
"End of Line" by Daft Punk from the soundtrack to

Tron Legacy

"Trodori" by Kodo from

The Best of Kodo

"Bolero" by Maurice Ravel
Update 01/01/15
After using the Denon Heos 3 speaker for two months now, the speaker still sounds wonderful but I continue to have various troubles with the app which includes not being able to play Pandora about one out of three times. What good is a quality speaker if you can't use it? I would hold off on the purchase of the Heos wireless speakers until they have addressed the app issues.
Update 07/20/16
The sound from this WiFi speaker still amazes me. They have added more music services and the following is the list of those services: Pandora, Spotify, TuneIn, Amazon Music, iHeartRADIO, SiriusXM, SoundCloud, Tidal, and Rhapsody as well as the music stored locally on your device, USB music, and music servers (the places within your WiFi network that store your music). The only complaint I have is not being able to use my own Amazon Music playlist.
Update 10/17/18
We've been using the Denon Heos 3 wireless speaker now for nearly four years and we still love it. We've since purchased the Bluetooth version of the Heos 3 and set the speakers up as a stereo pair thus making BOTH speakers available to our devices via Bluetooth. This allows me to play any music streaming app on my devices through the Heos 3's without having to play music through the Heos app. I have had to periodically unplug the speakers to "reboot" them when problems have arisen but otherwise, we love their audio quality!
Source: The sample used in this review was provided by Denon.  Please visit http://usa.denon.com/ for more information.
Product Information
Price:
$299
Manufacturer:
Denon
Retailer:
Amazon
Requirements:

Free HEOS by Denon app on iPhone (3GS or later), iPad, or iPod (at least 3rd generation) running iOS 5 or higher or Android smartphone or tablet running Android 2.3 or higher
A wireless network and internet connection
Mobile device connected to the wireless network

Pros:

Fantastic audio quality (non audiophile opinion)
Easy to setup
Flexibility to expand the system as finances permit
Ability to stream different music to each speaker or one song to as many speakers as desired
Ability to access and play from music libraries on a home network

Cons:

Very limited offering of internet music services
Some problems with the app being unresponsive, freezing, and volume lag response