We use affiliate links. If you buy something through the links on this page, we may earn a commission at no cost to you. Learn more.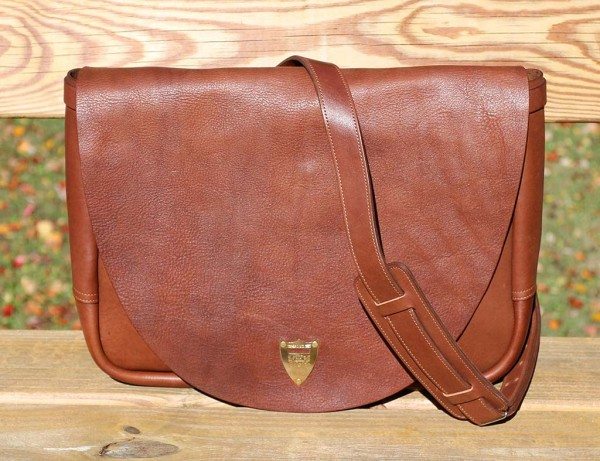 The Colonel Littleton No. 43 Mailbag Briefcase is a gorgeous shoulder bag reminiscent of the mail pouches carried by pony express riders from days before email and the internet. This bag is made in Tennessee of vintage brown polished leather with a very soft dry-milled leather flap that has brass shield on embossed with the bag's serial number. This bag is large enough to hold a laptop along with your daily gear. Let's take a closer look at this luxury gear bag.
Note: Images can be clicked to view a larger size.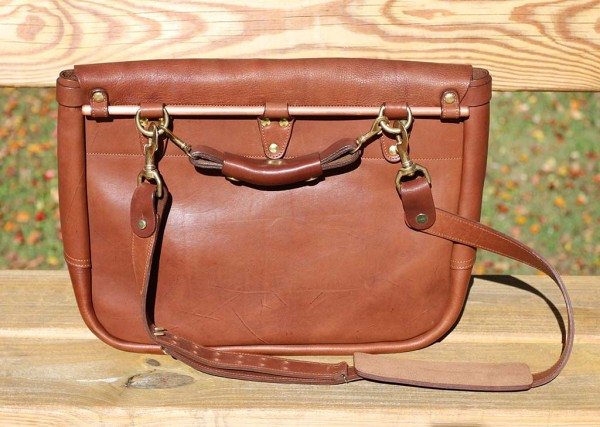 The back of the bag reveals an unusual feature that gives this bag a unique steampunk vibe. It's a narrow copper tube that helps distribute the weight of the bag while you're carrying it. You will also notice the removable leather shoulder strap which has an adjustable length of 42″-50″, and the convenient grab handle which is also removable. Both the shoulder strap and grab handle are comfortable to use.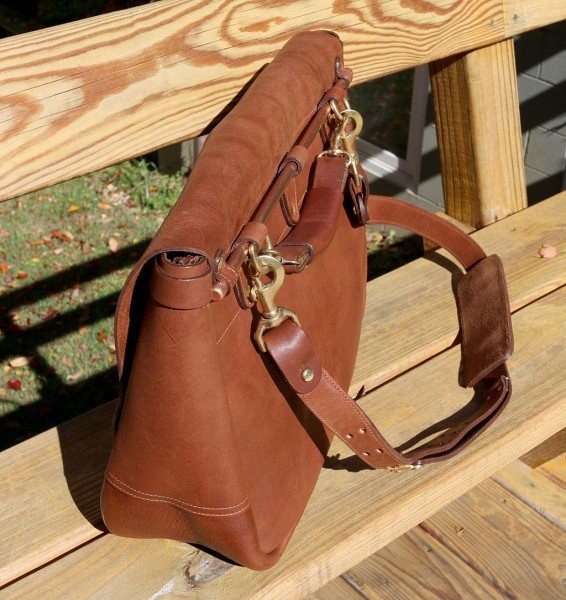 The No. 43 has inside dimensions of 13″ H x 17″ W with a 4″ wide opening at the top and a 6″ wide base at the bottom that allows the bag to remain upright on a flat surface. This is a feature that I always appreciate because I find that narrow bottomed bags always fall over, which can be annoying.
This view of shows some of the little details that make this such a well made bag. Notice the perfect stitching, and the heavy duty brass hardware for the shoulder strap and grab handle. I do wish that there was a flat pocket on the back of the bag for magazines and papers.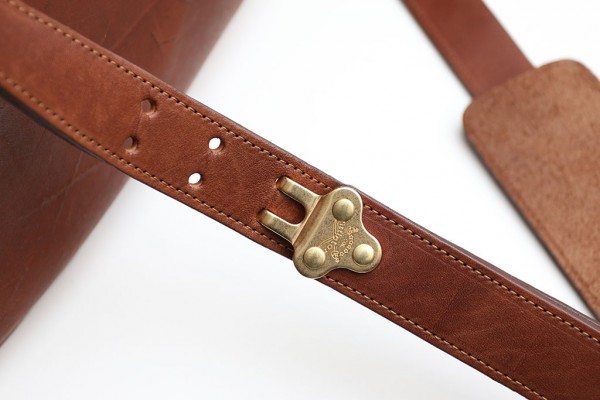 Take a look at the interesting brass clip for the adjustable shoulder strap. It's not a snap, but a one piece "claw" with two hooks. Features like this add to the uniqueness of this bag that will have people who notice it asking you where you bought it.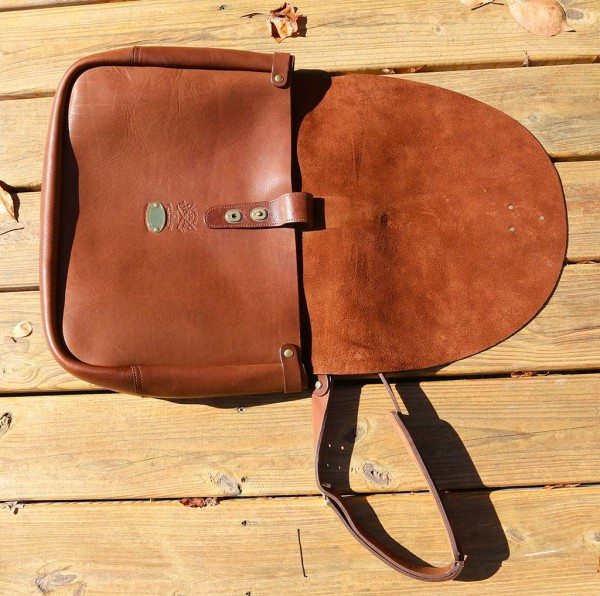 This bag isn't stiff rigid like some other higher end leather bags that we have reviewed. The leather is softer while still keeping it's shape and ability to stand up on a flat surface.
The front flap opens to reveal the Colonel Littleton logo stamped into the leather and a brass oval plate which can be personalized with your initials. If you're wondering what holds the flap closed, it's weight and gravity. There are no snaps or Velcro on this bag – which is a good thing in my opinion.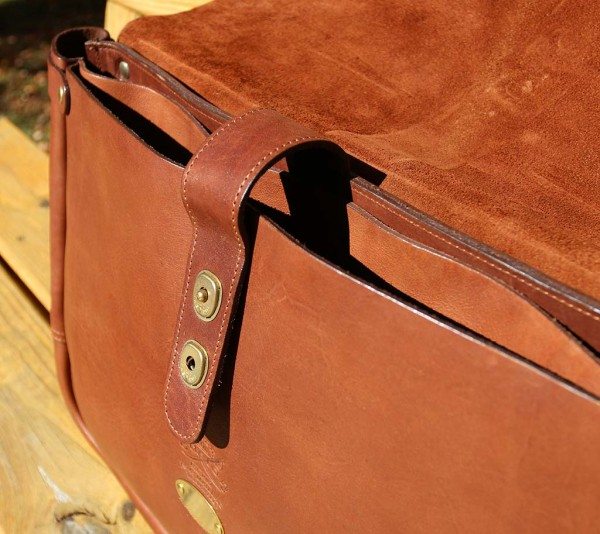 The only snap that you'll find on this bag is the military-style Lift-The-Dot closure that secures the open pockets so your laptop won't accidentally slip out. I really like these snaps because they don't pinch and are easy to use.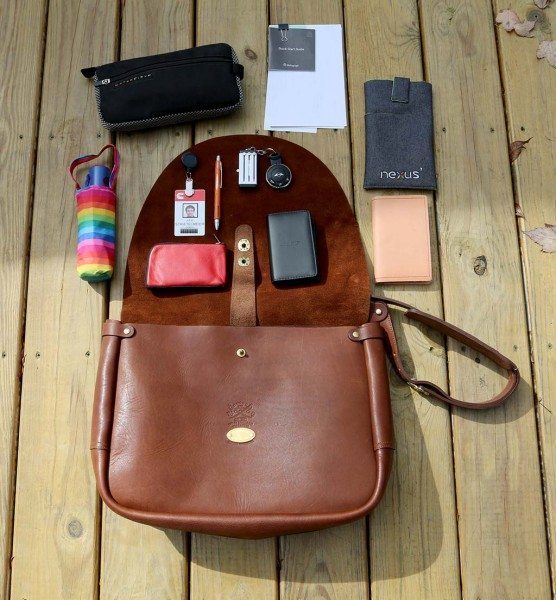 The No. 43 bag has only two storage areas inside, so it lacks a way to organize small items like pens, notebooks, etc. This might be an issue for some people who like to always know exactly where every item is in their bags.
Here's a look at the gear I carried in the bag while reviewing it.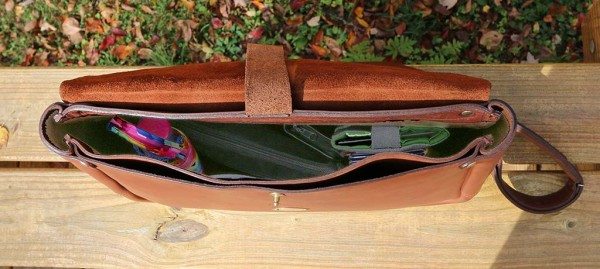 I still had plenty of room left to insert my 13″ MacBook Pro and power adapter (not shown).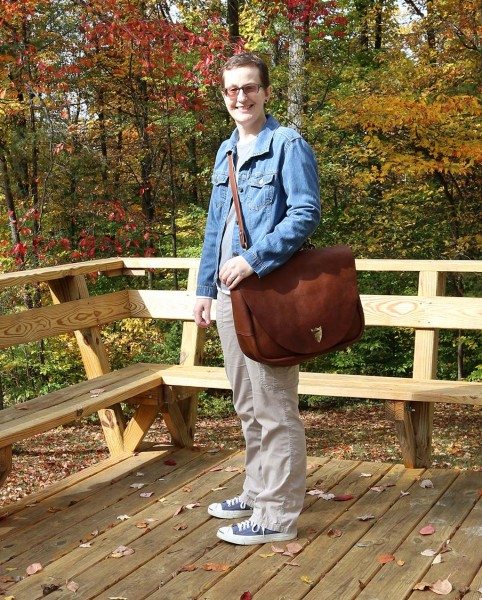 The No. 43 bag weighs 4.5lbs empty, so it's heavier than my normal canvas messenger bag. Even so, the Colonel Littleton No. 43 Mailbag Briefcase is comfortable to carry even for someone small in stature like myself. I stand 5'6″ tall and about 140 lbs, so you can get an idea of what the bag might look like on someone shorter or taller. As you can see from the image above, I like to carry my bags with the shoulder strap across my body. The first time or two that I carried this bag I thought the copper tube was rubbing against my lower back/hip. I finally realized it wasn't the tube at all, but the grab handle. The problem was easily solved by moving the handle up and out of the way after slinging it over my shoulder. Of course, you can also remove the shoulder strap and carry the bag like a briefcase by just using the grab handle.
The Colonel Littleton No. 43 Mailbag Briefcase is probably the nicest bag I've ever reviewed. It has a classic look that gets noticed and it smells wonderful too! This bag is very well made and there were no manufacturing defects to be found. This is the type of bag that will last a lifetime and one that you'll want to hand down to your kids because it has heirloom quality. However, with quality of this type comes a matching price. This bag is expensive. Very expensive. It's one of those products that they say you'll pay once and cry once. Meaning that you only pay for a quality product one time. The price and lack of interior organization are the only issues with this bag. If neither of those things bother you then the No. 43 bag will be one that you'll use the rest of your life.
Source: The sample for this review was provided by Colonel Littleton. Please visit their site for more info.
Product Information
Price:
$898.00
Manufacturer:
Colonel Littleton
Pros:

Gorgeous
Well made
Grab handle

Cons:

Expensive
No organization inside