We use affiliate links. If you buy something through the links on this page, we may earn a commission at no cost to you. Learn more.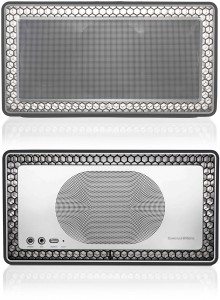 Let's face it: Bluetooth speakers are nothing new. What is new however, is a Bowers & Wilkins Bluetooth speaker. B&W is one of the most revered speaker companies in the world and their wireless Airplay speakers—Zeppelin and A series—are among the best. But their use of Airplay locked them out of the massive Bluetooth market as well as the Android ecosystem. That's no longer the case thanks to the new T7 Bluetooth speaker.
The T7 is a true portable speaker—about the size of a hardback novel. B&W has incorporated a new internal speaker bracing system called "Micro Matrix," which surround the speakers with a transparent  rigid honeycomb structure providing a solid platform for the T7's drive units. A rubber surround adds tactile easy-grip protection, helpful with portable speakers.
B&W has used every technological trick they know to get the best possible sound from such a little speaker. The T7 uses two high-output bass radiators delivering range, depth and richness, plus two 50mm drive units made from glass fiber, the same material used in other B&W wireless speakers.
AptX Bluetooth ensures audio detail isn't lost in wireless transmission streamed from any Bluetooth-enabled device (except Apple, which does not support aptX). The T7 comes with an 18-hour rechargeable battery.
There's a lot of attention to detail in the B&W T7 speaker. Visit www.bowers-wilkins.com for more detail.
The new T7 is available this October and priced at USD $349.99