We use affiliate links. If you buy something through the links on this page, we may earn a commission at no cost to you. Learn more.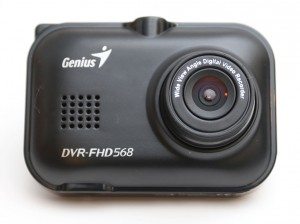 Mounted on your windshield, dash cams are small video cameras that have been designed to record what you see as you drive. Whether it captures that near miss with the deer that ran across the road in front of your car, a collision with another vehicle or maybe just a scenic drive, these cameras are both handy and useful. I'm still a newbie when it comes to dash cams, but I'm learning fast. My second dash cam review is for the Genius DVR-FHD568 FHD dash cam. Let's take it for a test drive (sorry, I couldn't resist).
Note: Images can be clicked to view a larger size.
Hardware specs
Battery: 420mAh Li-polymer Battery
Memory: Supports up to 32GB micro SDHC
Sensor Type: 1/2.7"CMOS Sensor
Screen: 2.4" panel
Video Recording Format: AVI
Frames per second: 1920 x 1080/30 fps, 1280 x 720/60 fps
G-Sensor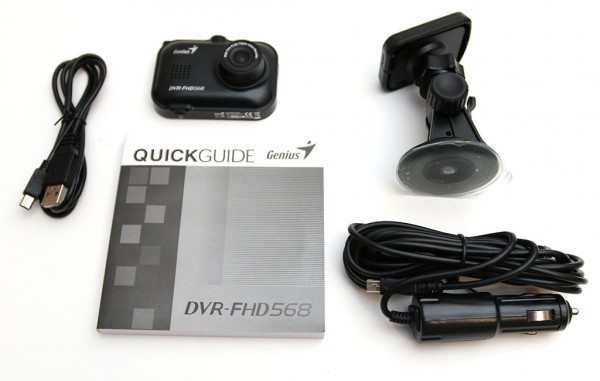 Package contents
Vehicle recorder
Cigarette vehicle adaptor
Car suction cup
USB cable
Quick guide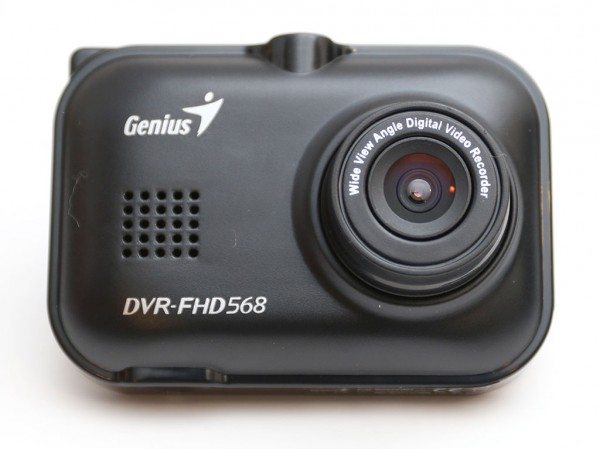 Hardware design
The Genius DVR-FHD568 FHD dash cam is all business as far as looks. It's made of black plastic with a speaker on the front next to the 140 degree wide angle lens.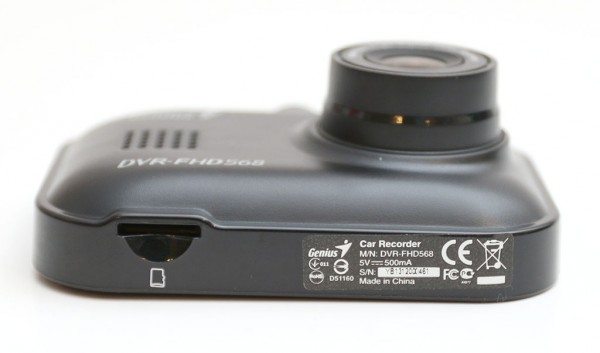 There is a microSD card slot located on the bottom edge of the camera. You'll have to supply your own microSD card to use with this camera. It can support up to a 32GB card.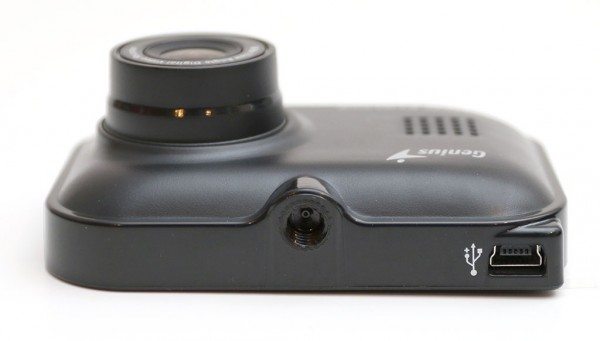 On the top edge you'll find the threaded bracket socket and a mini USB connector that is used along with the included 12V car adapter to power the camera.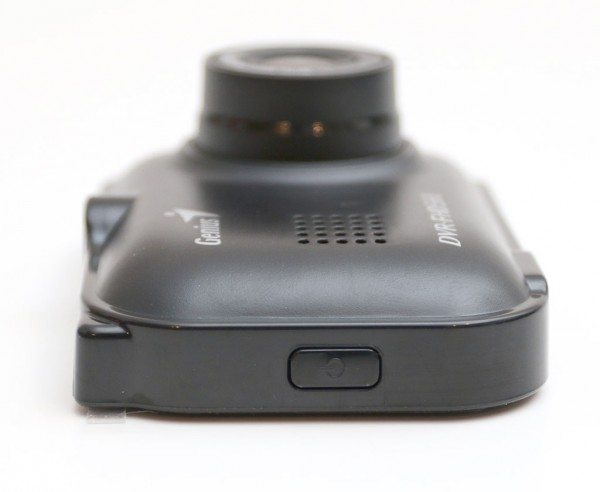 The power button is on left side of the camera. You don't have to turn the camera on each time you get in your car though. It will automatically turn on when you start your vehicle – if you have connected the included USB cable.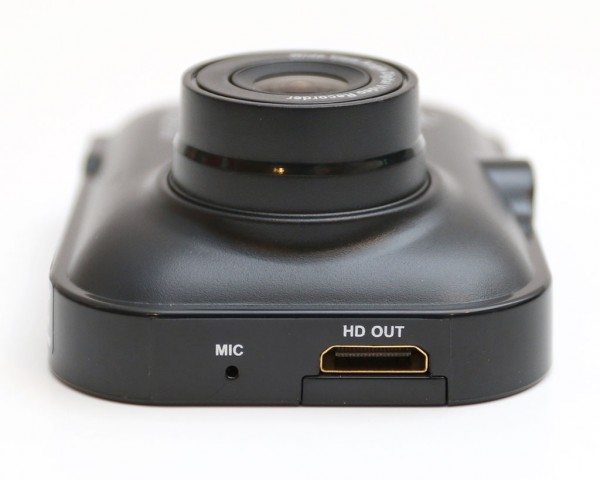 The other side of the camera has a built in microphone and an HDMI port that can be used to connect the dash cam to your TV for viewing video clips. Note: an HDMI cable is NOT included with the camera.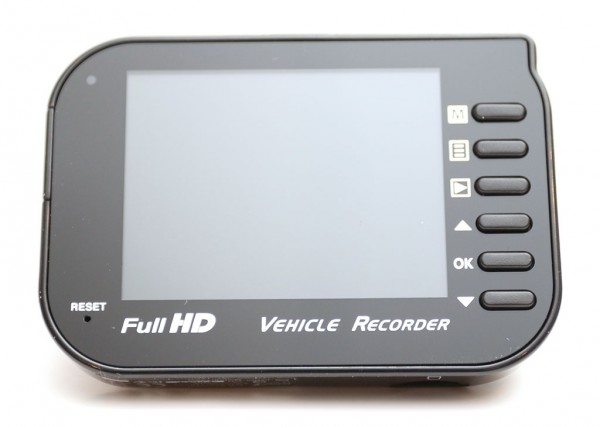 On the back of the camera is the 2.4″ display and panel of control buttons that are used to navigate the onboard menus for setup and customization of settings.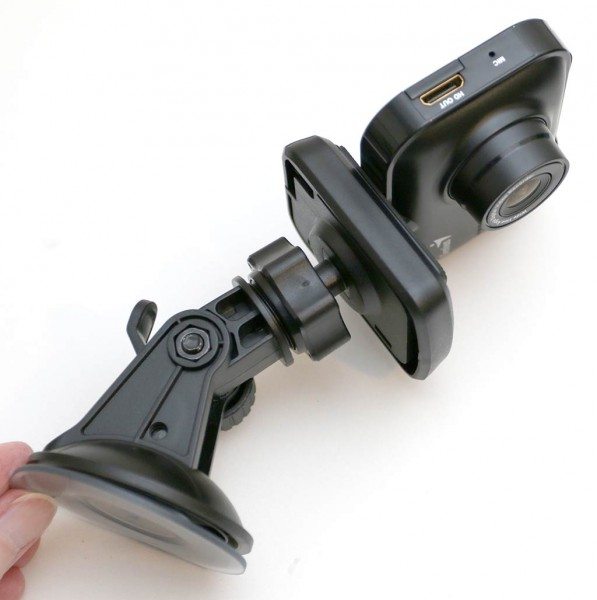 Setup and use
To use this dash cam effectively, you have to mount it on your windshield. Luckily a mount is included in the packaging. The mount seems a bit generic though and not designed specifically for this dash cam. That said, it performs as expected.  The camera connects to the mount using the threaded socket.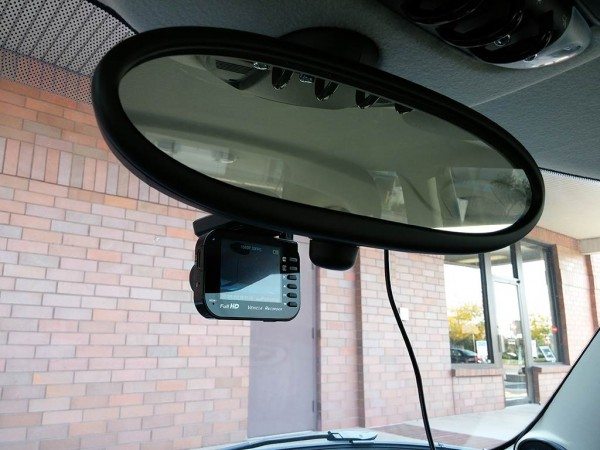 The best place to mount a dash cam is usually behind the rear view mirror. In this location, the camera doesn't distract you while you're driving. During my review period, I just let the power cable dangle, but since the USB connector is located on the top edge of the camera, it should make it easy to hide the cable out of the sight under the headliner.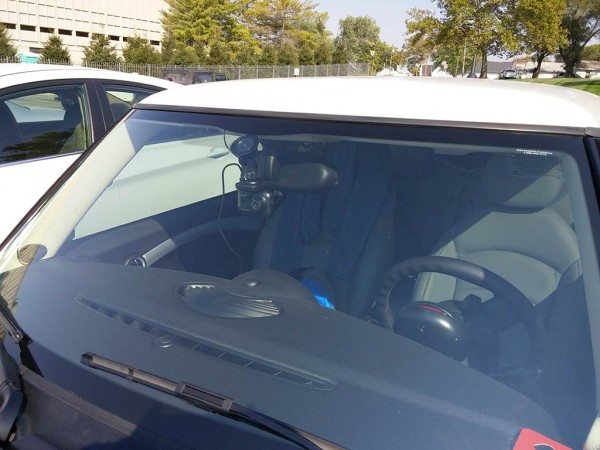 The black color of the camera lets it blend in and not scream to the world that you're recording video.
This dash cam is designed to automatically power on and immediately start recording video as soon as you start your vehicle's engine.  Recordings will continue for either 1, 3 or 5 minutes before saving and then creating a new file on the microSD card. When all the space on the card is full, the oldest files will be overwritten as new recordings are created. Video recording will automatically stop after you turn off the engine. A shutdown delay setting can be set to either off, 15 or 30 seconds.
The camera settings can be customized using the menus. This is where you'll need to set the date / time so your recordings will have the correct time stamp. Unlike my demo video below. Oops. 🙂
You'll notice in the 2nd menu screen that there's a vibration detection setting. This can be set to low, normal, high or off. The manual very briefly talks about this feature, but basically it's supposed to detect collisions and create an emergency file which can then be used for accident info and potential insurance reasons.
To watch the video clips, you can either connect the camera to a computer using a USB cable, attach the camera to a TV with an HDMI cable or just by watching the video on the camera itself by scrolling through thumbnails of the videos.
The Genius DVR-FHD568 FHD dash cam has a 140 degree wide angle lens which allows it to capture pretty much the entire view through your windshield. Wide angle lenses do have some caveats though. If you watch the demo video below and pay attention to buildings as I drive by them, you'll notice that there's a slight fish-eye effect where straight edges curve on the sides.
In action
Daylight video.
Night time video.
You can also notice some pixilation of trees etc. while driving. It's possible that this has to do with the type or speed of the microSD card I used. I used a relatively new 32GB SanDisk Ultra HC card.
I found that this camera does a good job recording video in both day and night. I set the resolution to max which is 1080P at 30 FPS, other settings are 720P at 60FPS or 30 FPS.  By default the camera is set to record 3 minute videos which on average are about 350MB each. The file format the camera uses is .AVI which for some reason would not play using Quicktime on my MacBook. I had to use a 3rd party video player (VLC) to view the files.
Final thoughts
The Genius DVR-FHD568 FHD dash cam is an easy to use camera that comes with everything you need to mount in your vehicle. After reviewing two dash cams, I know I'll want to use one in my car from now on. It's something you really just setup and then forget about it until you need it. You never know what interesting footage you might capture during your driving adventures. I don't have any major complaints about this camera as it does what it's been designed to do. At only $97.53 from Amazon, this is a decent choice of dash cam.
Source: The sample for this review was provided by Genius. Please visit http://geniusnet.com/ for more info.