We use affiliate links. If you buy something through the links on this page, we may earn a commission at no cost to you. Learn more.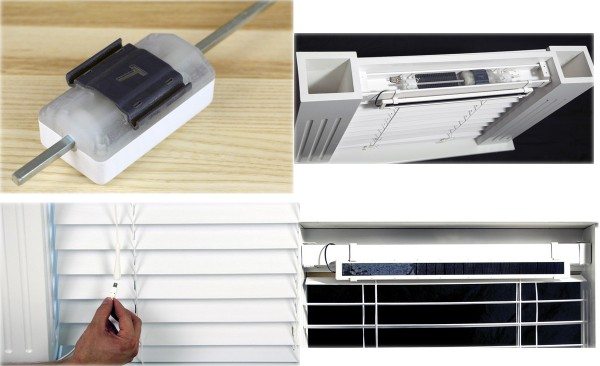 We have 1″ wood venetian blinds in all our windows.  Most of our windows are floor-to-ceiling length, and they have long tilt adjustment wands that I can reach.  The windows in our sunroom are placed at ceiling height, but they stop about 3 feet above the floor, and their tilt wands are too short for me to reach.  Those windows are west-facing, and the sun comes through like a nuclear blast in the afternoons.  I have to avoid that room in the afternoon, because I can't adjust the blinds to block the sun.  I wish I could add these TiltMyBlinds retrofit kits to those blinds to automate them, but the kits are only for 2″ blinds.  The TiltMyBlinds kits are currently seeking funding on Kickstarter, but they are very near their goal with 25 days left in the funding period.
The TiltMyBlinds kit is easy to install to your existing blinds.  You attach the kit's motor around the metal bar in the blind's header.  You won't even need tools for most installations.  The kit will work with 2″ slatted blinds made of aluminum, wood, composite or fabric.  You can charge the battery by USB through a blind cord, or you can add a solar panel that sits on the window side of the header.  The TiltMyBlinds kit can be controlled by an app on your cellphone; they are connected via Bluetooth 4.0, so you'll need an Apple device or an Android device that's Bluetooth 4.0-compatible.  With the app, you can set timers to open and close the blinds or control them manually.  You can also control the blinds with a wall-mounted switch (doesn't require wiring), and there's even a dongle that plugs into your TV that will cause the blinds to close when the TV turns on.  The motor unit even has a light sensor and can automatically close and open the blinds based on outdoor light.
There are a few $60 pledges left for a single Tilt retrofit kit; the single kit price jumps to $75 when those few $60 pledges are claimed.  You can also get four Tilt retrofit kits plus two wall switches for $249 or eight kits with 8 solar panels, 3 wall switches, and 2 TV Tilts for $599.  The funding period for TiltMyBlinds ends Friday, October 17, 2014 at 12:00 AM EDT.  Shipping is slated for February 2015.