We use affiliate links. If you buy something through the links on this page, we may earn a commission at no cost to you. Learn more.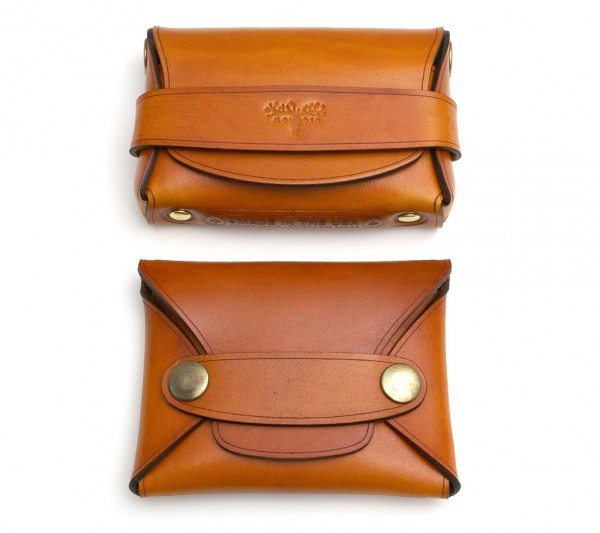 I've never done drugs or gotten high unless you count snorting the addictive smell of these gorgeous leather wallets from Moose Brand. Hand me anything made of leather and I automatically bring it up to my nose for a sniff. Ahhhhh… There's something comforting about the smell of leather – good leather though, not weirdly processed leather products from some Chinese companies that will actually cause your nose hairs to fall out and your eyes to water. When the folks at Moose Brand contacted me to ask if I would like to review their products, I took a quick look at their site, saw their unique designs and immediately said "heck yeah". They sent me their Palm and Rivet wallets to try, so let's take a look.
Note: Images can be clicked to view a larger size.
Stitch-less Palm Wallet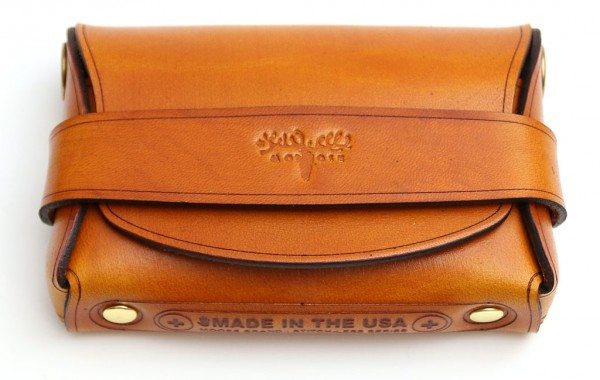 The Stitch-less Palm Wallet comes in yellow, red, blue, green and black. I was sent the yellow version which really isn't yellow at all. It's a very nice looking golden brown.  As the name implies, this wallet does not have any stitches to hold it together. It's made of three pieces of full grain saddle leather that have been joined together using brass rivets. The leather is thick and feels rugged enough to withstand everyday use for years and decades to come.
This particular wallet is branded in three places. There's the Moose Brand logo on the cover strap…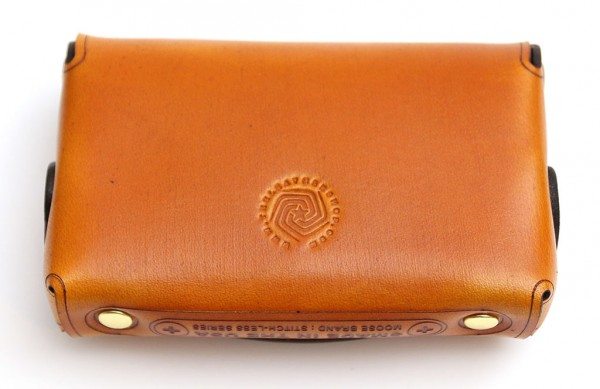 The company's website is branded on the back.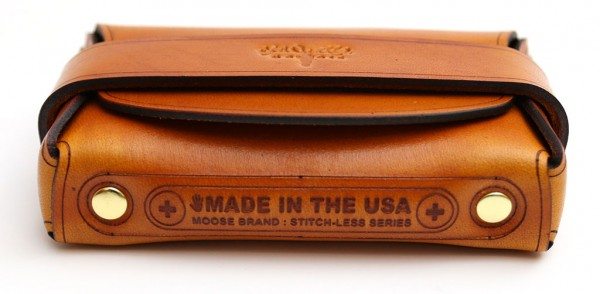 And "Made in the USA" is stamped on the bottom edge. The branding seems a little excessive, but it doesn't really detract from the cool style of this wallet.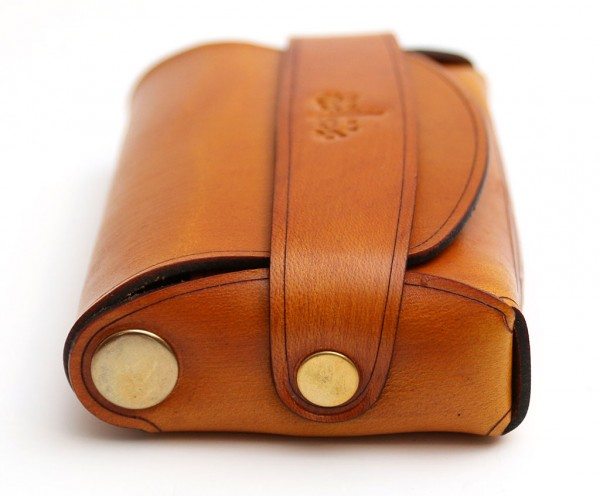 The Palm Wallet is a chunky little guy and is probably not the type of wallet that you would want to carry in your back pocket.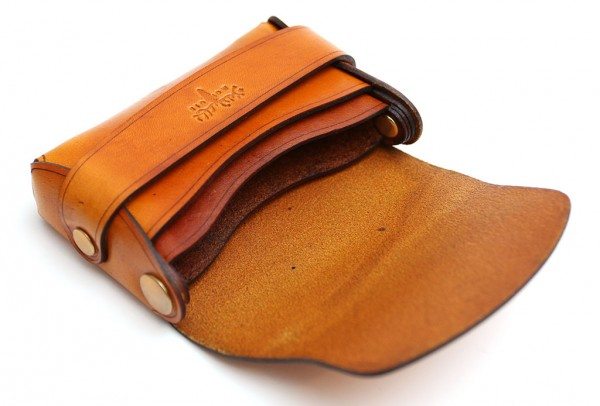 The wallet's cover slides out from under the front strap to reveal a roomy interior that is divided into three compartments.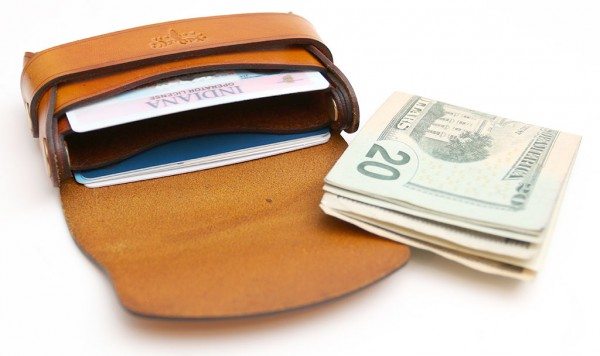 There are two narrow compartments that are large enough to hold several standard sized credit cards and a wider center section that can hold folded bills, keys, change, etc.
I was able to slide five thick plastic credit cards into the back slot and two thick plastic credit cards in the front slot. In the center section I folded ten bills two times and still had plenty of room to add other items.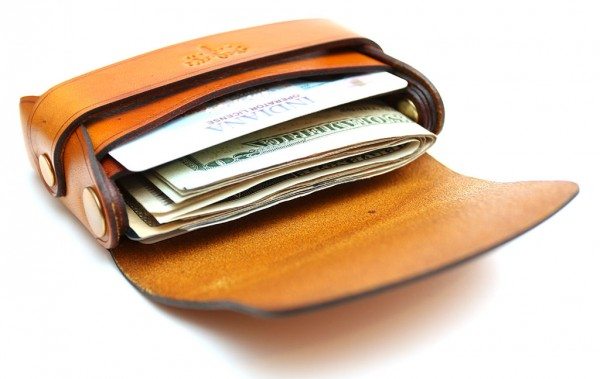 Note that you need to fold the bills twice and not like what you see in the image above. Although the bills fit just fine folded once, the cover doesn't close perfectly, so I recommend folding the bills two times.

The Stitch-less Palm Wallet is smaller than my Waterfield Finn wallet shown above on the right, but can hold the same amount of cards and bills. The Palm Wallet is expertly crafted with no defects in construction or appearance.
Rivet Wallet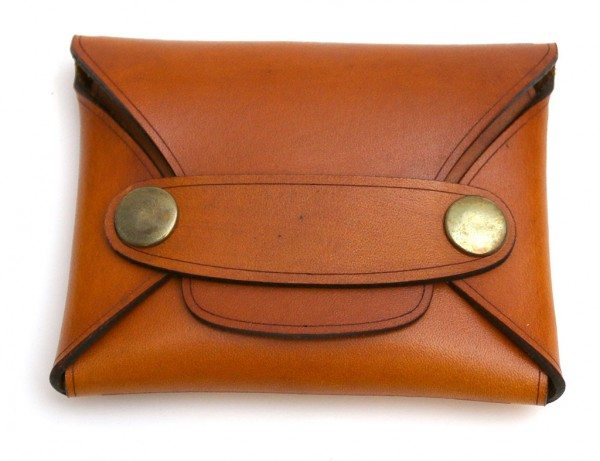 The Rivet Wallet is available in yellow, natural and tan. I received the Rivet wallet in yellow. Like the Palm Wallet, the Rivet wallet is constructed of full grain saddle leather. It's made from two pieces of leather which is held together with two brass rivets.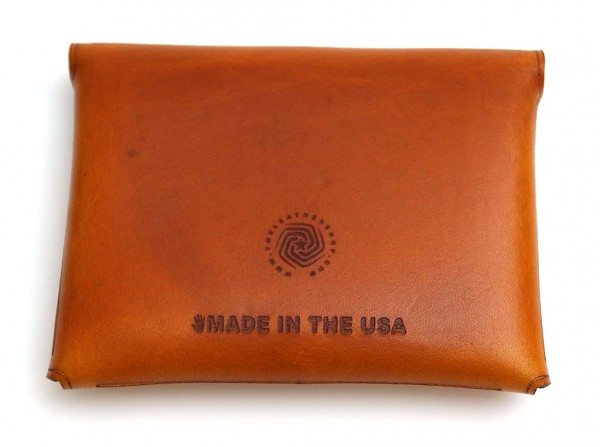 You'll find the company's website and "Made in the USA" branded into the back side of the wallet.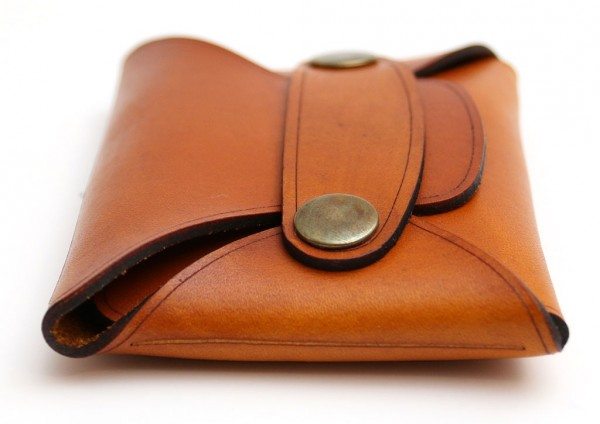 The Rivet wallet shares the same unique folded design as the Palm Wallet. No stitching means you don't have to worry about the wallet falling apart after years of use from broken threads.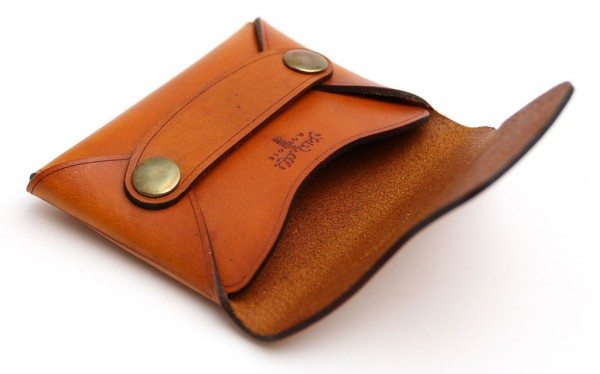 When you open the cover you'll find the Moose Brand logo. The Rivet wallet is much smaller than the Palm Wallet and has only one compartment.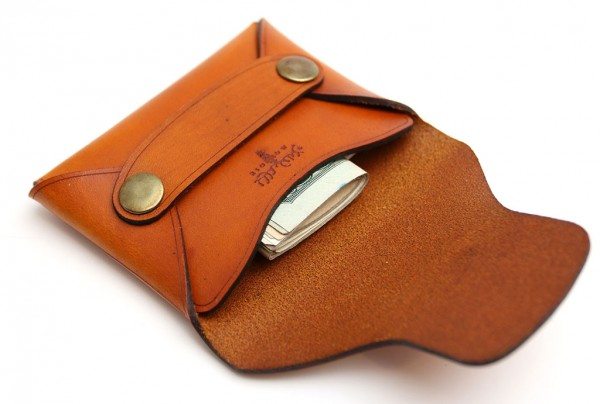 This wallet is slightly taller than the Palm Wallet, so it can hold bills folded just once or twice as shown above. The Rivet wallet comfortably holds ten or so folded bills and three to four credit cards.

I'd consider the Rivet Wallet more of a minimalist wallet. It fits more comfortably in a pocket than the Palm Wallet, even a back pocket.
Moose Brand isn't a company that I was not familiar with prior to them contacting me for this review. Since evaluating their products, I can say that I'm impressed by their products and craftsmanship. Either of these two wallets would make a great gift as they are very attractive to look at, well made and easy to use.
Source: The samples for this review were provided by Moose Brand. Please visit their site for more info.
Product Information
Price:
$45 Rivet wallet, $120 Stitch-less wallet
Manufacturer:
Moose Brand
Pros:

Attractive
Thick rugged leather
No stitches to ravel

Cons: