We use affiliate links. If you buy something through the links on this page, we may earn a commission at no cost to you. Learn more.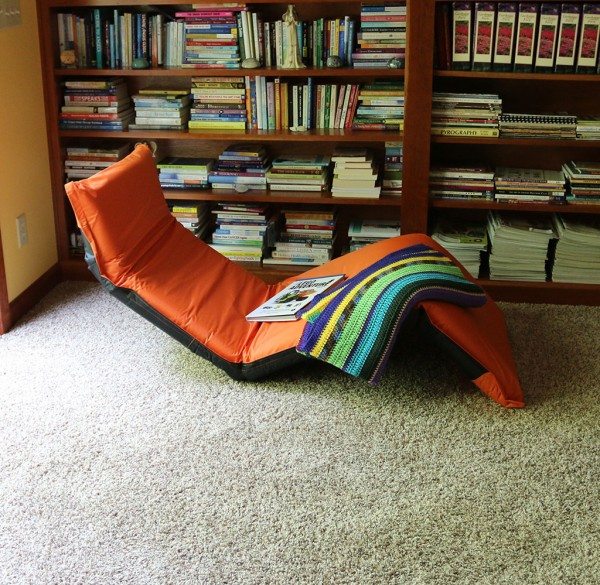 I love my Lazy Boy couch and my double recliner, but most furniture items want you to adapt to them instead of the other way around.  You can't easily move a recliner around your home from room to room or fold it up and shove it under the bed when you don't need it. But with the new Sumo Omni Reloaded from Sumo Lounge you can do exactly that.
Note: Images can be clicked to view a larger size.
Specifications
Outer materials: 100% Polyester
Filling: Polyurethane Foam
Frame: Powder Coated Steel with position hinges
Dimensions: 74.8 x 27.5 x 4.72 inches (190 x 70 x 12cm)
UV and Water Resistant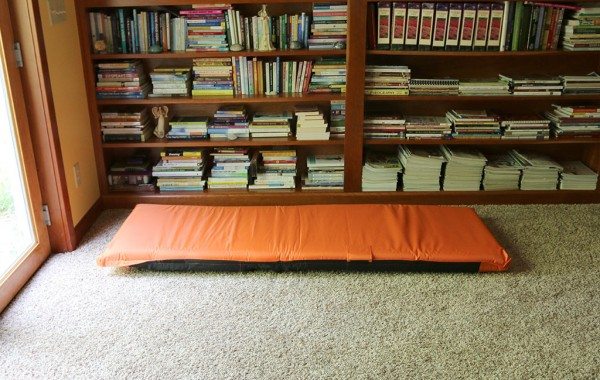 I've reviewed Sumo's bean bag chairs before, but this new chair is something entirely different – no beans… The Sumo Omni Reloaded is available in five colors including orange which you see above. It features Sumo's quality materials and construction.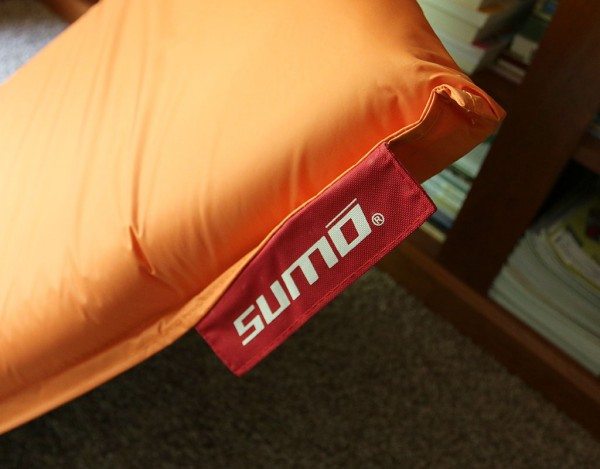 The outer covering is made of an easy to clean durable material that is both water and UV resistant so that you can even use it outside.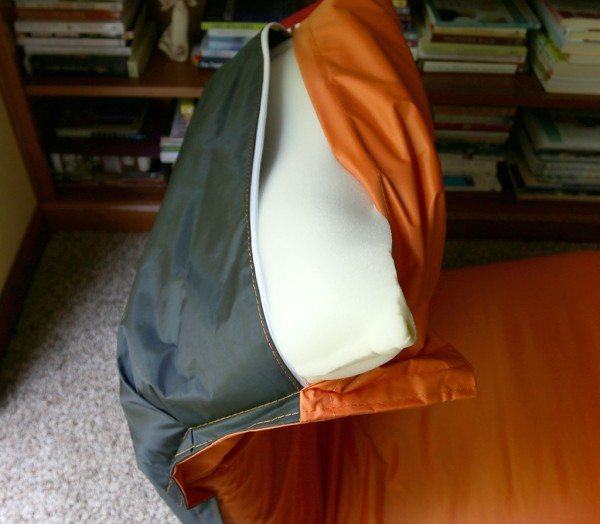 The cover can be unzipped to reveal the cushioned interior. Enclosed in the foam cushion is a steel frame.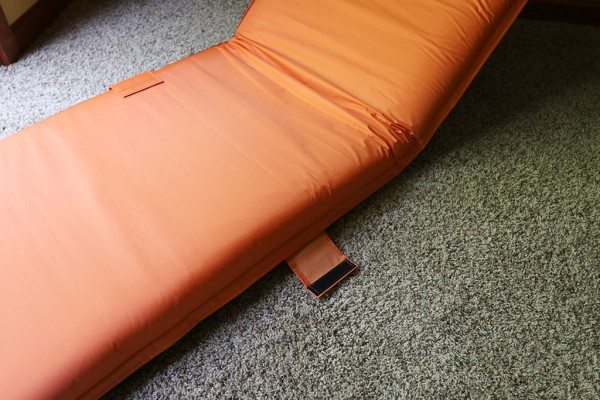 The Velcro flaps which are sewn into the sides help keep the chair folded for storage.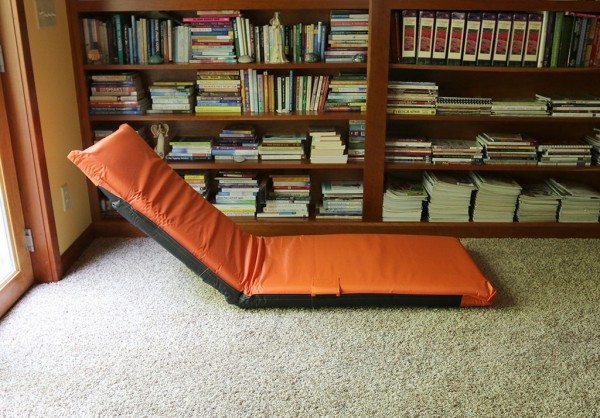 At a little over six feet long, the chair should be able to comfortably accommodate almost anyone. The great thing about this chair is that it can be manipulated into different shapes. When it's flat, it can become a bed for a guest. The internal steel frame has three different folding points so that you can create a chair that is comfortable to you. Each of the folding points of the chair can lock to several positions. When you fold to the last setting it will pop back to the original unfolded position. There's a folding point in the center…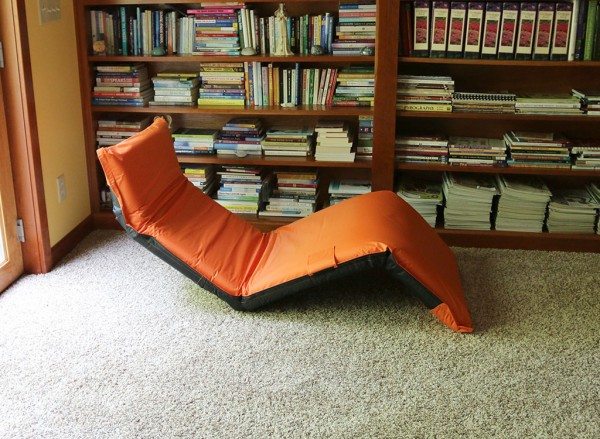 as well as one in the head and knee area.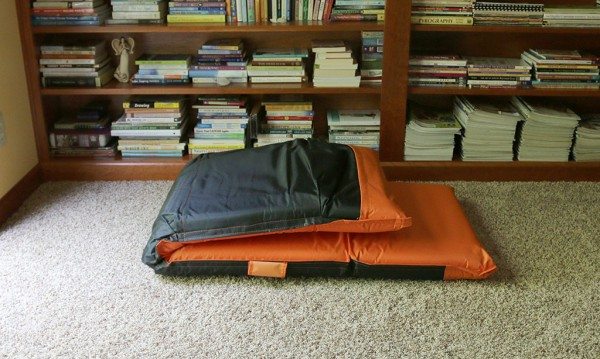 When you no longer need to use the Sumo you can fold it in half, secure the Velcro straps on the sides and store it in the included nylon bag.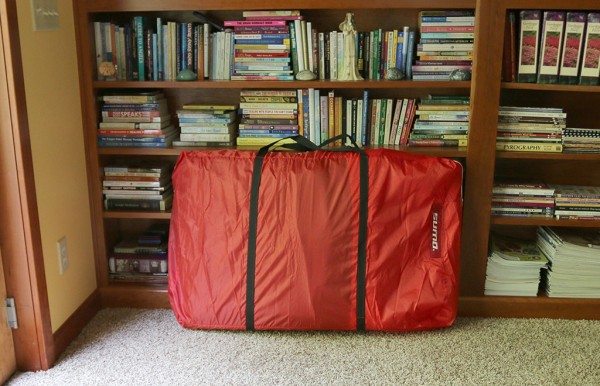 The zippered bag even has straps for easy carrying. The chair can slide under a bed or into a closet for storage.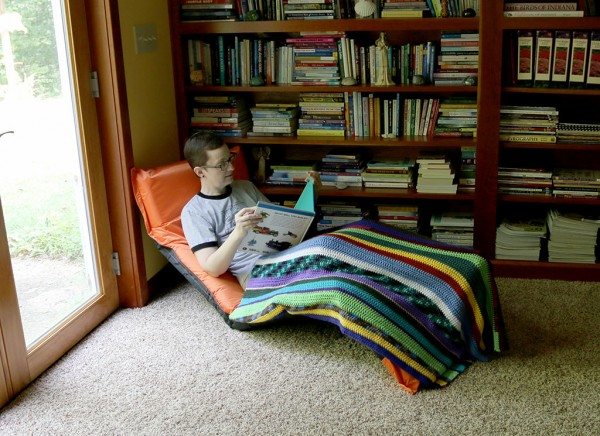 I found the Sumo Omni Reloaded to be really comfortable and fun to use. It's great for watching TV, taking a nap or curling up with a good book in front of a window. It's more ideal for younger people since it's close to the floor and it's not easy to get out of it if you don't have decent leg and core strength.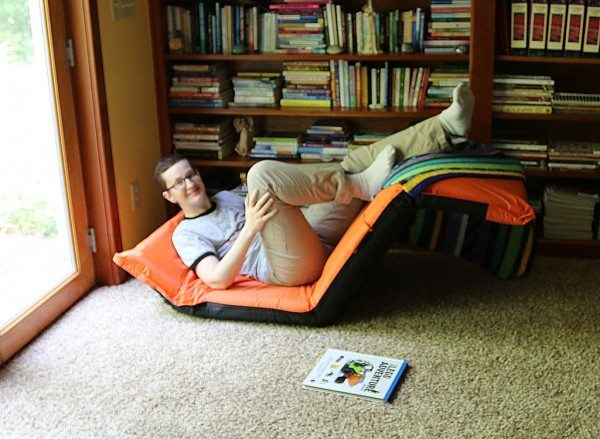 You also have to be careful how you get into it. I almost flipped backwards when I was trying to quickly get in position for a picture I was taking with the 10 second timer on my camera. I didn't have the head of the Sumo propped against the wall and when I quickly plopped down, I rocked backwards. The camera caught my goofy position.
The Sumo Omni Reloaded is a well made convertible chair that can be useful in homes, dorms, around the pool, camping and more. It's easy to use, comfortable and fun. Just be careful how you get into it. 😉
Source: The sample for this review was provided by Sumo Lounge. Visit their site for more info.
Product Information
Price:
$219.00
Manufacturer:
Sumo Lounge
Pros:

Easily converts from a bed to a recliner
Water resistant cover
Folds for storage

Cons:

Can flip backwards
Older people may have issues getting in and out of it
Expensive