We use affiliate links. If you buy something through the links on this page, we may earn a commission at no cost to you. Learn more.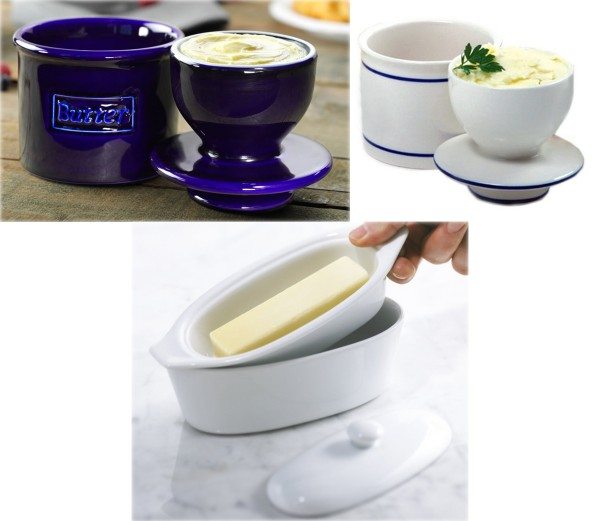 It seems many people are looking for the perfect method for buttering up their toasts and bagels.  Julie was disappointed with the knife that promised to use the heat of her hand to make butter spreadable that she reviewed yesterday.  As Julie mentioned, butter can actually be left out on the counter without refrigeration, but I don't particularly care for just leaving the butter sitting out.  I've tried two methods for keeping butter fresh and covered while keeping it soft and spreadable.  I've tried the Butter Bell (two versions seen in the top row of images) and the Butter Boat.  Both methods use the cooling properties of ceramics and water to keep the butter soft and fresh.
With the Butter Bells, you'll have to let the butter soften at room temperature, then pack it into the bell-shaped holder under the lid.  You place cold water in the base, then put the lid on.  The surface of the butter is under water, keeping it from exposure to the air.  The water and ceramic keeps it just a bit cooled, but it's still soft enough to spread.  You need to replace the water every couple of days to keep things fresh.
The Butter Boat is my favorite method of keeping butter out of the fridge.  You simply place a stick of butter in the top bowl.  You place cold water in the bottom bowl, where it keeps the upper bowl and the butter it holds a little chilled for freshness.  It's not too cold, so the butter is still soft.  The lid keeps the butter covered.  You also need to replace the water in the Butter Boat every couple of days.
As I mentioned, I've owned and used both of these types of butter keepers.  I actually like the look and the size of the Butter Bells more, but I prefer to use the Butter Boat because the water doesn't actually come into contact with the butter.  You can find both of these butter keepers at Amazon by searching for Butter Boat or Butter Bell.  The Butter Bells types vary from about $10 for a Norpro version (upper right), to about $22 for the actual Butter Bell (upper left), to about $35 for the Le Creuset version (not shown).  The Butter Boats are about $20.