We use affiliate links. If you buy something through the links on this page, we may earn a commission at no cost to you. Learn more.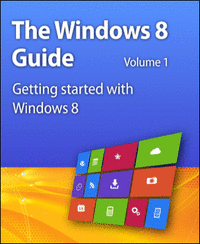 The Windows 8 Guide, Volume 1 is a 38 page ebook which normally costs $9.95, but is being offered FREE of charge until 8/8/14. This ebook cover topics for users that are brand new to the Microsoft Windows 8 operating system. It starts off by explaining the differences between the different versions of Windows that are currently available and then goes straight into tips on setting things up once you have the OS installed. It also covers customization and info on navigating the OS and getting the most out of the file manager. At my day job we're currently transitioning to Windows 8. I get a new laptop next week and will find this guide pretty handy as I start getting used to the new tile interface.
There are a few hoops to jump through to get this guide (if you haven't already signed up previously with TradePub) but it helps The Gadgeteer to earn some some affiliate fees that can help us to bring you more cool product reviews.