We use affiliate links. If you buy something through the links on this page, we may earn a commission at no cost to you. Learn more.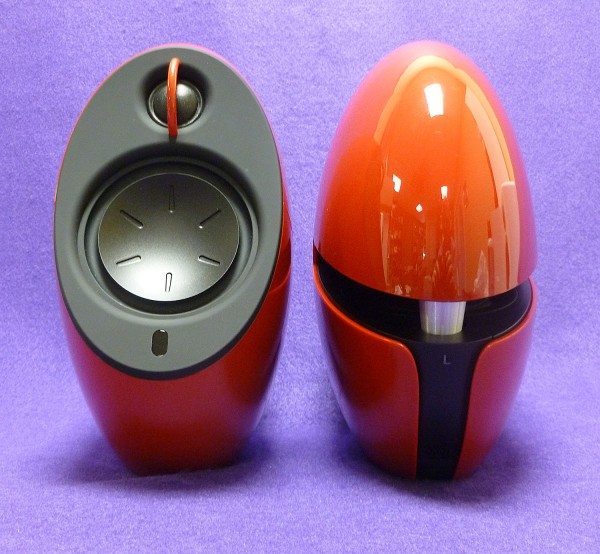 Among all the Bluetooth and desktop speakers I've reviewed, I've never tested both form factors in one speaker system. The Edifier e25 Luna Eclipse speakers combine the look and stereo separation of a dedicated desktop speaker with the convenience of Bluetooth. Not only that, they look like nothing else either. They even won the 2014 iF Product Design Award.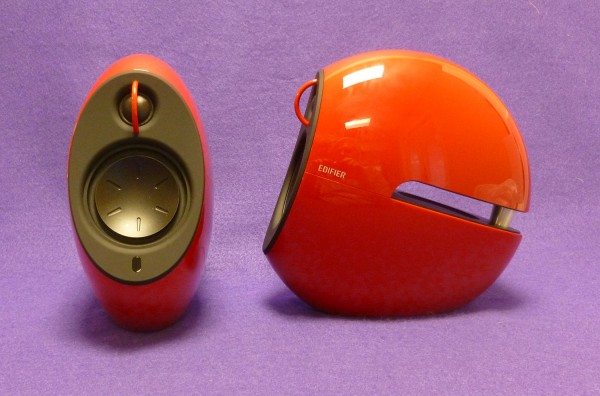 Edifier is becoming known for striking speaker design. Their Spinnaker speakers are even nicer looking than the Eclipse – and that's saying something. Even so, the Eclipse speakers are beautiful. Their bright red shell jumps off my desk and garners positive attention from whoever wanders into my office. If red is not your color (I feel sorry for you), they also come in black and white.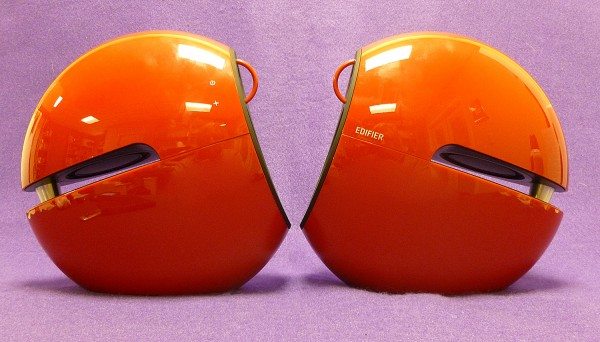 In the box, the Eclipse speakers are wrapped in nice lint-free drawstring bags. Thats good, because the mirrored lacquer finish is a fingerprint magnet. I had to wipe them down every time I adjusted their position on my desk. Because of their unusual shape that makes them a bit top-heavy. They can be knocked over easily when bumped, so be careful where you place your coffee cup. I speak from experience.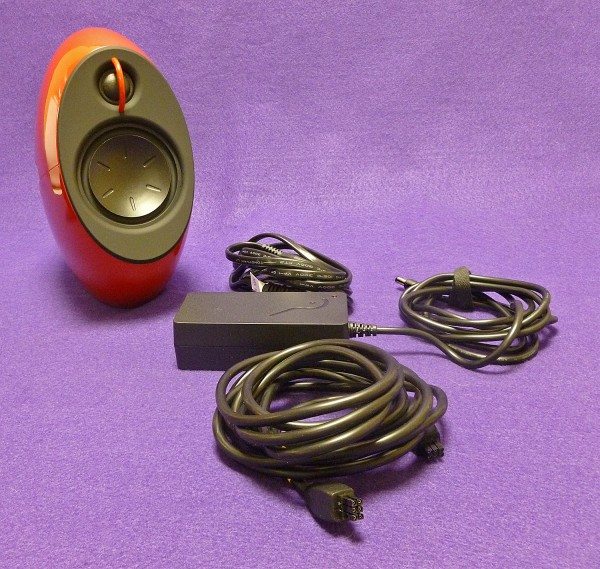 Calling the Eclipse speakers wireless is a bit disingenuous. Yes, they incorporate wireless Bluetooth, but they still must be wired to each other and there is also a power cord connected to a large power brick. Since these speakers are designed for only desktop use, there is no rechargeable battery option.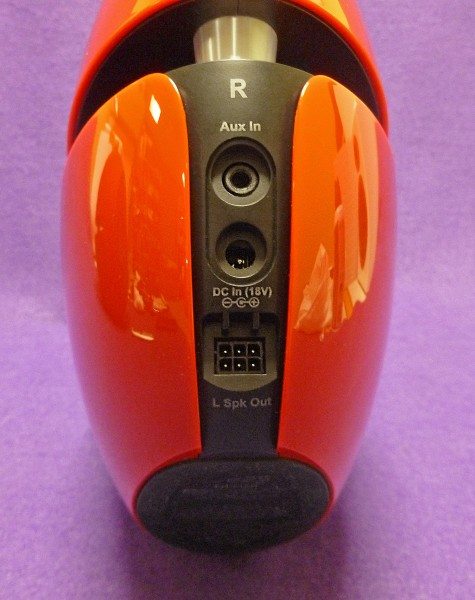 Now let's talk about that Bluetooth. The one reason I would recommend using the Bluetooth setting on the Eclipse speakers is for convenience only. The overall volume is severely diminished and everything sounds smaller and uninvolving – not immersive like music should feel. If I didn't have to use Bluetooth for reviewing purposes, I would have never used it at all. The sonic differences between wireless and wired is that noticeable. In my research, I couldn't find any reference about what version of Bluetooth the Eclipse speakers incorporate. I doubt its the improved aptX or version 4.0 bluetooth. When Bluetooth on, a small blue light is visible at the bottom of the right speaker. When it's off, the light glows red.
One cool feature on the Eclipse speakers are touch-sensitive controls for volume/play/pause/skip. It's nice to just lightly touch whatever selection you want and have instant response. Plus you can swipe up and down to skip or replay any track. This worked equally well on both a smartphone and PC and was fun to use.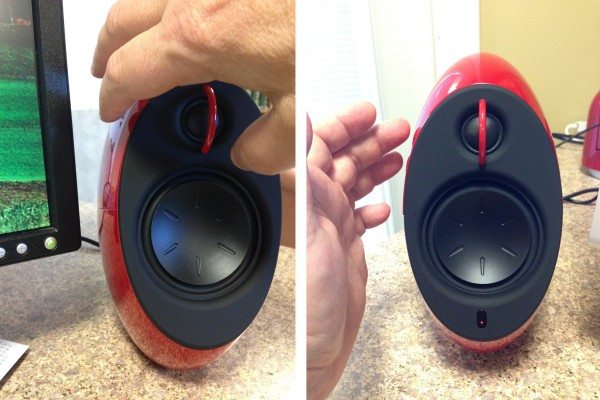 One design decision I don't get however is that the touch controls are on the side of the right speaker that is closest to the monitor. This means you have to awkwardly twist your right wrist to activate any control. To solve this, I swapped the left and right speaker so that the touch controls were on the outside of the (now) left speaker. Then I swapped left for right in the speaker setup on my iMac. That is how it should have been designed in the first place. There is also an included remote that controls on/off and volume. The plastic remote is no better or worse than others I've tried.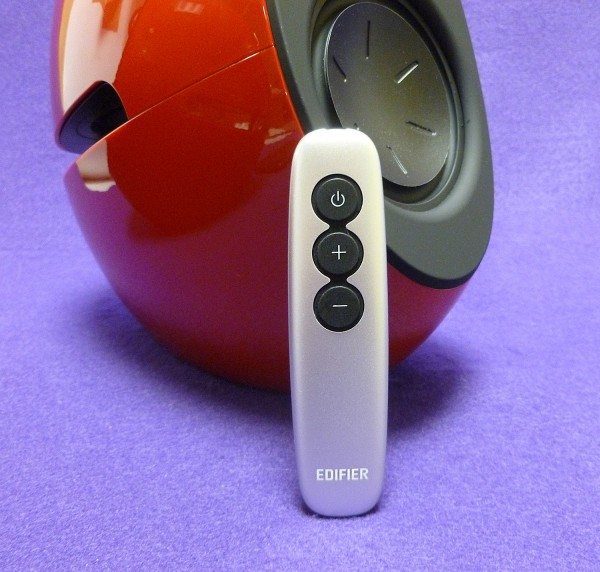 Edifier has added digital signal processing and digital room correction to — in their words, "enhance the sound and reduce distortion." While it may work, there is no on/off button to test this, so I couldn't do any A/B comparison. I usually prefer uncolored audio, but digital manipulation can usually help with smaller speakers, so it's a trade-off.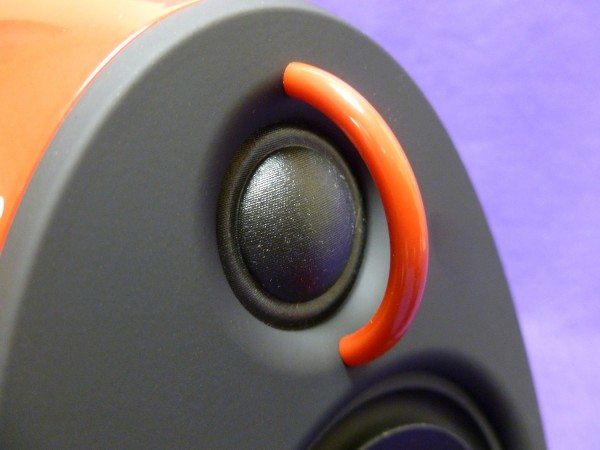 The flat contrasting black speaker front houses a small dome tweeter that sits above a 3-inch bass driver. This fragile silk tweeter is protected by a red tubular plastic guard. It's a reassuring addition, plus it looks good.
Power is impressive. A total of 74 watts (15 watts for each tweeter and 22 watts for each bass driver) come from two powered amplifiers in the right speaker.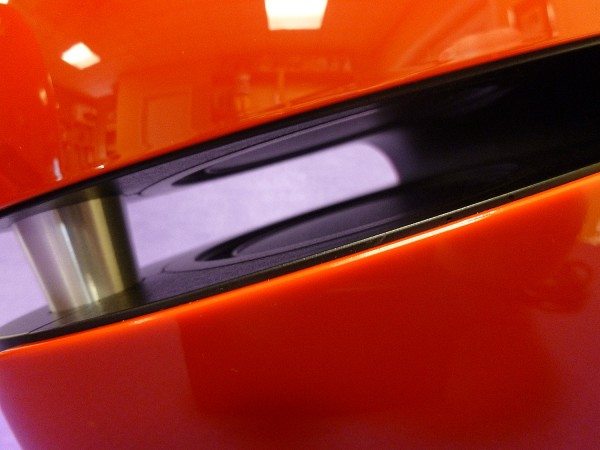 The rear of the speakers have horizontal, dual 3-inch passive bass radiators that face each other with only about 1/2 inch between them. I can't say how much this configuration helps bass response, but it is fun to watch them vibrate.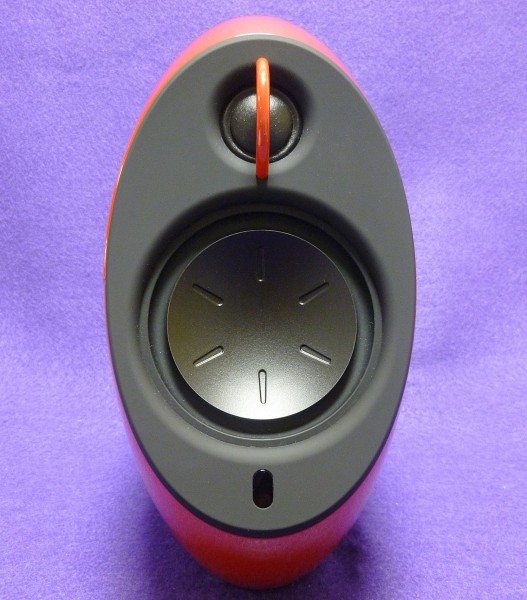 With both the bass driver and passive bass radiators, the overall bass from the Eclipse speakers is accurate and not prone to distortion. However, it was also not overly strong. I've heard deeper bass from other similarly-sized speakers. If you are a fan of classic rock or older albums in general, this can be a plus. Nothing ruins an older recording like bloated, artificial bass. But if hip-hop or electronica is your taste, then you will most likely be disappointed. I also would not classify the Luna Eclipse speakers as audiophile quality. If you buy and rip higher resolution files for your music then you will miss some of what you are after. If you get most of your music from MP3s and YouTube, then the Eclipse speakers will be a good fit for your listening habits.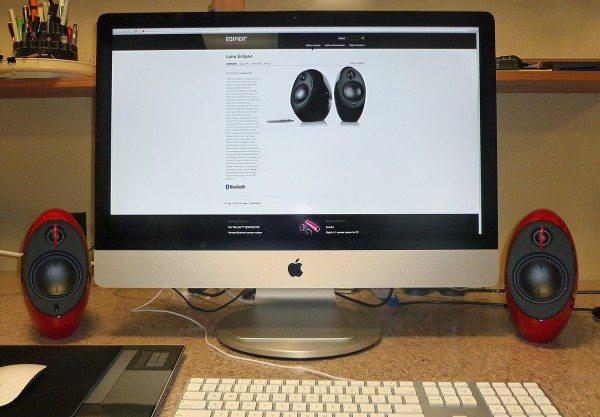 As I said earlier, the Eclipse speakers and classic rock are made for each other. The Band's song, "Cripple Creek" from their self-titled debut album sounds great. Levon Helm's vocals are strong, accompanied perfectly by the Band's expert playing. The song has punch and clarity. The middle frequencies – where most vocals lie – are the Eclipse's strength and this song proves it.
Andy Mackay's "Summer Sun" from his long forgotten album, "In Search of Eddie Riff," is another example of 70s mastering being matched well with a speaker. The song is pure kitsch mixed with a 50s vibe. The Eclipse showcases the percussion and reverb vocals quite well.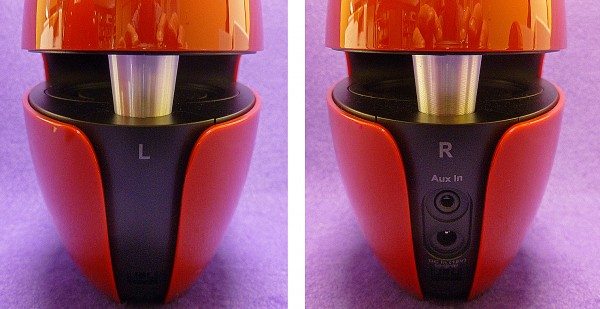 For something more current, Laura Welsh's "Break the Fall" has plenty of bottom-end in its throbbing-thumping bass drum. While the bass is clean and distinct, it lacks the kick-in-the-gut feeling other speakers provide.
Johnny Cash and the Eclipse speakers sound great together. Whether it's mono from the 50s or later stereo, Cash's baritone vocals cut through like a knife matching guitarist Luther Perkins' guttural playing perfectly. Once again, the Eclipse speakers seem made for this kind of music. One good example is "Luther Played the Boogie," a song that personifies the now iconic "boom-chicka-boom" style of playing. The guitar strings are true to what Perkins is supposed to sound like.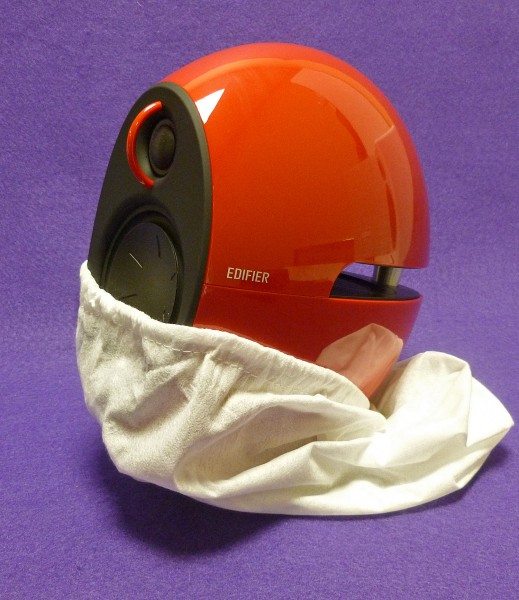 The Edifier Luna Eclipse is a well-made and gorgeous speaker that will improve the look of any desktop. It's not the best sounding speaker I've heard in this price range, but if you have an ear for classic rock and an eye for modern design, the Eclipse speakers will fit your needs quite well.
Source: The sample for this review was provided by Edifier. For more information, visit www.edifier.us.com.
Product Information
Price:
$199.99 US
Manufacturer:
Edifier
Requirements:
Pros:

Striking, award-winning design
Red is the best color
Powerful

Cons:

Expensive
Bluetooth hampers volume and audio quality
Bass could be stronger
Awkward placement of touch controls