We use affiliate links. If you buy something through the links on this page, we may earn a commission at no cost to you. Learn more.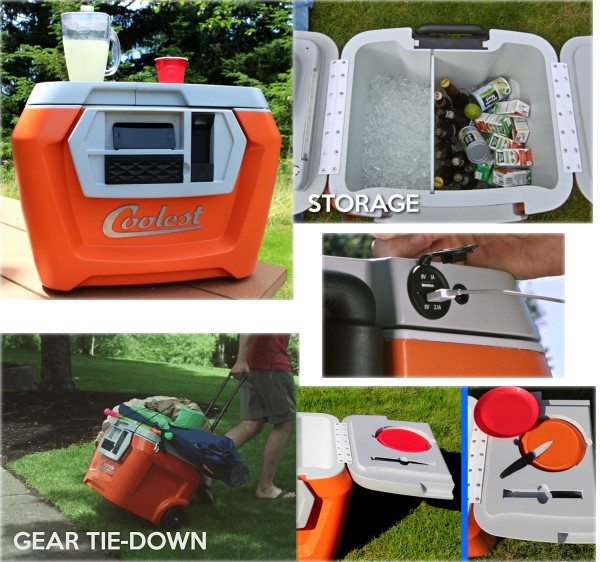 Picnic coolers are just simple insulated boxes that hold ice to keep your drinks and food cold, right?  Wrong!  This Kickstarter project for what has to be the most functional cooler ever just started on July 8, but already they have far exceeded their original goal of $50,000 by raising more than $4.5 million dollars from more than 23,500 investors.  And they still have 45 days left in the funding period!  Why the immense interest in this cooler?  Well, it's on wheels and lets you tie on your other gear and equipment for easy transport to the picnic or camping spot; the wide wheels make it easy to role over most any terrain.  It has a removable, waterproof Bluetooth speaker in the front so you can share your tunes.  It has a bottle opener built into the front; it can be removed for use, too.  The lid is divided so you can grab a drink without letting all the cold out.  One side of the lid has storage for plastic plates and a knife; the other side has a built-in LED light so you can see in the cooler even at night.  The body of the cooler can be divided so you can keep drinks on one side and clean ice to add to your cups on the other.  The divider can be removed and used as a cutting board.  All this sounds good, right?
We haven't even gotten to the best features yet.  The Coolest has an 18V battery inside that can run the blender you see on top of the cooler.  The pitcher isn't just sitting there; it's actually ready to blend up to 6 gallons of drinks on a single battery charge.  The cooler also has a dual-port USB charger; one port provides 1A power, and the other is a 2.1A port.
The early-bird pledge levels are all claimed now.  The minimum pledge to receive The Coolest cooler is $185, which is said to be $115 off retail price.  You'll have to add $15 for shipping in the US or $100 (possibly more) for shipping to Canada and most of the EU.  The funding period ends August .  Shipment is expected in February 2015.  Get more details on The Coolest's Kickstarter page.