We use affiliate links. If you buy something through the links on this page, we may earn a commission at no cost to you. Learn more.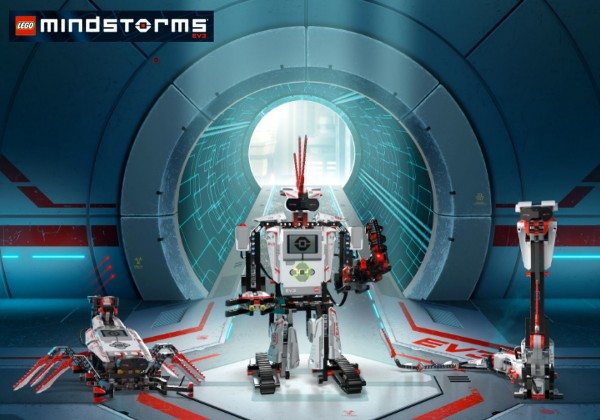 I love building things with LEGO, from as far back as I can remember to this day, with the Gadgeteer Kid.  I would argue that LEGO are one of the greatest toys ever invented, enabling kids and adults alike to transform their imagination into reality. Back in my day, all we had were the classic bricks, but in today's world you can build everything from Hogwarts Castle to a real-life, fully functional Braille printer. The Mindstorms EV3 is arguably the most advanced and capable LEGO set ever released. The Gadgeteer Kid and I will be taking a look at LEGO's latest and greatest technology as a joint review. 😉 Note: Images can be clicked to view a larger size.
My commentary will be in black and the Gadgeteer Kid's will be in italicized blue text.
Dave: LEGO Mindstorms Ev3 is the third generation in the programmable robot series. The robots you create can be controlled via Bluetooth, WiFi, smartphone app, and programming the command unit directly. The command unit is a programmable block with an ARM9-based CPU that runs Linux, with 16MB FLASH memory and 64MB RAM. There's also a USB and SD slots for connecting your computer/daisy-chaining and expandability, respectively.
Gadgeteer Kid: The Mindstorms EV3, has much more potential than what you see at a glance. Since it's from LEGO, bricks can be added to make your creation bigger, more colorful, or just plain awesome. The EV3 robots can be controlled from a smart device or the remote that comes with it.   
What is in the EV3 Box
2 x Large Interactive Servo Motors

1 x Medium Interactive Servo Motor

1 x Color sensor

1 x Touch Sensor 

1 x Infrared Sensor

1 x Infrared Beacon

1 x EV3 Intelligent Brick

594 LEGO Technic elements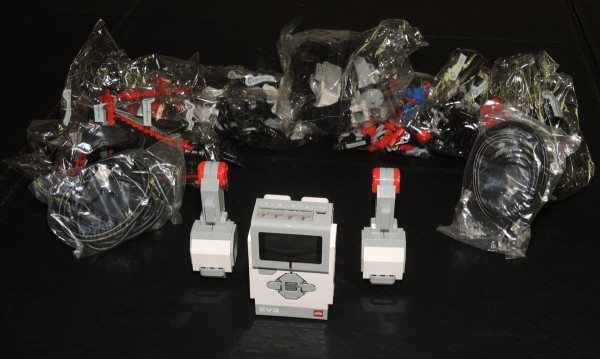 Dave: The LEGO EV3 robot kit includes nearly 600 Technic elements, a programmable "Intelligent Brick" control unit, 3 motors, 3 sensors and downloadable 3D building instructions. The sensors include a touch sensor, color sensor, and infrared sensor. LEGO also has several Mindstorms expandability packs to add additional sensors, motors, and Technics pieces as needed/desired.
Gadgeteer Kid: The sensors allow you to program your creation to be autonomous so that it can move around and react on its own.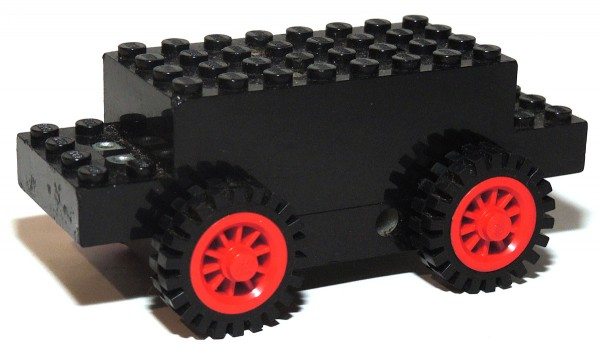 Dave: This is what was considered 'advanced' back in my day.  This motorized brick and wired controller (that died decades ago) were how, when I was the Gadgeteer Kid's age, you were able to bring your LEGO creations to life. But as we all know, the world is a much different place these days.
Gadgeteer Kid: All those years ago, the Mindstorms EV3 would have been considered alien technology with the wireless controls, multiple motors, and sensors. Not only can the EV3 servos work with the 3rd iteration of the Mindstorms, but they can also be used with the Intelligent NXT brick or vice versa.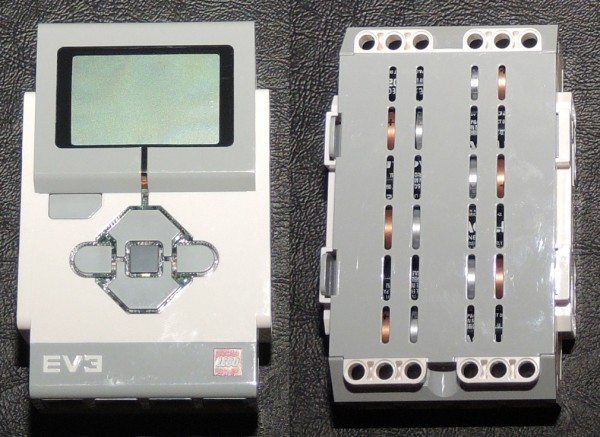 Dave: The control unit is powered by 6 AA batteries. The brick has a monochrome LCD screen, which is very readable and easy to navigate using the six physical buttons and on-screen tab-based interface.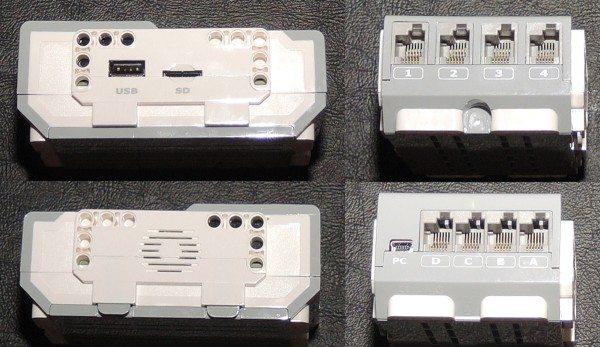 Dave: The Intelligent Brick is capable of controlling up to four separate motors and receiving input from up to four individual sensors. Data cables connect the control unit to the motors and sensors, terminating in a plastic plug similar in size/shape to an old phone jack. It can also be linked with up to three additional Mindstorms bricks (including previous-generation Mindstorms NXT controllers), enabling you to build truly mega creations. As I mentioned, LEGO also added a mircoSD card slot for memory expansion, and a full-sized USB port. The control brick is also capable of flashing its lights, displaying (black & white) images on its screen, and playing digital audio files from its speaker.
Gadgeteer Kid: Using these features, you can create guitars, tanks with lights, forklifts, and other amazing creations that have been made with the more advanced capabilities of the Mindstorms EV3. Some of the most advanced creations have been made by daisy chaining (connecting multiple Mindstorms Intelligent Bricks to have more motors and sensors) to make an absolutely MASSIVE mech.

Dave: There are five different LEGO provided  "base" models you can build from the pieces and sensors included in the set: EV3STORM, TRACK3R, GRIPP3R, R3PTAR, and SPIK3R. These creations vary in complexity/difficulty; while the Track3r involves about 20 to 30 steps, the humanoid-like EV3RSTORM has well over 100. In addition to the five "Starter Robots", LEGO also provides instructions to build a dozen "Bonus Robots" as well.
Gadgeteer Kid: The bots that we've built have been successful in chasing down both the dog and cat, even if it's too slow catch up with them.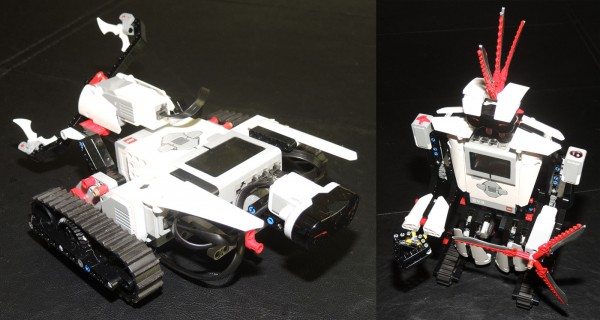 Dave: The Kid and I built the most basic of the "Starter Robots", the TRACK3R and also built the most advanced, the EV3RSTORM. We controlled both robots via his iPhone and my Note 3 apps.
Gadgeteer Kid: As you can, see we only used what was in the box – nothing from the internet, no different 'parts' (hammer instead of  gun, etc.), nor did we do any ad-libbing. People have created and released instructions for many different types of robots including: dinosaurs, dragons, and as my dad mentioned, even Braille printers (checkout the Braigo).  
Dave: So far we have controlled the Mindstorms EV3 in what I consider more of a remote-control capacity. While doing this is fun, and what we have created very capable, the EV3 system has so much more potential.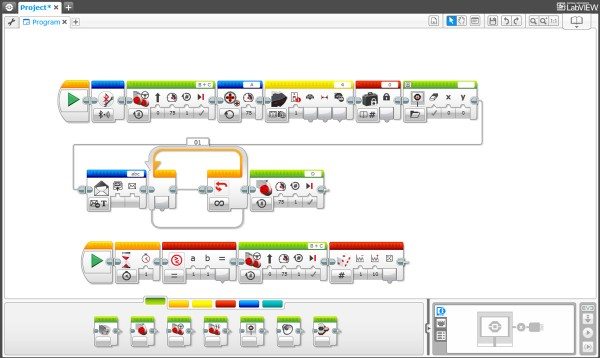 The EV3 programming software is an "icon based" system that enables you to truly program your creations to do your bidding. There is a massive Mindstorms community on the internet, books to help you create, and clubs to build robots with other geeks – impressively so.
Gadgeteer Kid: With the LEGO Mindstorms EV3, the possibilities are truly endless.
In today's world of immersive gaming, I find the LEGO Mindstorms EV3 a much better way for a young person to spend their time and parent's money. There really is no end to how complex and massive your creation could be; it's limited only by your imagination. The Mindstorms (and LEGO) universe is huge and growing larger and more capable all the time. Though in this case, I will leave learning how to program and the next epic Mindstorms creation to the Gadgeteer Kid; this old dog just does not have the time to learn a new trick. But to those parents debating on whether to give your kid(s) an XBox or PlayStation, I suggest seriously considering the EV3 instead.

Product Information
Price:
$349.95
Manufacturer:
LEGO
Requirements:
Pros:

Great way to learn basic robotics
Expandable
Controllable via most smart-devices
Programmable
Can be used with other LEGO sets
Windows/Mac/Android/iOS compatable

Cons: