We use affiliate links. If you buy something through the links on this page, we may earn a commission at no cost to you. Learn more.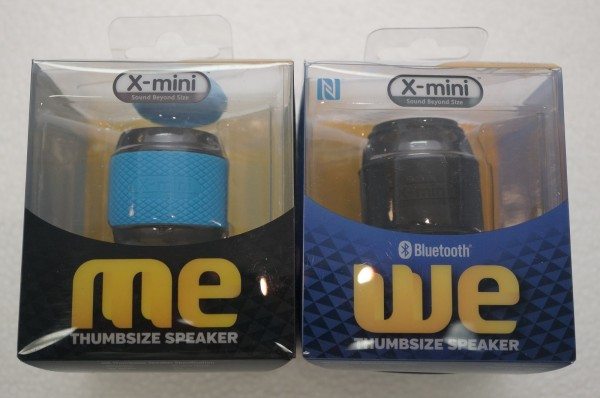 Love music but just wish your phone's speakers were a bit louder?  On the go and hate carrying around one of those brick sized portable speakers?  X-mini has the perfect solution for you!  The X-mini WE and ME speakers are a whole lot of loud in a tiny package.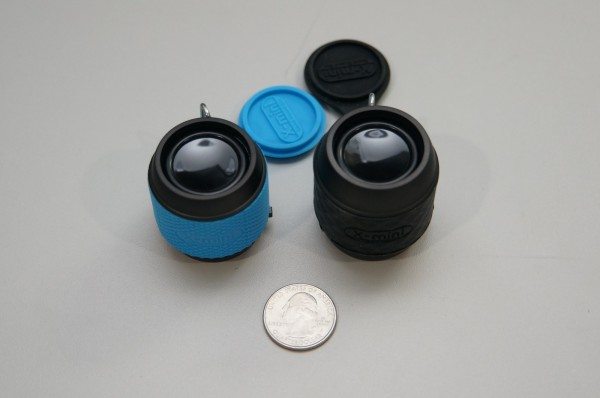 Both the WE and ME speakers are about the size of a shot-glass and not much wider than a quarter!  Both speakers come with a charging/audio cable, lanyard, and a "I heart X-mini" sticker.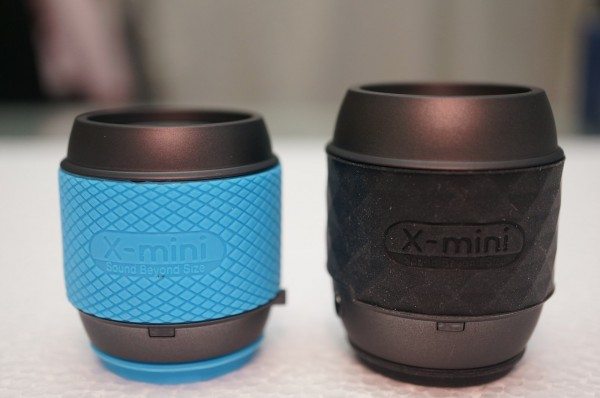 The WE and ME speakers have a textured rubbery cover which is great for gripping.  It also comes with an attached  rubber cover that acts as a bottom base if you flip it around the metal lanyard loop.  Placing the rubber cover under the speakers give it extra grip on the table so that the speaker won't bounce around when you turn the volume to max.  The rubbery parts do attract dust particles and lint but that can easily be cleaned off.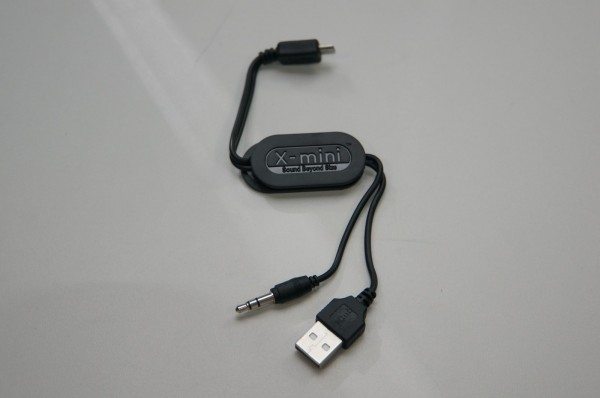 The charging/audio cable is a bit unique.  One end has a standard sized USB cable while the other end splits into a micro-USB and a 3.5mm audio plug.  Both the WE and ME speakers have built-in batteries that recharge over USB.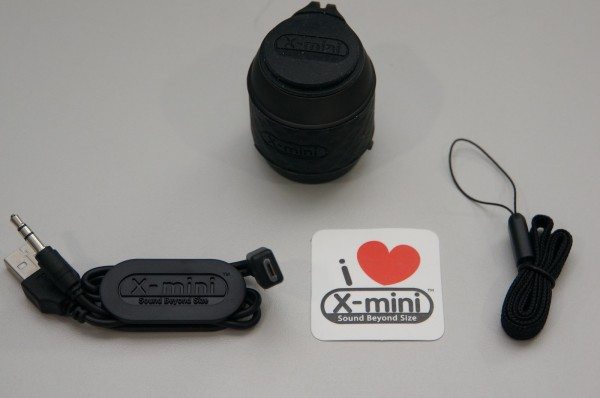 The X-mini WE speaker is a NFC enabled Bluetooth speaker.  It only comes in black and is physically a bit taller than the ME speaker.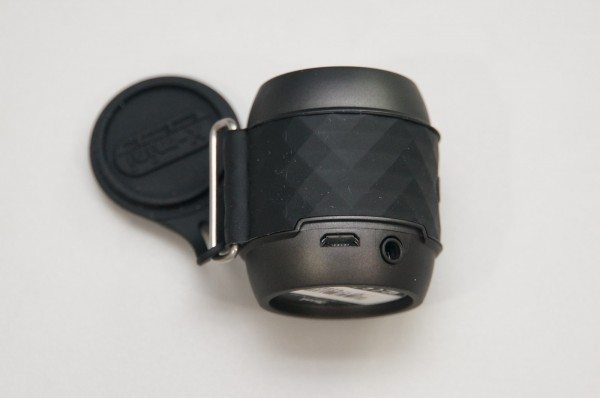 The X-mini WE speaker has a micro-USB port and a 3.5mm jack on one side while the other side has a 3 position switch.  The micro-USB port not only is used for charging but also acts as an audio input from 3.5mm audio sources.  The actual 3.5mm audio jack on the WE speaker acts as an audio output turning it into a Bluetooth receiver so you can connect headphones or other speakers to the WE speaker.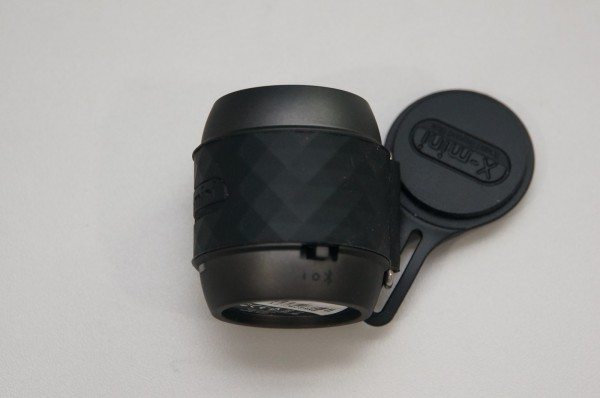 On the 3 position switch, the left position turns the speakers on when you want to use the WE speaker with a corded audio source.  Center position is off.  And the right position is used for Bluetooth connections.  You can pair the WE speakers normally like any Bluetooth device or you can use NFC to easily tap-and-pair if you have an NFC enabled device.
The WE speakers comes with an internal rechargeable battery which lasts up to 4 hours connected on Bluetooth and 6 hours from a 3.5mm audio source.  On my tests, I got up to 3 hours and 30 minutes blasting on max volume playing from a Bluetooth device.  The sound from the 1.5 Watt speaker is clear and the bass is pretty good for such a small device.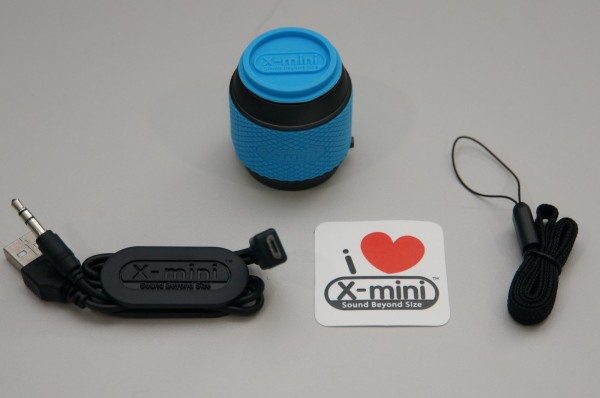 The X-mini ME speaker is physically shorter than the WE speaker.  It comes in 4 colors: gunmetal, pink, blue and yellow.  The X-mini ME has the same 1.5 Watt speaker as the X-mini WE.  The ME speaker can be connected directly to an audio source using the provided micro-usb to 3.5mm audio cable.  The internal rechargeable batteries lasts up to 6 hours.  On my tests, it lasted about 7 hours on medium volume.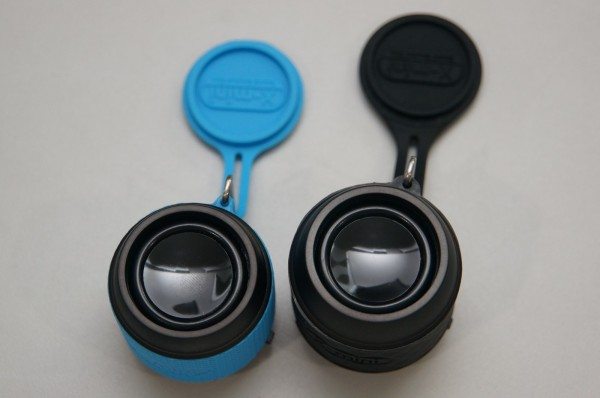 I'm loving these X-mini speakers!  They provide great audio in a small size.  The only thing that I don't like is that the speaker membrane is exposed on the top.  It's a delicate part of the speaker and susceptible to breakage or punctures if you poke it by accident.  I would've preferred that they put some sort of mesh barrier to protect it a bit.
The NFC enabled Bluetooth X-mini WE retails for $39.99 and the X-mini ME retails for $24.99.  They can be purchased direct from X-mini.  These are great speakers at a reasonable price.
Product Information
Price:
$24.99 - $39.99
Manufacturer:
X-mini
Requirements:

Audio source with either a 3.5 mm output or bluetooth.

Pros:

Small
Great price
NFC enabled Bluetooth (WE Speaker)

Cons:

No protective mesh for the actual speaker membrane