We use affiliate links. If you buy something through the links on this page, we may earn a commission at no cost to you. Learn more.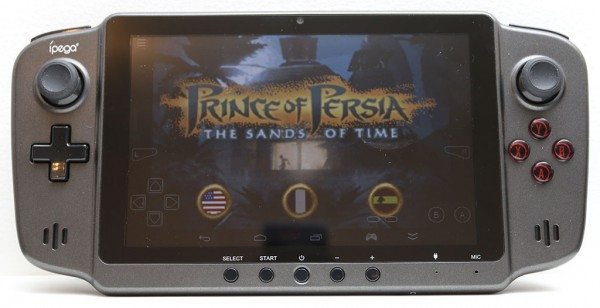 I enjoy playing games on my Android smartphones and tablets, but I tend to stick with puzzle games like Words with Friends instead of action games that require onscreen controls. I find onscreen gaming controls to be hard to use because they provide no tactile feedback. We've reviewed joysticks that stick on top of the screen to provide a better gaming feel, but these solutions tend to be frustrating to use because they either slide around or often fall off in the middle of an intense gaming session. We've also reviewed hardware solutions that add a physical joystick, but they tend to be compatible only with a small selection of games. Is there a better solution for Android gaming? Check out the ipega 7-inch Quad Core HD Android Gaming Tablet. It's a specially designed Android tablet just for gamers.
Note: Images can be clicked to view a larger size.
Hardware specs
Model: PG9700
CPU: Quad Cortex-A9(1.6GHz) RK3188
GPU: Quad mali-400
Screen: 7 inch /1280*800 pixels (capacitive touch screen TFT)
Touch screen support: 5-point
Camera: 0.3-megapixel front
ROM 8GB standard
RAM 2GB DDR3 Dual channel
External memory / format: Micro SD card slot, maximum support 64GB
OS: Android 4.2
Network: Wi-Fi(802.11 b/g/n) Ethernet
Audio Support: MP3, WMA, FLAC, APP, OGG Supports all audio formats)
Picture Viewer: JPEG ,BMP
Video Support: Mpeg4, asp, divx, WMV, RMVBAll (Supports all video formats)
HDMI: 1080P
Sensor: 3-axis accelerometer
Power / Battery: DC5V/2A / Built-in 4000mAh rechargeable lithium polymer battery
Headphone jack: 3.5mmStereo headphone jack
OTG Can connect an Ethernet cable, 3G network card, keyboard, mouse, U-key, hard disk
Loudspeaker: 8Ω1W x 2
The game supports: Support Android Gravity games, touch games, Arcade games, Nintendo N64, Sony PS1, Nintendo GBA/ FC games, Sega MD games, perfect button mapping, Internet Battle
Language: English, Chinese, Japanese, Korean, French, German, Italian, Dutch, Norwegian, Polish, Portuguese, Sweden, Turkish, Greek, etc
Size: 258.1 x 127.2 x 46.1mm
Weight: 420g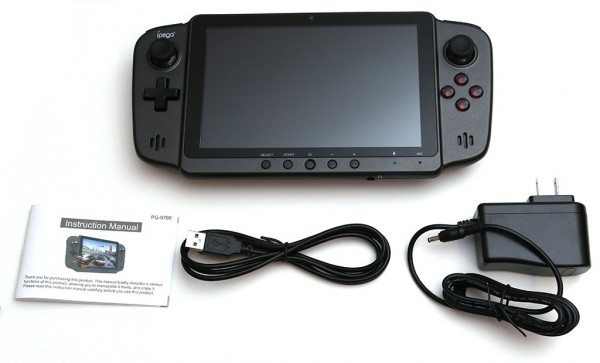 Package contents
Gaming tablet
Micro USB cable
AC Power adapter
Manual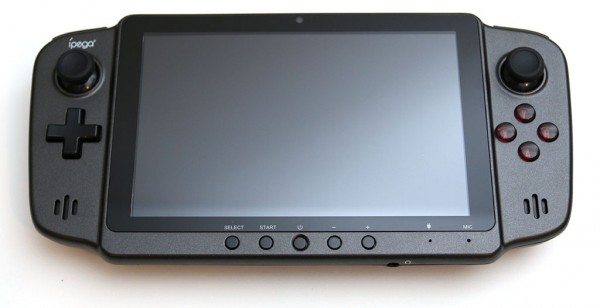 With its 7 inch display, the ipega is definitely not a pocket sized gaming machine. That's not a bad thing though. The gaming tablet is designed to be used in landscape orientation and has every type of button and control that you could ask for. Flanking the display are two spring loaded sticks, a Dpad on the left and four other buttons on the right.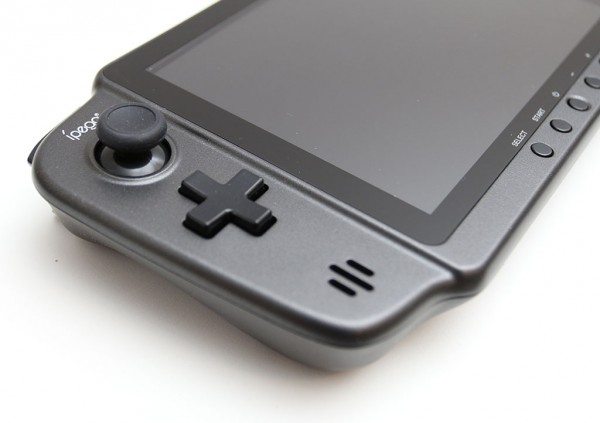 There are also front facing speakers on either side of the display. It's nice to have front facing speakers, but I did notice that the palms of my hands would rest right on top of these speakers when holding the tablet during game play. This sometimes resulted in muffled sounds.
Below the display are five buttons that map to select, start, power, volume up/down. There is also a microphone and a status LED for charging.

A 3.5mm headphone jack can be found on the front edge of the device.

On the back edge you will find the power port, micro USB OTG port, HDMI port and microSD card slot.
From this angle you can also see a pair of trigger style buttons on each top corner.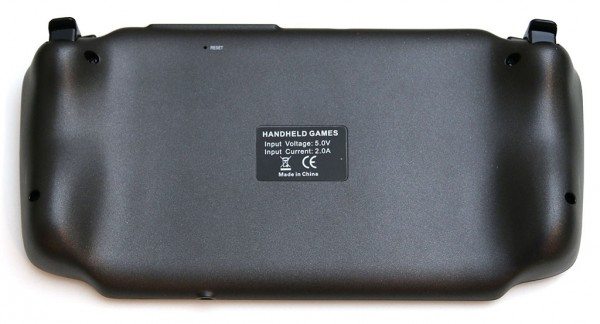 The only thing on the back of the ipega is a reset switch.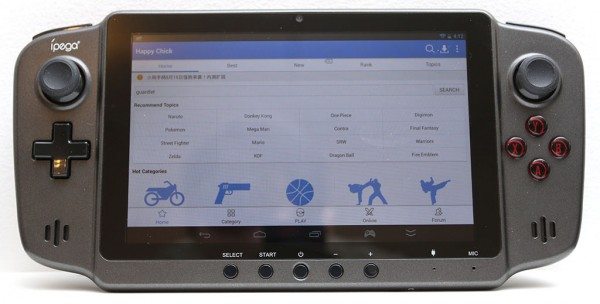 The ipega runs Android v4.2.2 (Jelly Bean). It has all the stock apps you would expect that an Android tablet would have, including the Chrome browser, calendar, calculator, email, contacts, maps and even the full Google Play app store.
Let me start off with the bad news… Although this tablet will probably work fine for most normal non-gaming tasks, I wouldn't want to use it as my main tablet. The screen nice, but it isn't quite as sharp and bright as the current crop of smartphones and tablets on the market. WiFi tends to be a bit sluggish and I've noticed some 3rd party apps will sometimes just quit back to the home screen spontaneously with no warning or error.
But the ipega is really meant for gaming, so on with the good news. This tablet comes pre-loaded with an app called Happy Chick, which is a hub of more than 700,000 downloadable games. Game ROMs to be exact. That's really where the ipega shines, using emulators to play console games for the Nintendo Gameboy Color, Gameboy Advance, Sony PSP and more.  There is a grey area when it comes to downloading game ROMs. ROM files aren't technically illegal. They are legal, as long as you have a real copy of the game yourself.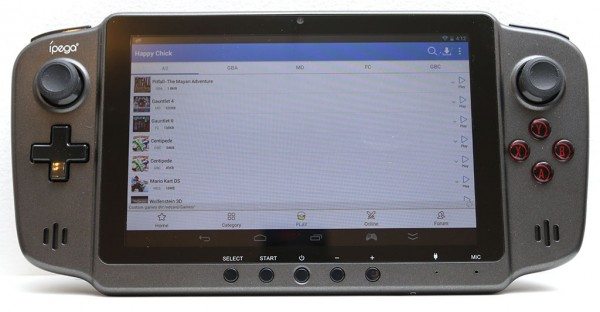 The Happy Chick app allows you to search for games by title or category and download them right from within the app. It will also automatically download and install the required emulator if you don't already have it. I tested the ipega by downloading about a dozen games for different consoles. I picked some of my old favorites like Prince of Persia, Pitfall, Bomberman and Gauntlet.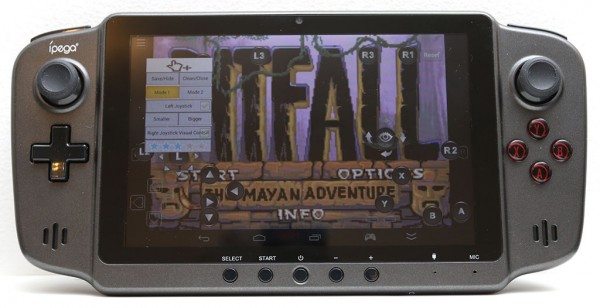 After the ROM and the required emulator have been downloaded and installed, you can then play the game. Where the ipega is better than playing the same games on your phone or another Android tablet is that you can map the physical game controls to the onscreen buttons. You can quickly setup each game with the right button layout just by dragging and dropping the buttons. If you look closely at the screen shot above, you can see a faint outline of the game's virtual controls. See the D pad in the lower left corner?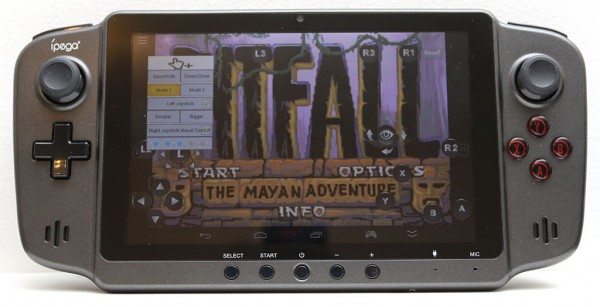 Now you can see that I've mapped the physical Dpad to the virtual Dpad by dragging the individual arrow buttons over each onscreen button.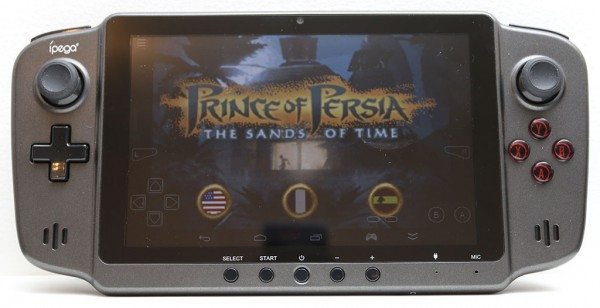 Here's another example. See the outline of the virtual game pad in the lower left corner and the B and A buttons in the right corner?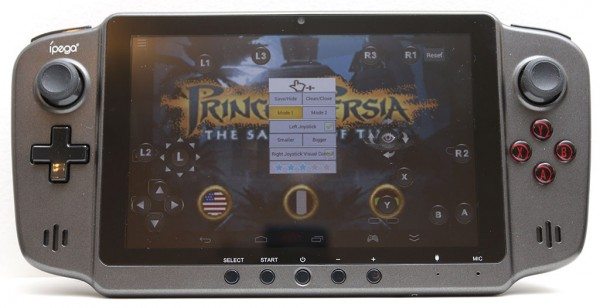 And here we have the buttons mapped. You'll notice other buttons scattered around the screen like the L1, L2, L3, R1, R2, R3, etc. These buttons may or may not need to be mapped to anything, so you can just leave them where they are or move them over to the side.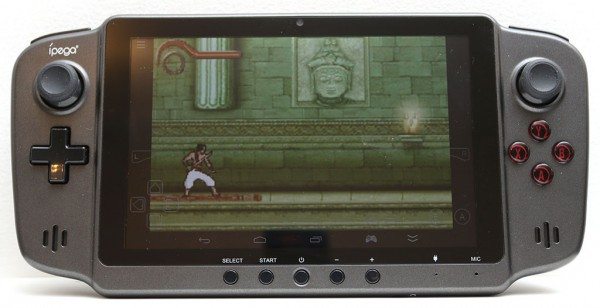 Once the buttons are mapped, the games play really well. Of course some of these games are old, which means the graphics might be blocky and the sound effects might be cheesy. But if you're a retro game fan, you'll enjoy using this device to play those old games from your childhood.
You can play current games too although some games like Temple Run will automatically rotate the display into portrait orientation, making it awkward to play.  I installed a few current games like Angry Birds, Magic Rampage and Dead Trigger. I couldn't get Angry Birds to work at all. It would load up to the point where you would start playing and would then pop back to the home screen. The other two  games worked great though.
When it comes to system performance and battery life, the ipega worked pretty well. Like I had mentioned earlier, I wouldn't use this tablet for anything more than gaming because the touch screen sometimes didn't feel as responsive as what I'm used to with other tablets and the device also had some issues with WiFi sluggishness.
Regarding battery life, I didn't do any specific tests, but it didn't seem to drain too quickly. I was able to play games on and off for a couple days without needing to recharge.
Is the ipega a keeper? If you enjoy playing games, I would say yes. I've had a lot of fun reliving my favorite games and even some new ones that I haven't tried before. The ipega is a little on the pricey side, but Brando's price is about $30 better than I've seen elsewhere and he only charges $3 for shipping to the US.
For more info or to buy this device, visit Brando.