We use affiliate links. If you buy something through the links on this page, we may earn a commission at no cost to you. Learn more.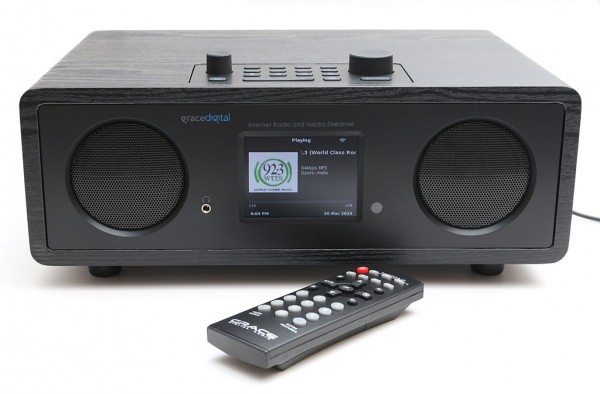 We review a lot of speakers here on The Gadgeteer. Some of them have Bluetooth, AirPlay or NFC. The speaker I'm reviewing today doesn't have any of those features. What it does offer are some things that most of the speakers we review don't have including a color display, physical remote control and the ability to play 1000's of internet radio stations. Let's take a closer look at the Grace Digital Encore Wi-Fi Music Player Internet radio. Note: Images can be clicked to view a larger size.
Hardware specs
3.5″ TFT color display
High powered Class D Digital 12watt amplifier
3″ woofer and 1″ tweeter
802.11b/g/n
Unit Dimensions: 10.5″ x 5.8″ x 5.4″
Unit Weight: 6 lbs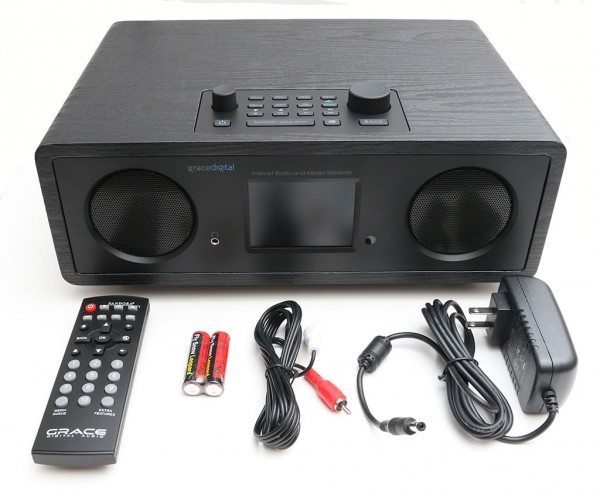 Package contents
Grace Encore Wi-Fi Music Player
Remote Control with batteries
Power Adapter
RCA to mini cable for optional iPhone / mp3 player, CD player connection
Manual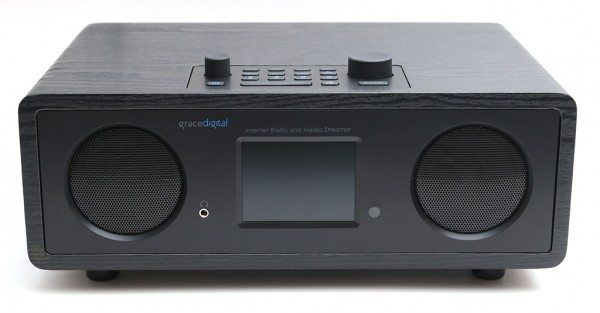 The Grace Digital Encore Wi-Fi Music Player Internet radio has a boxy, almost retro styled enclosure that is made of painted black wood. The front has two forward-facing speakers with a 3.5″ TFT color display centered between them. A headphone jack is located on the left side of the screen and the infrared receiver for the included remote control is on the right side of the the screen.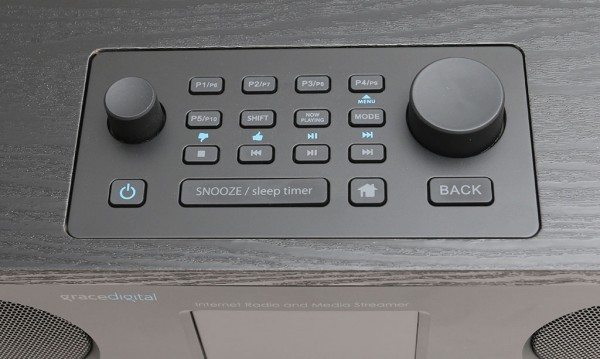 On the top of the radio is the control panel that has buttons for preset favorite stations, interface navigation on the display, as well as providing volume and snooze features if you opt to use the device as a clock radio.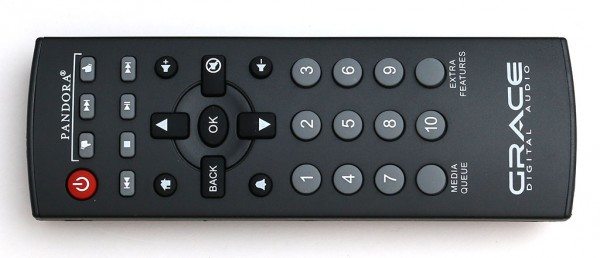 The controls are duplicated on the included remote control including a thumbs up and thumbs down buttons that allow you to interact with Pandora. Be aware that the remote is infrared, so you'll need a line of site to the front of the radio in order to use it.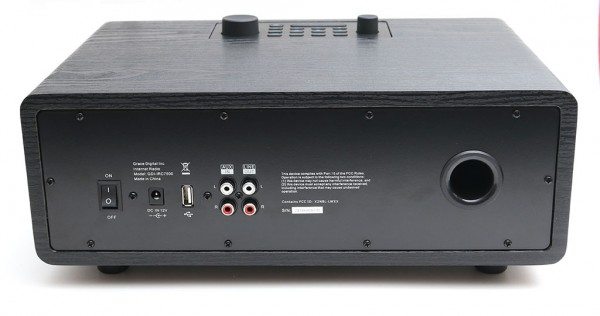 All of the connection ports are located on the back of the device and a downward facing 4″ woofer is on the bottom.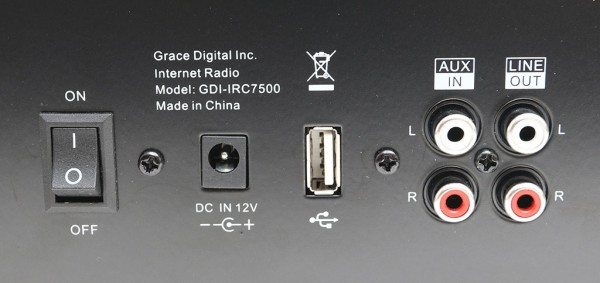 From left to right you have the main power switch, power port for the included AC adapter, USB port and AUX IN and Line Out connections. The USB port allows you to play audio files from a flash drive.
Never miss one of our posts again. Sent MON, WED, and FRI with the latest gadget reviews and news!
Setting up the radio is a snap. Basically you turn it on and it finds your WiFi network and then you're done. From there you can listen to 1000's of internet radio stations, your own Pandora stations, SiriusXM (if you have an account), iHeartRadio, podcasts, local radio stations (if they stream) and more.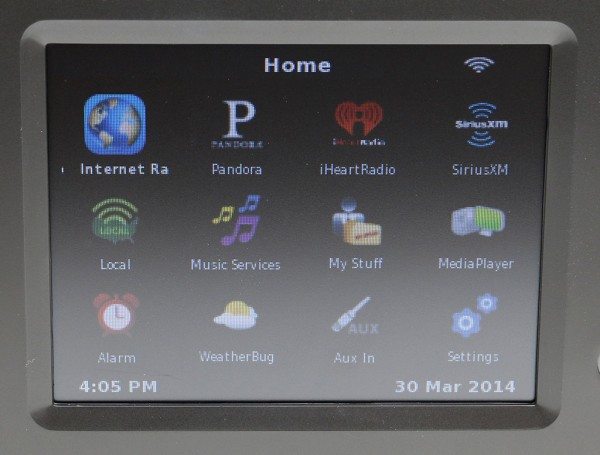 One of the main features of the Grace Digital Encore Wi-Fi Music Player Internet radio is the 3.5 inch display. It does look nice, but it's not a touch screen, which I find odd and slightly disappointing. There's also the fact that it's not very useful unless you happen to be sitting within a foot or two of the radio so you can see the display.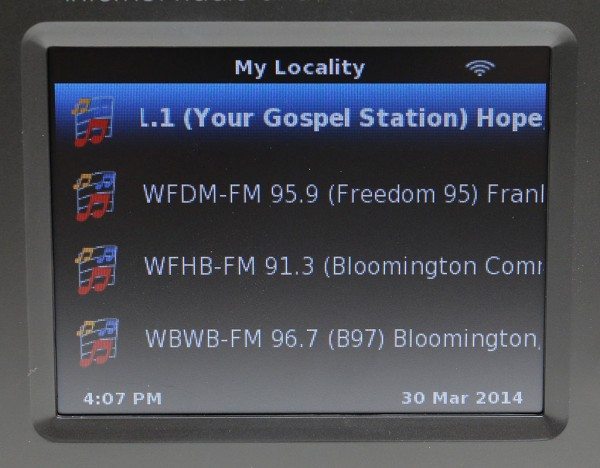 The display does allow you to easily see and scroll through the thousands of internet radio stations when you're choosing something to listen to.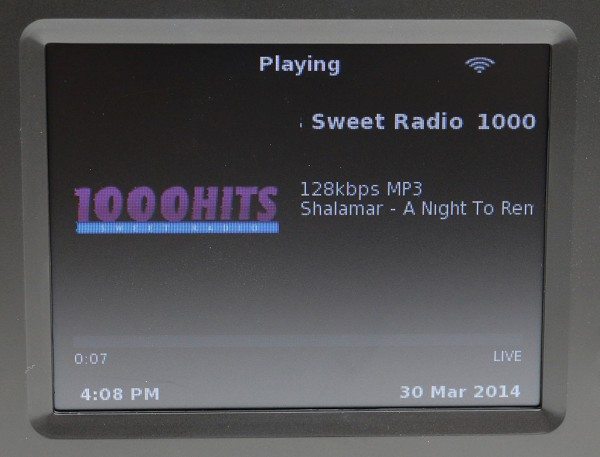 Depending on the station, when songs are playing, the station or album art will be displayed along with the song's title and artist. At the bottom of the display is the time of day and date.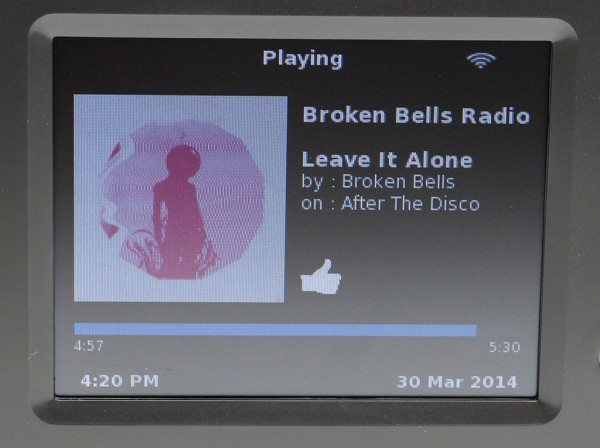 If you use the built-in Pandora app, you'll also see your thumbs up / thumbs down icon when a song plays. But as I mentioned above, being able to see the info on the display really is dependent on where you locate the radio. It's going to be almost impossible to navigate through channel lists with the remote when you're sitting more than just a couple feet away. That's where your smartphone can come to the rescue.
When you install the free Grace Digital app on your iOS or Android device, it becomes your remote and your display, which in my opinion is much easier to use than the control panel on the top of the radio and the remote. The app will let you do pretty much everything that you can do with the remote and/or the button panel on the top of the radio. I did notice a few glitches with the mobile app that would sometimes cause it to freeze so that I would need to kill the app process and relaunch it.
I've been using the  Grace Digital Encore Wi-Fi Music Player Internet radio for several weeks now and for the most part like it quite a bit. It offers very good sound quality and has absolutely zero hiss when a channel is paused. I thought I had received a defective review sample when I first started using the radio because it would buffer or restart every 20-30 minutes. Once I restarted my wireless router, this problem disappeared and the radio has been problem free ever since.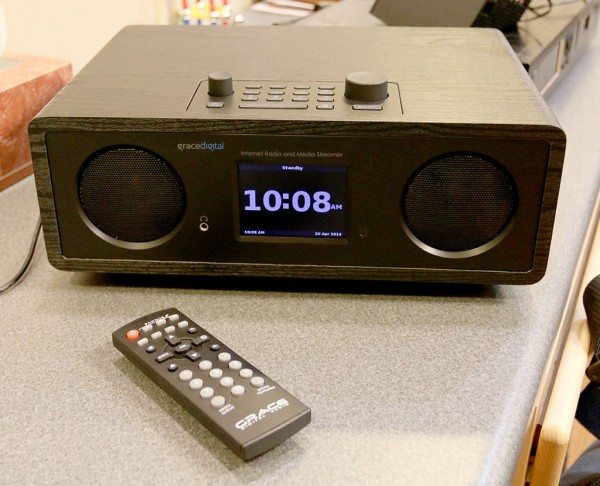 This audio device offers quite a few features in a large but attractive package. It doubles as a clock radio with 7 alarms and a snooze bar. When the radio is idle, the time is shown on the display. You can even stream music from a separate device to the Encore if it supports dnla / upnp. I tested this with my Macbook Pro and it worked very well. Playing music from an attached USB flash drive also worked well.
The only place where the Encore comes up a little short is that it does not offer Bluetooth, AirPlay or FM radio connectivity. I can forgive not including FM and AirPlay, but it seems odd that Bluetooth wasn't included.
In the end, I can easily recommend the Grace Digital Encore Wi-Fi Music Player Internet radio to anyone who wants to add a stand alone internet radio to their home or office. The Encore offers an incredible variety of channels and features and has very good sound quality to keep your ears happy.
Product Information
Price:
$249.99
Manufacturer:
Grace Digital
Requirements:
Pros:

Sounds great
Support for Pandora, Sirius XM
Physical remote control
Can be controlled via iOS or Android devices
Can stream from PCs/Macs
Clock features

Cons:

Android remote control app freezes
Doesn't include Bluetooth connectivity
Screen too small to see across the room
Bulky