We use affiliate links. If you buy something through the links on this page, we may earn a commission at no cost to you. Learn more.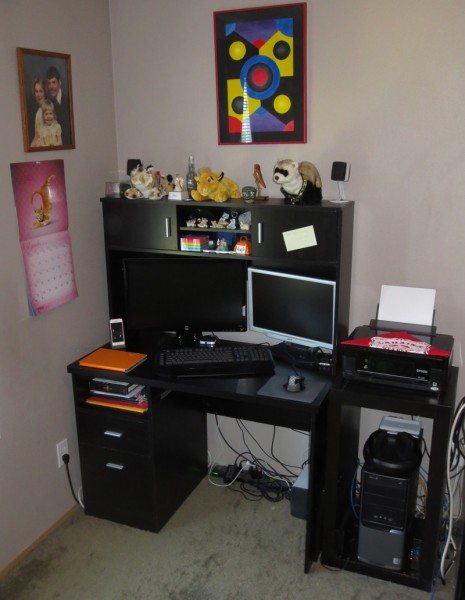 My first computer was given to me in 9th grade, which was a laptop running Windows 98. Before that, we had rented a computer for word processing from a Nebraska agency, which ran Windows 95 and had a dot matrix printer along with it. Being one of the relatively young Gadgeteers, you may laugh at my first taste of computers, but those first two computers got me hooked into gadgets and gaming. Nowadays I try to keep an average computer; not too expensive, but still performs well, which led me to build my own PC to get just what I wanted.
Above is a photo of what my current layout looks like. You can see my home built PC down in my makeshift printer stand (which is a shelving unit from IKEA without the shelves) and my Epson XP-400 printer. The reason I use the IKEA shelving unit for my printer stand is because my husband's desk, which is the same as my own, is sandwiching it in, so we had to get something very thin but tall enough and with enough ventilation to put my PC in as well. Our router, an ASUS WL-520GU is flashed with tomato (don't ask me what that is, my husband did it!) and my gaming headset is a cheap Plantronics Gamecom unit from Fry's.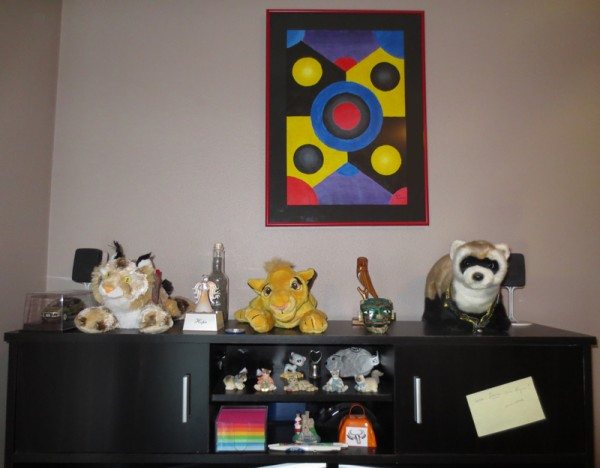 The hutch part of my desk holds anything special I may have gotten through the years, along with my game CDs (which are inside of the doors, and highly disorganized) some pens, a non-sticky note pad, an extra mouse, pencil sharpener, and the two small speakers hooked up to my PC (the small sub-woofer is at my feet in the first picture). The left stuffed animal is my Peru State College mascot (a bobcat), the green face is a souvenir gift from my parents from the Yucatan peninsula, and the ferret is in memory of the ferret I had as a teenager, to name a few of the special items.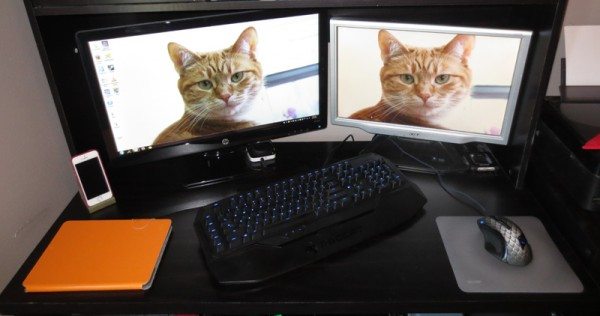 Here is my main work area. All but a few reviews I've done have been typed up here. I have a dual monitor setup, the right is normally my email monitor, while the left is for everything else. I have a little phone stand I got from the Ford conference I attended earlier this year which is made from their 3D printers and my iPad normally stays somewhere on my desk as well. Under my left monitor is my volume control, with my headset currently plugged in. Under the right monitor is my Gear Head USB hub which is a cheap but very reliable hub. My keyboard is the ROCCAT Ryos MK Glow mechanical keyboard, and my mouse is the Sharkoon Drakonia Black gaming mouse, both review items.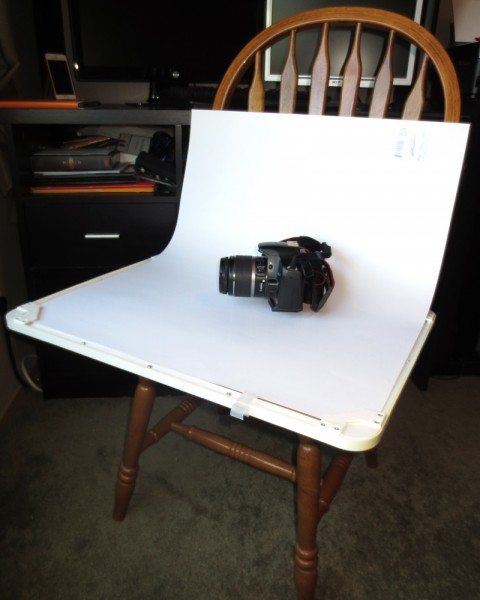 Now you can laugh at my incredibly cheap yet efficient photo studio. I live in a small condo, with horrible lighting, and nowhere to put a dedicated staging area. My solution was to buy a piece of thick white paper, flexible yet strong, which happened to fit perfectly inside the back of a dry-erase board we had lying around. Stick it on a chair, and it provides a great staging area. To combat the lack of light, I take my photos towards an open window, which gives the pictures, in my opinion, a more natural look than using the flash.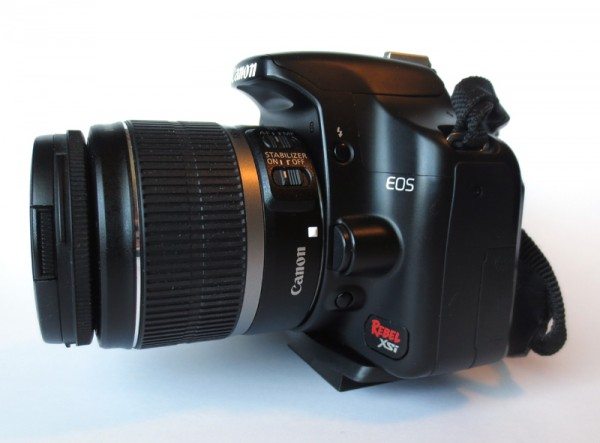 I normally take pictures with my Canon EOS Rebel XSi, but for this shot, I used my Canon PowerShot ELPH110HS. The pictures sometimes have a little shadowing on the bottom, which can normally be fixed in Photoshop easily enough.
That is my Gadgeteer workstation! I hope that by the next time we have another round of "Show us your desk" that I will be in a house with a much roomier computer room. In the meantime, I just have to make the best out of what I have!