We use affiliate links. If you buy something through the links on this page, we may earn a commission at no cost to you. Learn more.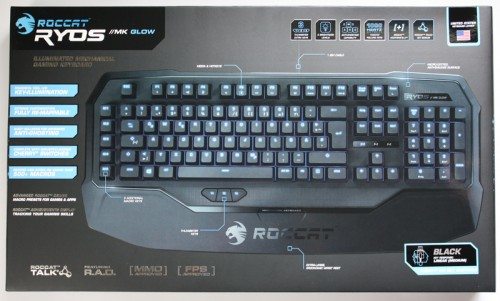 When it comes to PC gaming, one of the sounds you hate to hear is that "beep!" when you've pressed down too many keys. This is due to most average keyboards having a set number of keys allowed to be pressed at the same time. The way to combat this is to pick up a mechanical keyboard, such as the ROCCAT Ryos MK Glow gaming keyboard. Not only does it boast Cherry MX key switches, but also allows for up to 500 macros to be programmed, something I have heard of, but never used before. Let's see how well it worked.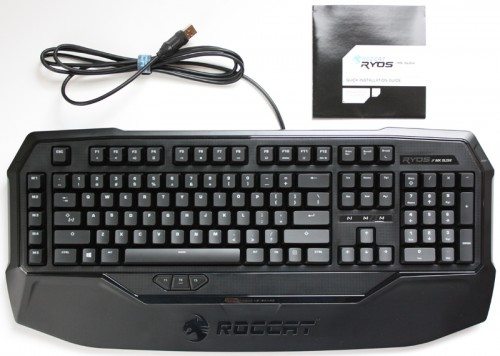 Inside of the box, you'll find the keyboard and instruction booklet. I don't normally write about the packaging, but it was packed so nicely that I am keeping the box for storage if the need arises. The instructions are pretty basic, and you'll need the internet to get the drivers. Though the drivers are not needed to program macros and use the keyboard, I highly recommend installing them so you can get full functionality.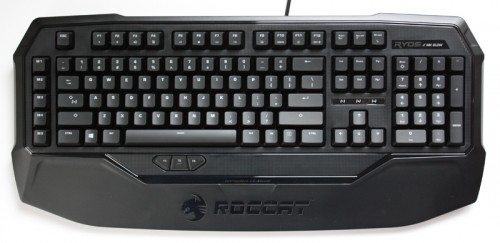 The keyboard itself comes in a standard layout. The only major difference between my old keyboard and this one is the addition of the 5 macro keys on the left side and the thumb keys under the space-bar. The caps-lock key also doubles as an Easy-Shift[+] button, which allows you to add a secondary function to every key on the keyboard. When you type on the keyboard, you'll find that it is much louder than a regular keyboard, which is pretty normal for a mechanical keyboard. My husband had used one before and told me that I would have that "classic typing sound" before I even had it out of the box, and he was right. The keys are very easy to press down, and there was no adjustment time needed to go from my old, standard keyboard to the Ryos MK Glow.
On the bottom of the keyboard you'll find two flip up 'feet' and some rubber gripping on the corners.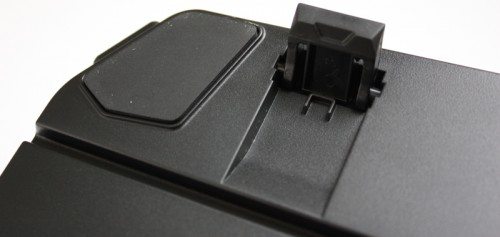 The rubber gripping, alongside of the weight of the keyboard itself, made it so the keyboard didn't slip around when I was typing or playing games. The flip up feet also have the same gripping material on them, so whether you prefer your keyboard slightly elevated or flat, it will not slide around.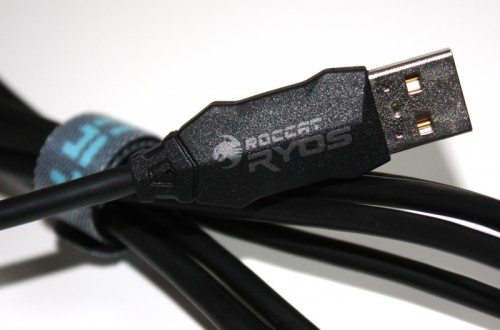 I liked that they put the logo and name on the USB plug. It made finding the plug easy when I wanted to plug it in and take it out. Sometimes, the little things like this really are overlooked until you come to a situation where you have many USB devices and none of the plugs are labeled!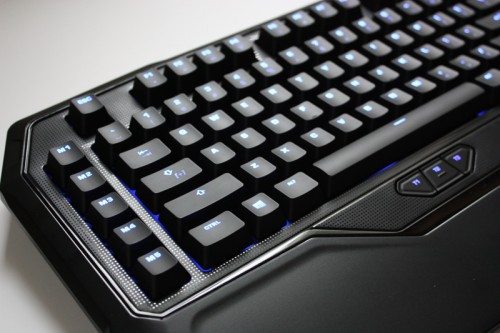 The above picture is the Ryos MK Glow when plugged in and glowing blue. You can see the glowing around the outside of the keys, and each key itself is lit as well, so you will have no problems seeing the keys in the dark. At first, I thought that my computer room was going to be glowing an eerie blue at night, since it is quite bright when at full brightness, but there is a timer that will dim the lights or turn them off when the keyboard is not used for a set amount of time. This is a great feature, since my computer room also doubles as a guest room.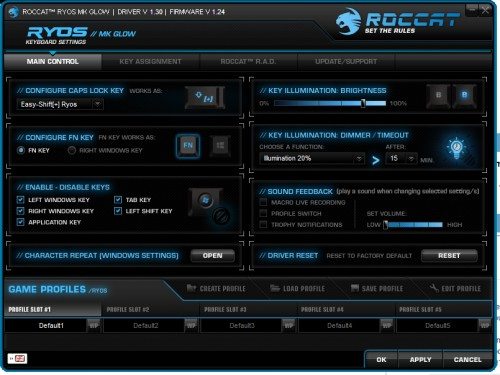 The Ryos MK Glow is able to be used without installing the drivers, which I did for the first week. After a week, I installed the drivers and was able to configure everything I needed, such as the brightness of the keys, how long before they dim, and disabling keys, which is important, since hitting the windows key during game-play can have negative consequences!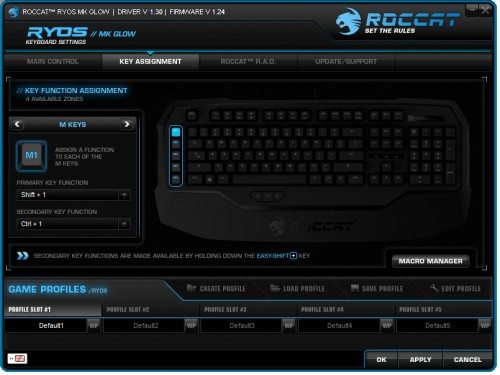 Delving deeper into the drivers, the key assignments tab is where you can configure the EasyShift[+] key to truly customize your keyboard and add in macros. I only changed a few key assignments, but plan to do more as I play more games. There is a macro manager button that brings up a screen where you can add macros, or choose from some pre-loaded ones. If you do not have the drivers, you can still add macros by holding down FN+F12 and then click on the key you want to macro. Then you just do the key combination that you want (mouse clicks work as well) and then press FN+F12 again when you are finished. Any delay time you have between keystrokes will be mirrored, so keep that in mind when programming your macros. You can do this in game, on your desktop, or via the driver software.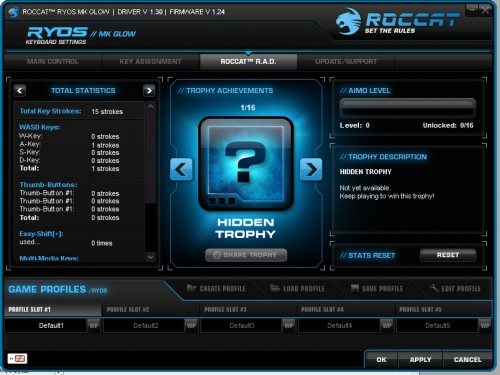 Another tab they have on the driver software allows you to see how many keystrokes you have made with your keyboard. I currently am at just over 40,000 total keystrokes in one week. It's fun to look and see how many times you press certain buttons, and I can tell how much gaming I have done when I see the WASD key totals rise quickly. There are even hidden trophy achievements that I have yet to unlock but I look forward to seeing what they are.
The ROCCAT Ryos MK Glow is definitely staying on my desk. I love how I was able to go from a generic keyboard to this one so easily, and how easy it was to customize the keys. My biggest concern was figuring out how to do the macros, but even that was easy. If you have a computer that is used for gamers and non-gamers alike, this keyboard would be a good addition to please both sides. The only thing I can say negatively about this keyboard is that it is big, and if you have a small desk, it may take up more room than you want to allow. Otherwise, it worked very well, is easy to use and customize, and looks good too.
Updates 03/22/16
Two years later, I am still using this keyboard, and I use it for hours a day. It's held up well, with only the "C" button showing any wear. I've pondered getting a new keyboard, but I just can't bring myself to when this one works flawlessly. I can imagine I'll be using this well made keyboard for quite some time.
Product Information
Price:
$139.99
Manufacturer:
ROCCAT
Pros:

- Excellent tactile feel
- Very reactive keys
- Easy to program macros
- Sturdy and heavy enough to not slide around on your desk

Cons: