We use affiliate links. If you buy something through the links on this page, we may earn a commission at no cost to you. Learn more.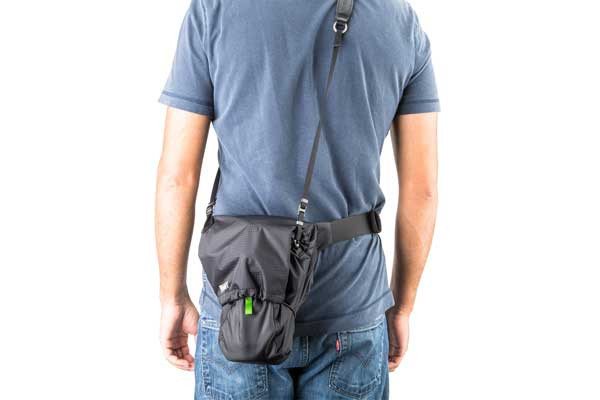 I love cameras but a nearly equal obsession of mine is finding better ways to carry them wherever I go.  This has seriously piqued my interest:  the MindShift Gear UltraLight Camera Cover.  Available in two colors (blue or black) and three sizes to accommodate different sized camera setups.  It comes with an integrated belt and stuffs into itself for easy packing.  Unstuff it, click the belt around your waist and you have a ready repository for your camera.  Best used with your camera on a shoulder strap (I use the Blackrapid Rapidstrap Sport), it acts as a weather-resistant, lightly padded holster that will protect your camera from dings and stop it from flapping around on the end of your shoulder strap.  For hikes into the wilderness, this would seem just the ticket!  $29.99 will get you the Size 10, which will fit a smaller dSLR with kit lens, $34.99 gets you the Size 20, which will fit a pro gripped dSLR with a medium lens (their example is a 24-70 f/2.8 lens) and $39.99 will get you the Size 30, which will cradle your pro or gripped dSLR with up to a 70-200 f/2.8 lens with the hood reversed or the 24-70 f/2.8 with the hood in position.  There is a short and informative video on how to use it at their website.  I know what's coming with me on my hikes this spring and summer!!
Update 12/10/14
Bought one after I wrote the news story. It's nifty but ultimately I found it useless. It's sure nice to have a weatherproof camera!