We use affiliate links. If you buy something through the links on this page, we may earn a commission at no cost to you. Learn more.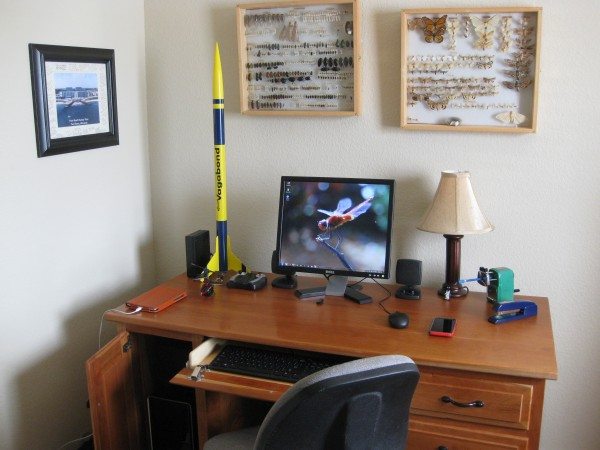 I know that this is a series about each of the Gadgeteer members' desks and what things we use to do our work, but since I have just started as a Gadgeteer, I will also show you where I do my homeschool teaching. To begin with, science and technology are in my blood, but so is frugality. I'm at constant war with myself because there are many gadgets I would love to buy, but it has to be within our budget. As it is, here is our very basic office. My husband and I share this desk which is made of solid natural cherry and was our biggest office expense, but I love it! We have just upgraded our computer to an Dell Inspiron 3847 PC where I will most likely do all of my Gadgeteer work. We will also be transitioning to a wireless mouse and keyboard (wires drive me crazy!!), but for now my USB Dell mouse and keyboard do the job. I haven't yet established just where my photo studio will be or what tools I will use to do my photography work for the Gadgeteer, so there is nothing to show you on that front. Right now, I am using a Canon point and shoot but will be upgrading to a mirrorless digital camera soon.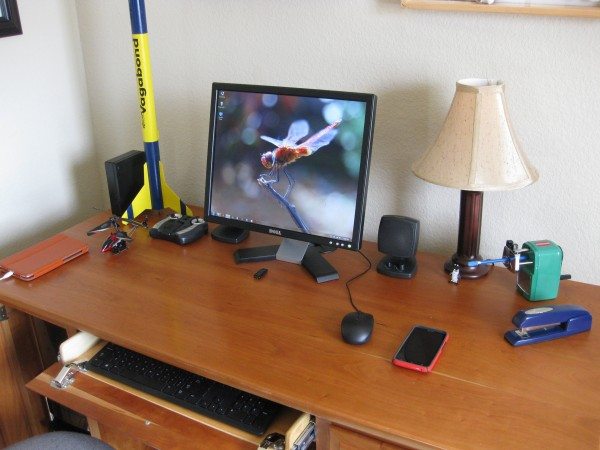 Most of the rest of the things that you see on our desk we have had for a while like the Altec Lansing speakers (with sub-woofer), an external Toshiba three terabyte drive used to store our music, photo, and video libraries, my HTC One X phone with a Speck Candy Shell case (awesome case – dropped my phone a few times on concrete and no damage), and a Google Nexus 7 (2012) tablet. We have another Google Nexus 7 floating around here somewhere, most likely attached to a little person – doing homework? Most likely not. *Sigh* Then there's my poor little fitbit just in front of the Dell monitor. While residing in the pocket of my jeans, it suffered a watery demise in the washing machine a few months back – things that need repair often find their way to this desk. You'll also notice the Vagabond model rocket and the small radio controlled helicopter, Syma S107C Spycam 3.5 Channel RC Helicopter with Gyro. Building rockets is my husband's hobby and the helicopter is his "surveillance" toy (it takes pictures and video while flying). Also decorating our home office is my beloved insect collection. These are two of the six cases that represent many hundreds of hours of work that I (with assistance from my husband) put into this project for an insect systematics class back in my college days. They're a little banged up from all of the moving we've done over the years but I really enjoy looking at them and hope to return to insect collecting again one day.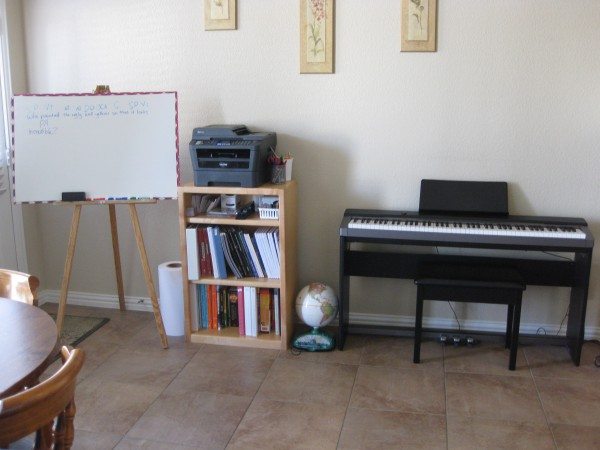 And here is our humble homeschool setup. The most notable things here are my painting easel which supports a cut sheet of white panel board to use as a white board, a small Birch wood bookcase, a Leapfrog Interactive Talking Globe (which taught my daughter about places I didn't even know existed), a Casio Privia PX-130 digital piano (weighted hammer action plus 3 pedals), and our wireless Brother MFC 7860DW laserjet monochrome printer. I love printouts from laser printers – the ink doesn't bleed when the paper gets wet which happens often when children are involved. We also have a Canon Pixma MX882 color inkjet elsewhere in the house for any color printing we might want to do.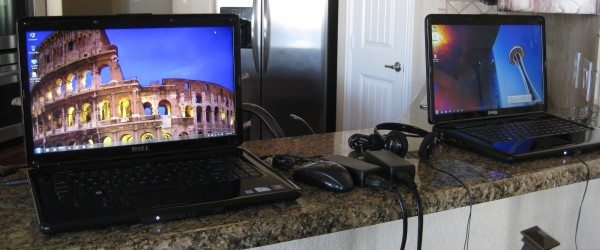 In addition to all of the above, we have two Dell Intel Celeron laptops that have very basic functionality for finding information on the internet and word processing for school reports. We've had those for almost four years now and plan to upgrade next year.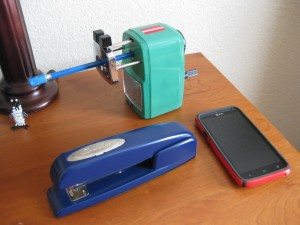 These are my most frequently used gadgets for school. I use my HTC One X during school for reading eBooks aloud with the girls (they use their Nexus 7 tablets) and entering their grades into a spreadsheet on Dropbox. Then there's my unique pencil sharpener. I have tried all kinds of sharpeners from the small handheld ones to the fancier electric models. The small ones take too long and do a substandard job, and the electric ones eat up the pencil entirely. I finally found the one that perfectly suited my needs: a manual sharpener from classroomfriendlysupplies.com. I absolutely LOVE this sharpener! It sharpens pencils quickly and efficiently. When you place the pencil in the sharpener, it holds the pencil for you while you turn the crank and will stop sharpening the pencil when it is sharp. And watch out, this thing sharpens pencils so well, they could be used as weapons! Finally, there's my Swingline 747 stapler. I was fed up with the wimpy plastic staplers that had difficulty going through just 10 sheets of paper, and yet I didn't want or need a big heavy duty stapler either. So I found this one made completely of metal and able to staple up to 20 pages. If you've seen the movie Office Space, Milton is very attached to his stapler, as I am to "my thtapler…". When it disappears, someone's in trouble!
I love my gadgets, from the big ones to the tiniest ones and I am always thrilled to expand our collection, if it fits within our budget!