We use affiliate links. If you buy something through the links on this page, we may earn a commission at no cost to you. Learn more.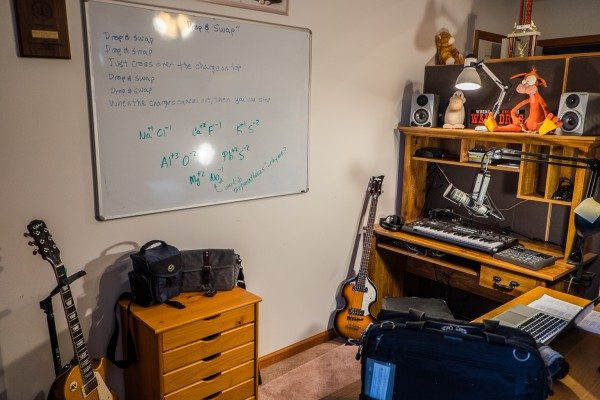 Hi, my name is Mark Rosengarten and I have a problem.  It's a gadget problem.  It's an addiction and has been as long as I've been aware that there was such a thing as a gadget.  In fact, I have been an avid follower of The Gadgeteer since it got started, it has always been the first gadget site I go to each morning when checking on what's new in the world of gadgetry.  When Julie asked us to write a piece on "What's On Your Desk"?  I looked at my desk that I have my computer on and realized that it would not make an interesting article.  So, here instead, are my studio desks!  Far more interesting and loaded with gadgetry. 
I put this studio together in 2005 when I started making chemistry-themed songs.  I had taken voice acting lessons but was unable to break into the field.  I bought a MacMini and had my old Yamaha keyboard so I decided to learn Garageband and start making some songs for my chemistry classes.  It has gone through several iterations but the one I have it in now is the finest and most efficient setup.  I used bookcases to partition the room to isolate the studio and it became my little hideaway in the upstairs bedroom.  Above is the broad view of the studio, with the large whiteboard on the wall.  I bought this when I did a YouTube show called "Ask Rosengarten", where people would send me questions about chemistry and I would answer them.  The computer desk and hutch is the one I bought when I put the studio together and it has served quite well.  On the top are a pair of M-Audio 4″ studio monitors, guarded by Opus the Penguin and Bill the Cat.  A Wall Drug bumper sticker graces the back of the bookcase…Wall Drug is one of my favorite places in the country, a tourist trap in the town of Wall, north of the South Dakota Badlands.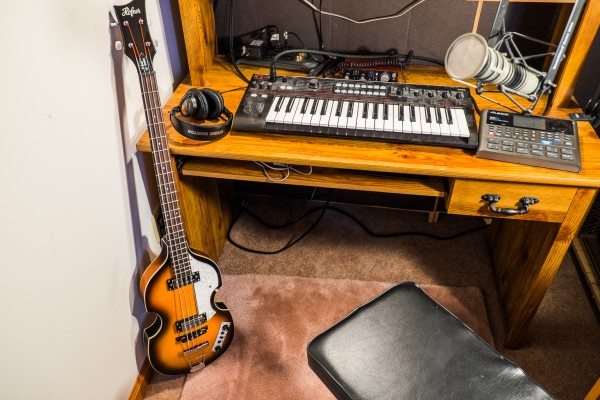 A closer look reveals a Hofner bass that I purchased at Alto Music in Middletown.  It's the best music shop anywhere around outside of New York City.  On the desk are a pair of Sony studio monitor headphones, my Korg R3 digital analog modeling synth, the Alesis SR-18 drum machine and an ElectroVoice RE-20 dynamic microphone.  The microphone is the centerpiece of my studio…I love that thing.  It's cardioid pattern is so tight that I don't need soundproofing and I get beautiful results.  Behind the Korg R3 is the beautiful but simple Focusrite Scarlett 2i2 audio interface.  I got it when I moved away from my Firewire interface when I sold my original MacBook Pro 13 and its preamps are fantastic.  The RE-20 takes a lot of gain to get satisfactory levels and the 2i2 is more than up to the challenge and its noise floor is dead silent.  Even though it's USB 1.0, there's no detectable latency.  A real champ in the studio!  Even better than the Apogee Duet it replaced!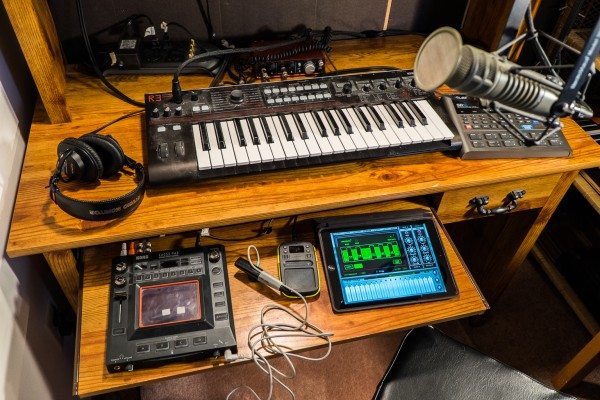 Pulling out the keyboard tray of the desk reveals a Korg KP3 effects processor.  This has been a huge part of my setup for years.  It allows me to do all kinds of crazy things with sound.  I particularly like using it with grain effect with my Etherwave theremin to make background noise.  The two pieces of tape are reference points for a cartoon voice I did for some videos several years ago.  Next to the KP3 is a Kazooka, an electronic kazoo.  Yep!  It's a good quality plastic kazoo with a pickup over the vibrating membrane connected to a 1/4″ mono plug.  I use this on a lot of my songs, it's surprisingly expressive.  Next to that is the Korg Kaosillator II dynamic phrase synth.  I use this for percussion and backing sounds.  Next to that is my iPad Air.  It has Animoog opened in this shot and I have several great synth apps for it that give me more tools in my arsenal.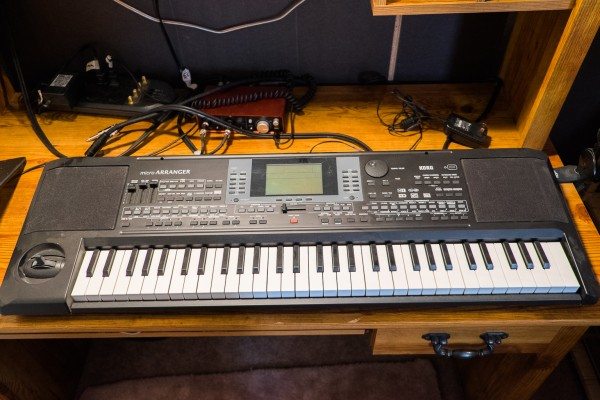 This is the Korg MicroArranger, which I don't use much but it's on one of my bookcase shelves just in case I need it.  Who am I kidding?  I have no idea why I bought this thing.  The keys are tiny and not terribly nice to play, the sound is fair but I have a Yamaha Arius digital piano in the living room which trounces this thing at every level.  Perhaps it's time to eBay it, eh?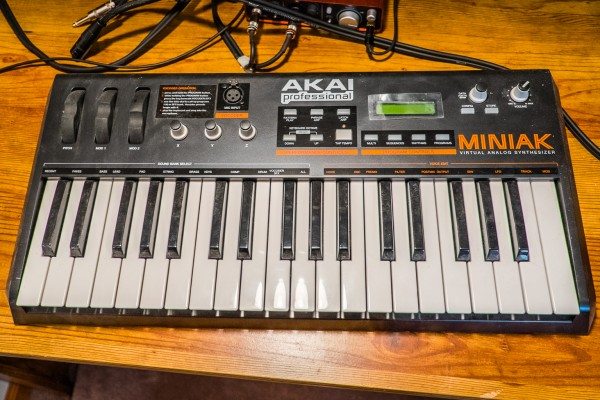 This is the Akai Miniak, which gives me grooves that the R3 doesn't.   I don't use it much but I got a great deal on it at Guitar Center and I, having no willpower when it comes to spending money on gadgets, pounced on it.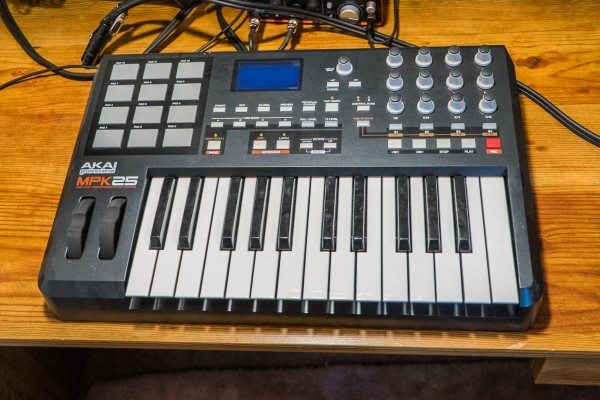 This is the Akai MPK25 MIDI keyboard.  To this day I have no idea why I bought this.  Its controls can be made to control things in Garageband but it's dicey.  Still, I keep it on the shelf.  I see it being on eBay in the not too distant future.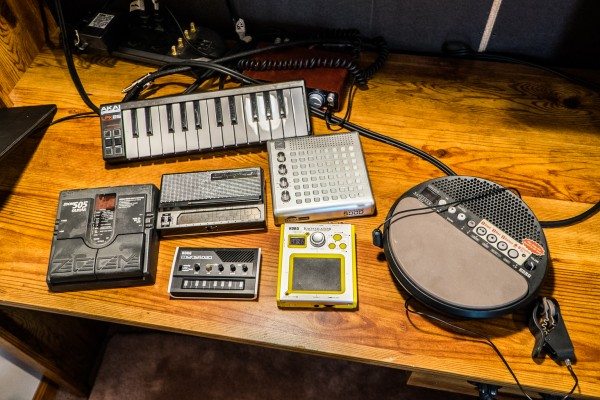 And here are my small items, the Zoom 505 guitar effects stomp box, the Akai LPK25 MIDI keyboard which I used a time or two with my older iPad's Camera Connection Kit, the Stylophone (the newer version has had me slathering drool all over my computer screen but I haven't pulled the trigger on that yet), a Bliptronic from ThinkGeek that I got when the Tenori-On seemed out of reach (bought one eventually, then sold it, then bought another, then sold it).  On the bottom are the original Korg Monotron, the original Korg Kaosillator and the Korg Wavedrum Mini.  What can I say?  Korg makes really neat stuff that no one else can match.  You could say I'm a Korgaholic.  I have not purchased the new Monotribe-inspired Volca series instruments…yet.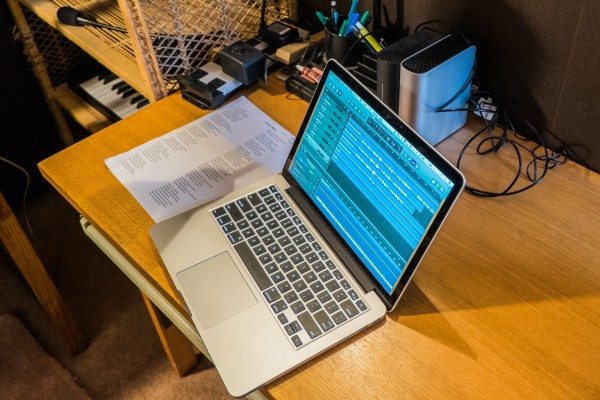 Controlling all of this is my trusty Apple MacBook Pr0 13 Retina.  I sold my 15″ MBPr to get this.  It's the best portable computer…heck, computer of any kind that I have ever purchased.  I got it with a 512 GB SSD and I have 200 GB partitioned with Bootcamped Windows 7 (I detest Windows 8) and 300 GB for Mac OS Mavericks.  I use the Windows partition for my classes, as PowerPoint for Mac does not support embedded Flash animations and I rely heavily on those to teach chemistry.  I use the Mac partition for editing my photography in Lightroom and the Nik collection.  Here it's opened to GarageBand.  Behind it are the two 3-TB Western Digital hard drives I back everything up to.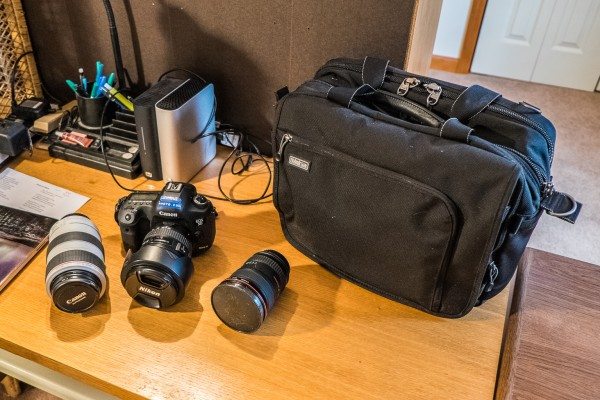 Speaking of photography, here is my Canon 5D Mark III full-frame digital camera.  I have named the camera Charlie, though its gender is ambiguous.  Surrounding the camera are the Canon 70-300L and 17-40L lenses.  The camera has the wonderful workhorse 24-105L lens on it, which I use for 95% of my shots.  The 17-40 is perfect for capturing those dramatic wide-angle shots I prefer when I storm chase in the summer.  The bag is the ThinkTank Photo Urban Disguise 50, which holds all of this kit and more, with room for a 15″ MBPr laptop in the back compartment.  I LOVE this bag…and I've had a LOT of camera bags over the years.  I keep a black Billingham Hadley Pro on hand to carry this kit when I'm traveling lightweight.  That bag will fit the 11″ MacBook Air just fine but it's just a wee bit small for the 13″ MacBook Pro Retina.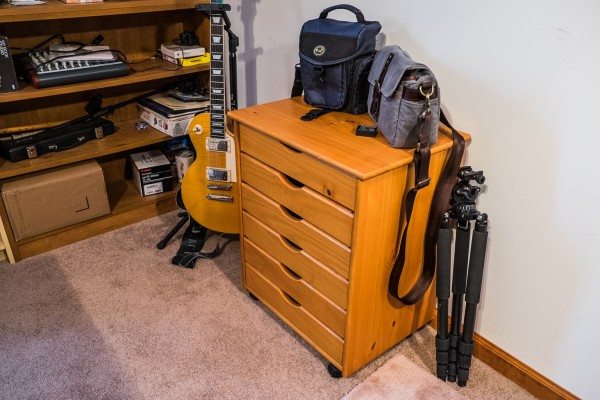 Speaking of camera bags, there are two good  ones on top of the organizer cabinet.  The one on the left is the legendary Roadwired Podzilla, which was reviewed here on The Gadgeteer about a hundred years ago.  I use it for my 5D Mark III when I'm only carrying one lens.  Next to it is the Ona Bags  The Bowery, which is my bag of choice for the Fujifilm X-E2, which I used to photograph this piece and which I reviewed earlier this month right here.  Propped up against the cabinet is a new acquisition, a Feisol CT3442 carbon fiber tripod atop which sits an Acratech GP ballhead.  This is a rock-solid assembly which will give me rapid and stable deployment while I am out chasing storms this summer.  Behind the cabinet is a Epiphone Les Paul guitar which is my studio guitar.  I also have a Paul Reed Smith Custom from the early 90's but I don't have it out in this shot.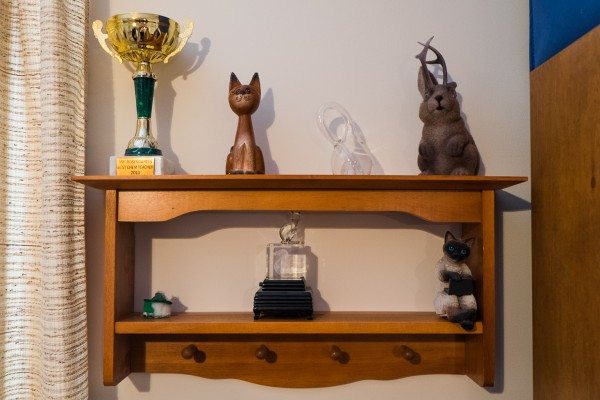 Finally, a little display shelf sits by the window.  On the top shelf is a trophy my honors chemistry students gave me in 2010, a wooden cat statue, a Klein bottle that my dear friend Ross gave me, and a Jackalope.  On the bottom left is Mister Wubbles, a little puffball leprechaun that three of my students gave me in 2003, a laser-etched cube with a cat inside with a glass cat on top of it and a sitting, reading cat to the right.  Yes, cats are a very important part of my life.  I'm shocked that none of them joined me for a cameo.
If I had been approached with this project a mere week before, I'd also have a Dave Smith Instruments' Mopho X4 and a Teenage Engineering OP-1 to show you.  Alas, both were sold on eBay to pay for my Fujifilm X-E2 digital camera that was used to take these photos.  My interests have definitely drifted away from making music towards photography over the last few years and I can justify the purchase of one gadget with the sale of another.
So, that's my studio setup!  Far more interesting than the dull desk I keep in my bedroom with my Dell desktop, LG monitor and HP all-in-one laser printer with a box over the UPS so that my kitten Priya doesn't eat the cords.  For examples of my chemistry music videos that I made in this studio, check out my YouTube channel.  Maybe you'll learn some chemistry!