We use affiliate links. If you buy something through the links on this page, we may earn a commission at no cost to you. Learn more.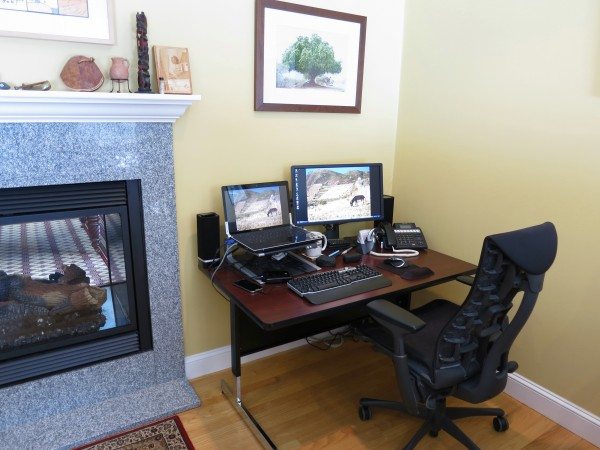 I must say that I'm pretty satisfied with my workspace, having tailored it to my needs over six years as a remote home office employee. What you see above is the "electronics corner" of the room. The photo doesn't include a massive (and messy) desk directly behind the chair; nor another corner with filing cabinets, a multi-function printer, and a shredder. Most of my actual work, however, takes place at this table. Before moving on to the work surface, note the Herman Miller Embody office chair that allows me to comfortably spend hours at the computer.  Having suffered through a series of cheap chairs, I've come to believe that the most important office investment you can make is your seat. So find what works for you and don't skimp!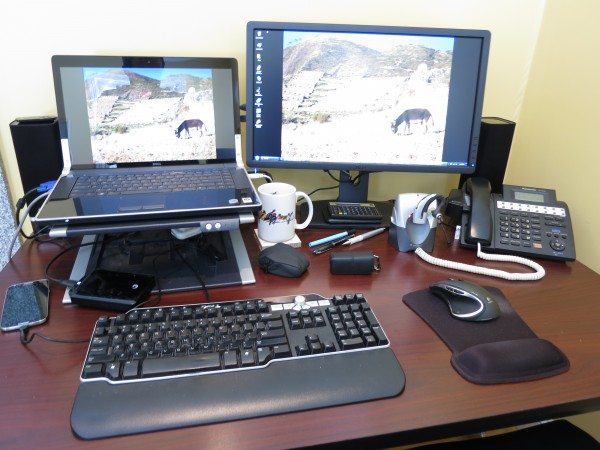 Here's a closer look at what's actually on the desk.
Computer
1)      Dell Studio XPS 16 – It's hard to believe that this workhorse is approaching its fifth birthday, at least until I hear yet another strange noise coming from within to warn me that I should probably be thinking hard about its successor!
2)      Dell laptop stand – Originally obtained with another Dell laptop that plugged in below, with a monitor on top, this now simply functions as a nice stand to put the laptop screen on the same level as the secondary monitor. The space below is good for tucking things away. Because I use the stand and second monitor, the laptop screen is farther away than if I were working directly on the laptop. For this reason, I prefer my largish 16" laptop screen.
3)      Dell UltraSharp U2312HM 23" Monitor – Besides my chair, I don't think any addition to my office made as big a difference as adding another screen. Being able to have two or more full-size windows open to view and work in saves me lots of time, not to mention saving my eyes.
4)      Dell keyboard – There is nothing special for me about this USB keyboard, but it does the job. It does have music controls, which I appreciate, but I don't use the set of special browser and applications keys across the top. My only wish is that, like the laptop keyboard, it had backlit keys.
5)      Logitech Performance MX Mouse – I've been a fan of Logitech for many years, both for their performance and customer support. I don't use all the bells and whistles, but I like the ergonomics and responsiveness of this desktop mouse.
6)      Logitech Anywhere MX Mouse – I don't really use this on the desk, but have it handy if I take the laptop elsewhere.
7)      Seagate FreeAgent GoFlex 1.5 TB external drive – When the laptop dies unexpectedly at the worst possible time, at least I'll have everything backed up. I also have an HP MediaSmart RAID server in the basement for additional backup, but I'm not sure it will outlast the laptop.
8)      Belkin USB hub – Somehow, I've filled all five ports on this hub, both USB ports on my monitor and two of the three ports on my laptop, leaving only one free for the occasional connection to cameras or other devices.
9)      Logitech Z-5 Speakers – I used to have a soundbar for the monitor, which was okay for webcasts, but these excellent small speakers make listening to music much more enjoyable.
Communications
10)   Panasonic KX-TS4200 4-line phone – I'm down to just two landlines, where I had three before, but I like this phone for its storage and multiple speed-dial buttons. The speakerphone isn't the greatest, however.
11)   Plantronics CS70 VT wireless headset – The freedom of a wireless headset is much better, in most cases, than using either the speakerphone or a wireless handset. I can make it most of the way throughout the house without losing the connection.
12)   Samsung Galaxy S4 smartphone – The landlines are necessary because we have negligible cell coverage at the house. Installing a microcell helped immensely, however. I do like this phone a lot, a big step up in almost every way from a series of Blackberry devices.
13)   Plantronics Discovery 975 Bluetooth headset – Like the Anywhere mouse, I use this more when traveling, but I have it available if I get on a long conversation on my cell phone. Headsets are especially useful for tech support calls, where I'm either on hold forever or running all over the house trying to debug a problem.
Office Essentials
14)   HP 12C calculator – The pinnacle of financial calculators, I still have mine, but I don't take it with me anymore because I also have an HP12C app on my smartphone.
15)   Uniball Vision Elite pen – Writes great, inexpensive, and doesn't leak on airplanes. (It will usually make it through the wash okay, too!)
16)   Pilot Dr. Grip 0.5mm mechanical pencil – This has a comfortable fat grip that I like.
17)   Staedler Mars eraser – Although I don't find myself using a pencil as much as I used to, this comes in very handy every tax season when I'm trying to make all the numbers add up!
Whew! That's a lot of stuff in a small space, but it's set up in a way that works for me. I'm interested in reading about other office setups to get ideas on further improvements for my productivity and comfort.