We use affiliate links. If you buy something through the links on this page, we may earn a commission at no cost to you. Learn more.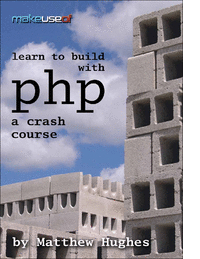 Learn to Build with PHP – A Crash Course is a free 29 page PDF book that will teach you the basics of the PHP programming language. It starts out with instructions for setting up a development environment for Windows, OSX, Linux and even Android. Then you are shown how to make the all important "Hello World" first program. The guide covers a lot of info to help you get your feet wet with PHP. You'll learn how to create forms, databases and more. This guide won't turn you into an expert, but if you've always wanted to learning a new programming language, why not start with PHP?
There are a few hoops to jump through to get this guide, but it helps The Gadgeteer to earn some some affiliate fees that can help us to bring you more cool product reviews.