We use affiliate links. If you buy something through the links on this page, we may earn a commission at no cost to you. Learn more.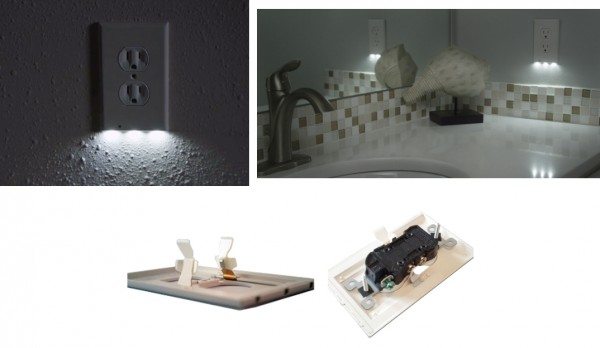 We have a long, dark hallway that has overhead lights, but those are too bright to leave on all night.  There are a couple of outlets along the hall, and I've thought about buying some LED night lights to light up the hall at night.  I've hesitated to do that, because the hall is narrow, and I'm afraid someone or something would knock into the night lights and damage them, the wall, or the outlets.  This Kickstarter project is the solution for my dark hall.  The SnapRays Guidelight from Snap Power looks like normal outlet covers, but they have LEDs embedded in the bottom edge to serve as a night light without tying up one of the outlets.  These outlet covers have "patented 'Power Extractors' on the back side of the Guidelight that slide into the electrical box and around the outlet receptacle, making contact with the sides of the outlet.  This proprietary technology is what enables the device to extract power from the receptacle without having to hardwire, plug into, or occupy an outlet."  They have a light sensor that turns the night light on when it's dark and off when it's light.  They are UL approved, and they use only 5 milliamps of power and cost only pennies to operate for a year.
The SnapRays Guidelight project met its funding goals within two hours, but there is still plenty of time for you to support the project and get your own Guidelights.  A $12 pledge gets you one Guidelight in either decor or normal duplex style, $24 for three, or $40 for five.  Shipping is expected to begin in May, 2014.