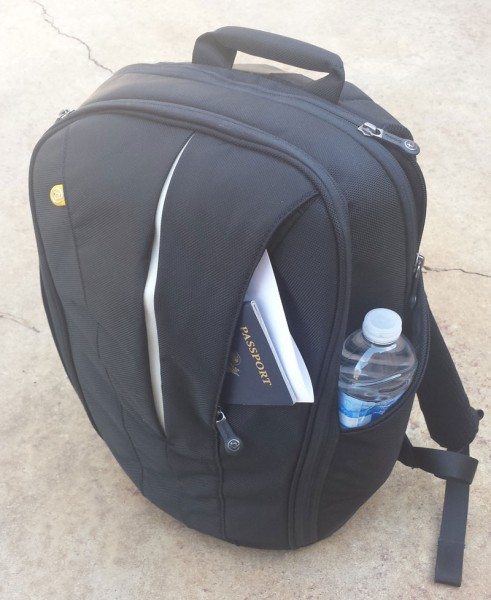 My wife told me I had to get rid of it.  I have used this one backpack for every family vacation for the past 10 years and more trips than I can recall.  Half the zippers don't work anymore, and there are holes in several of the pockets.  But it was my go-to bag, with a plethora of pockets, padded shoulder straps, and loads of memories. But it had to go… she had spoken. So I was looking for a replacement.  In comes the Booq Boa Shift Laptop Backpack. It was designed for laptops, but could I use the Boa Shift as an all-around backpack in addition to toting my laptop? Could it be a worthy replacement to hold all the stuff that my wife and my kids don't want to carry around the theme park?  Let's find out!
Outside of the bag
The first thing you'll find with this $149.95 bag is that it just feels quality. For example, the handle at the top of the bag has a solid tube of some kind sewn inside the handle, so when you pick it up with the handle you have a firm grip on the bag.  You'll see that the entire back of the bag has some serious padding.  Put this bag on your back and it sort of feels like there is a comfortable pillow on your back. Yes, it's that comfortable. The wide, adjustable straps are also padded, and I have yet to experience any fatigue in my shoulders from carrying this bag. The straps have a mesh pocket built into the outside of them to put your cellphone, as long as it is roughly the size of the iPhone 5 or smaller.  My Samsung Galaxy S4 is too wide to slide into the pockets however.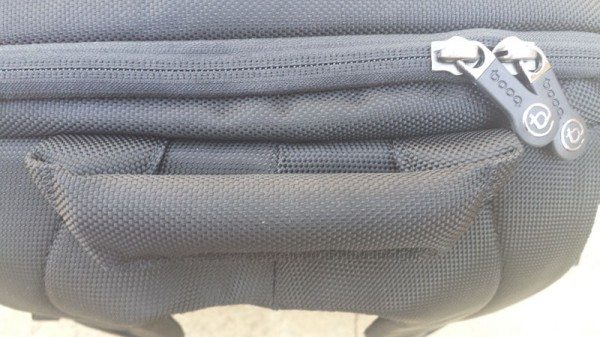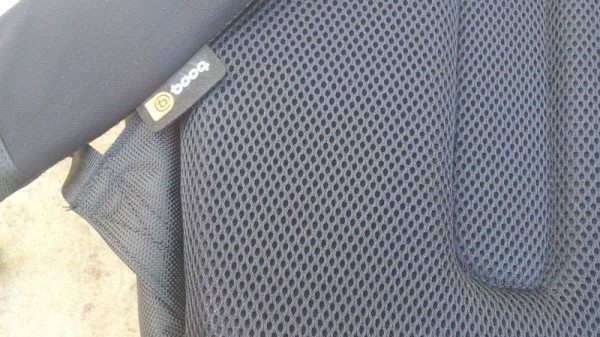 Examine the stitching over the entire bag and you'll see that it appears like double and triple stitching all over the thing.  The outside of the bag is made of ballistic nylon and is water repellent.  For those who don't know, ballistic nylon was developed in WWII for airmen's suits to protect them from flying debris and flak because it is lightweight and tough. Today it is used extensively in luggage and as it turns out, in the Booq Boa Shift bag! In fact, it comes with a 5 year warranty, which is better than my car actually.  The white accents you see down the front and bottom of the bag are just that. Accents.
As you can see from the main picture above, there is one outside pocket on the front of the bag that is big enough to hold a couple of paperback novels, or your travel documents.  There is a pocket on either side of the bag that hold a bottle of water rather nicely. To round out the tour of the outside of the bag, at the top of the back you'll find a metal plate with a serial number on it.  You'll also find a message saying "If found, please visit www.terraling.com".  Basically, you go there and register your bag with that number if anybody finds the bag and enters the number on that website, they will be able to contact you to return the bag.  But I think that if anybody finds this bag, they won't be contacting me.
Inside of the bag
The inside of the bag has 2 main compartments. The one closest to the back is where you put your laptop. This bag can handle up to a 15 inch laptop.  My big honking Gateway 15 inch laptop fits nice and tight in there, and the padding on all 4 sides of the compartment keeps it nice and safe.  There is even room at the top of the compartment to put the power supply.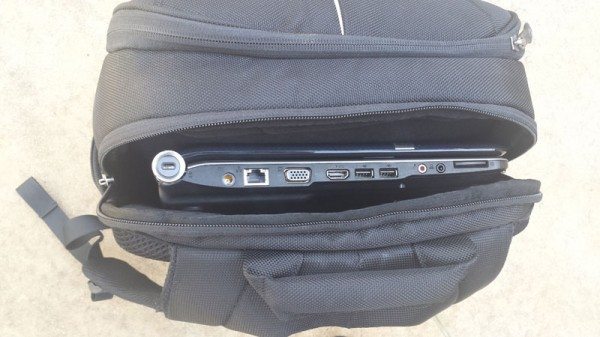 The second compartment is like your grandma's kitchen, with storage compartments all over the thing.  The compartment zippers unzip almost all the way to the bottom of the bag so you can open it nice and wide, to reveal a mesh zipper pocket and a key ring with removable clip, and 9 pockets of various sizes for everything from tablets to pens.  You even get a removable zippered nylon pouch to hold your pens, pencils, change, gum, or whatever you don't want rolling around at the bottom of the bag.  I have used the Boa Shift numerous times to haul 2 laptops, putting the second laptop in the second compartment and it worked just fine.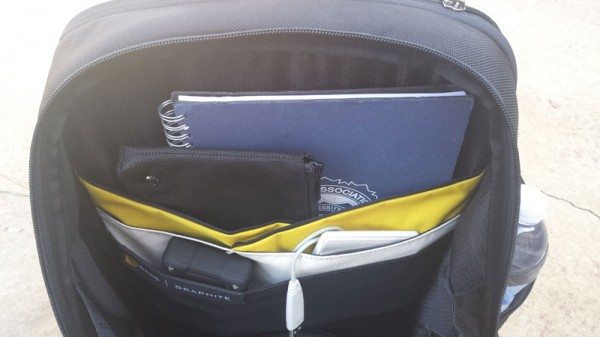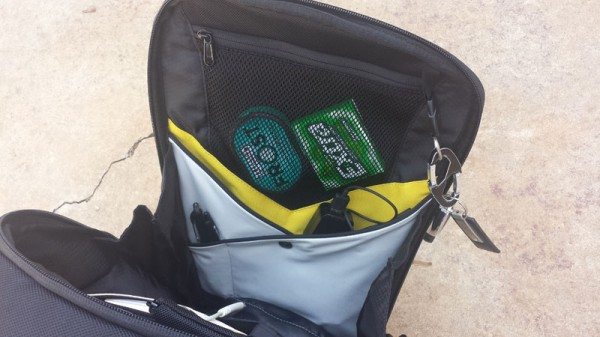 Final thoughts
I must admit that a little tear rolled down my cheek when I saw 'old faithful' go in the trash. Then I dashed in the house to explore the Boa Shift!  I even quit carrying my daily-use bag, the MobileEdge ScanFast bag that I reviewed 3.5 years ago, in favor of the Boa Shift.  And I never thought that would happen. (NOTE: I have hidden that bag so my wife doesn't make me throw it out too!)
The Boa Shift doesn't have quite as much space as my old backpack, but the quality and comfort of this bag are a valid trade-off for me. The handle on the top makes it easy to grab and run out the door, and it is comfortable enough to sling over my shoulder for long periods at a time.  The $149.95 price is steep to be sure, but if you find yourself having to get a new bag every year or so because of wear and tear, I think you can justify spending a little more to get a bag like this that will last you several years.  I think you'll be as happy with this bag as I am.
Update 12/18/14
10 months in, with a little dirt around the edges, my Booq Boa Shift bag is still going strong.  Not one seam has split, and not one zipper has failed.  Love this bag.
Source: The sample for this review was provided by Booq. Please visit their site for more info.
Support The Gadgeteer
:
We may earn a small affiliate commission from purchases made from buying through links on our site. As an Amazon Associate I earn from qualifying purchases. Learn more.
Product Information
Price:
$149.95
Manufacturer:
Booq
Pros:

High quality materials
Comfortable
Multitude of pockets

Cons: