We use affiliate links. If you buy something through the links on this page, we may earn a commission at no cost to you. Learn more.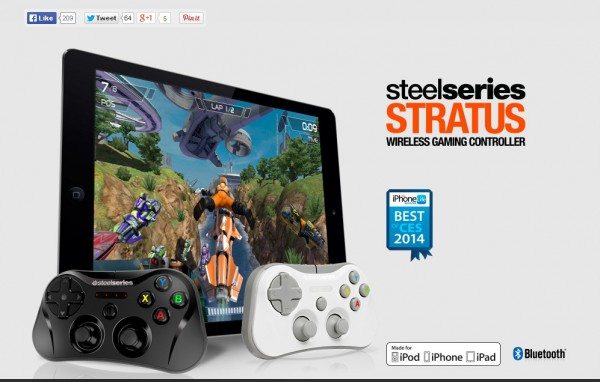 So, I am moving up in the world, I am upgrading to an iPad air from my old iPad2. Better graphics, better weight, better gaming just to name a few advantages. Speaking of gaming, one area that the iOS devices lack in the gaming arena is a decent hand-held game controller. The SteelSeries Stratus hopes to change that. Unlike other iPhone controllers the Stratus is a standalone controller that does not have to be attached to the device, thus allowing it to be used by your iPhone as well as the iPad. With the following spec from the SteelSeries website:
COMPATIBILITY
iOS 7 or Later Plus the Following:
iPhone 5s, iPhone 5c, iPhone 5
iPad mini, iPad Air, iPad 4th Gen
iPod touch (5th Generation)
BUTTONS
4 Pressure Sensitive Face Buttons
4 Pressure Sensitive Shoulder Buttons
Dual Analog Sticks and 4-way D-pad
On/Off Switch and Pairing Button
CONNECTIVITY & BATTERY
Bluetooth 2.1
10hrs of Battery Life
Charges via USB
SIZE & WEIGHT
Weight: 75 grams (0.165 lbs)
Height: 33 mm (1.3 in)
Width: 60 mm (2.66 in)
Length: 110 mm (4.33 in)
The Stratus has a similar form factor to an XBOX or Play Station controllers.
With a price of $79.99 from the SteelSeries web page the Stratus is on par price-wise with similar devices, but may be ahead of the game with versatility.