We use affiliate links. If you buy something through the links on this page, we may earn a commission at no cost to you. Learn more.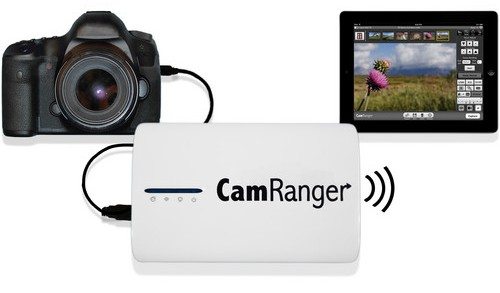 I own a Canon 5D Mark III dSLR full-frame camera and I adore it beyond measure but it does not have a built-in intervalometer for taking time-lapse shots.  Enter the CamRanger!  This little battery-powered gadget creates an Ad-Hoc WiFi network that connects your camera to your Android or iOS device through a free app.  Not only does it have an intervalometer feature, it also acts as a remote control (including bulb mode), does focus stacking (great for those macro shots at wide apertures) and even HDR.  This device gives you nearly complete control of your dSLR from a distance of up to 150 feet.  Some users report setting their camera to aim at their bird feeder and then sitting inside snapping photos when birds come near so as not to startle them!
The CamRanger connects to your camera through its USB port and gives you not only access to a live view of what your camera is seeing but you can even browse the memory card in the camera to see what you have already taken!  Since it's recharged through the USB port, you can carry an external battery pack and recharge it on the go.  Not compatible with all models of Nikon or Canon cameras but a full compatibility chart can be found at the product page at B&H Photo where it retails for $299.99.