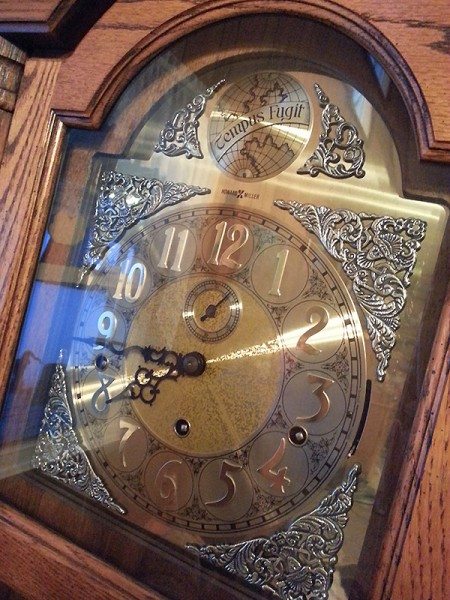 A few weeks ago our 25 year old grandfather clock stopped running. We tried restarting it multiple times by swinging the pendulum and it would run for 30 minutes or longer, but would then stop at some point. We had a clock doctor come to the house to clean the clock 7 years ago and he had remarked at that time that it was showing a lot of wear and might need to be replaced. Luckily it ran for another 7 years. This time we've decided not to pay $125 to get it cleaned since that might not fix it this time, but to go ahead and splurge on a new clock movement.
We've had the clock in our living room for the last 15 years and have grown accustomed to hearing it play the Westminster chimes every 15 minutes and then chime the number of hours at the top of the hour. This is how I tell what time it is in the middle of the night if I wake up. For example: bong… bong… bong… oh good, I still have 2.5 hours to sleep until the alarm is set to go off at 5:30am.
Jeanne kept commenting that she missed hearing the sound of the clock chiming. Since we were going to have to wait a few weeks for the new movement to come in after ordering it from the clock shop, I decided to find a gadget to temporarily solve the problem.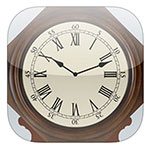 The solution I came up with was to use my iPad mini with an app called Westminster Chimes from LutherSoft. This is a very simple app that plays five traditional clock melodies including: five traditional Westminster, Whittington, St. Michael's, Canterbury, Winchester.
The app is available in a free lite version or a full version for .99 cents. I went ahead and bought the full version. The difference between the two versions is that the chimes will only play when the app is running for the lite version. The full version will play the chimes play even when the app is not running.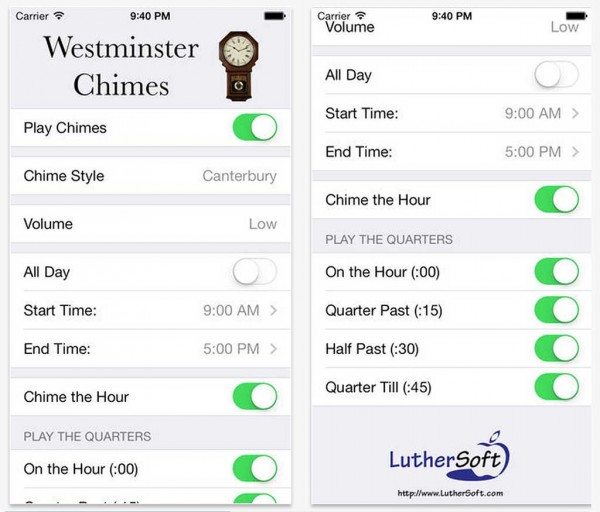 Note that this app isn't a true clock app in the sense that it doesn't display the time. It's for sound only. So, with the app set to chime all day, on every quarter hour and at high volume, I set the iPad mini on the coffee table in the living room and waited for Jeanne to get home from work.
The first time she noticed it, she got really excited because she thought our clock had spontaneously come back to life. But when she went out the living room and saw that pendulum wasn't swinging, she wanted to know what was going on. I showed her the iPad mini and she smiled, but then she asked, "We're still getting the clock fixed right?"
"Yes, but this would save us $600," I said.
Jeanne frowned and said, "But it's not the same as a real clock."
We've been using the iPad mini / Westminster Chimes app solution for the past week or so, but like Jeanne, I'm ready for the "real" clock to be fixed. Although an advantage to using an iPad is that I don't have to wind it once a week 😉
Support The Gadgeteer
:
We may earn a small affiliate commission from purchases made from buying through links on our site. As an Amazon Associate I earn from qualifying purchases. Learn more.