We use affiliate links. If you buy something through the links on this page, we may earn a commission at no cost to you. Learn more.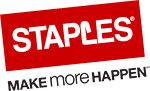 Recycling old gadgets is not a new idea for Staples, they have been offering free electronics recycling service for the past seven years. Since 2007, they have recycled 64 million pounds of e-waste in the United States and plan to take their recycling global by setting a goal to recycle 40 million pounds of e-waste each year by 2020. They have just announced a new trade-in program for small businesses and consumers to recycle used phones and tablets in exchange for eCash cards.
Now you can go to Staples.com, choose the device you would like to trade-in and specify the condition – good or damaged. You'll then receive a quote of what it's worth. At that point you can box it up and ship it to Staples, or you can have a free postage-paid shipping kit mailed to you. After it is received by Staples, they will verify the condition and issue your eCash, which can be used to shop at Staples brick and mortar stores or online.
Some trade-in examples include a good condition Verizon Samsung Galaxy SIII for $89.60, a damaged 64GB iPhone 4S will get you $44.00 and a good condition 32GB WiFi iPad mini is worth $160.00. Those prices look to be around half of the average going rate for the same products on eBay, a little better than Best Buy's values for some items and less than Amazon's trade-in values. Staples does have an advantage over those other solutions because they offer the free shipping kit and they accept some damaged items. It's great to be able to get some eCash for broken gadgets.
For more info visit the Staples trade-in site.