We use affiliate links. If you buy something through the links on this page, we may earn a commission at no cost to you. Learn more.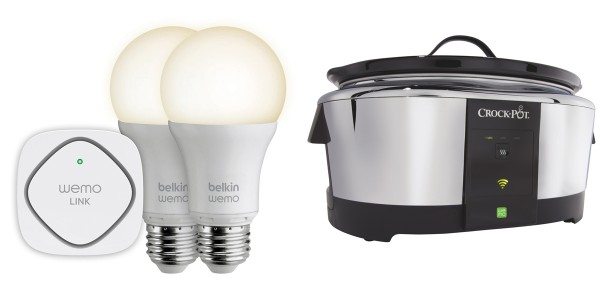 According to Belkin's latest press release, they are introducing new WeMo products at the 2014 CES.  I've been using Belkin WeMo Switches to automate my lamps for months now, and they have worked flawlessly.  I wanted to use some of their WeMo Light Switches to control ceiling lights, but the wiring in my older home isn't compatible.  With Belkin's newly released WeMo Smart LED Bulbs and the WeMo Lighting Starter Set, I could place 60W-equivalent bulbs in ceiling fixtures or any lamp I wanted and control them with the WeMo app for iOS or Android.  Unlike the Phillips' Hue bulbs, these aren't color-changing; they produce "800 Lumens and 3000 Kelvin for a bright, pleasing warm white light."  They are dimmable, programmable, and can be controlled from anywhere in the world.  The starter set comes with two bulbs (extras are $39.99 each) and a hub that can control up to 50 bulbs; it will be $129.99.
They also have the WeMo Maker, which has a controller module and a receiver module that you wire into any low-voltage device controlled by a DC power switch.  You'll be able to create your own programs (using the WeMo app) to control sprinklers, powered blinds, and other devices around your house.  The press release includes no pricing information for the Maker.
And if your Crock Pot isn't automatic enough for you, Belkin has teamed with Crock Pot to make adjustments to the temperature, check the status of your cooking food,  receive reminders, or adjust the cooking time from anywhere you have internet access.  The internet-connect Crock Pot Smart Slow Cooker will be $99.99.
All these products should be available in Spring 2014.