The Gadgeteer is supported by readers like you! If you buy something through links on our site, we may earn an affiliate commission at no cost to you. Thank you! Learn more.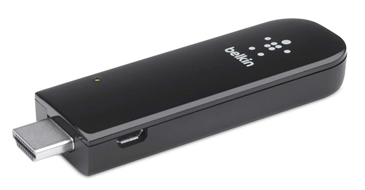 Belkin has launched its new Miracast Video Adapter designed to mirror your Android screen onto your HDTV wirelessly. The small adapter plugs directly into your TV's HDMI port and turns it into an external video display without connecting a physical cable from your device to the TV. Once connected, you can stream any content on your device including movies, TV shows, photos, video clips, games or apps, directly to your HDTV in full 1080p resolution without wires.
You might be wondering how the Miracast differs from Google's Chromecast adapter. Chromecast only works with certain apps like YouTube, Google Play, Netflix, Hulu and others. It requires special software hooks in the apps that you want to stream from your Android device to your TV. For example, when you go into YouTube on your phone, you have to press the Chromecast button to play a video. Then instead of seeing it play on your phone, it plays on the TV that has the Chromecast attached to the HDMI port. At the same time, the phone's interface turns into a remote with controls for video playback. The Miracast Adapter just mirrors everything you see on the Android screen to the HDTV.
The Miracast Video Adapter is available directly from Belkin for $79.99.