We use affiliate links. If you buy something through the links on this page, we may earn a commission at no cost to you. Learn more.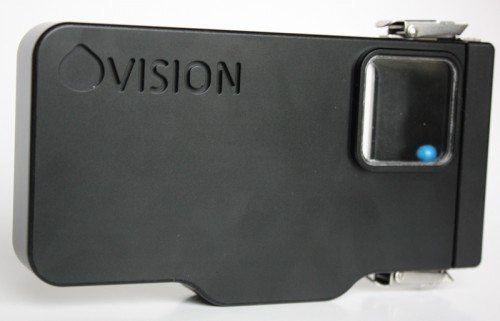 In this day and age, many young people have given up using a point and shoot camera and rely solely on their cell phone cameras for taking pictures. With the advances in camera technology in phones, minus having zoom, the quality can be on par with many point and shoots. But what happens when you only have your phone and want to take underwater photos or videos? Many waterproof iPhone cases on the market aren't meant for taking snorkeling, but the Ovision underwater housing for the iPhone, a Kickstarter project, is made to take with you down to 200-300 ft. I was sent a prototype to check out, so lets see how well it works.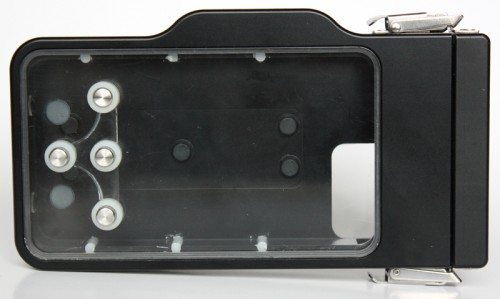 The underwater housing, to me, was designed with simplicity, ease of use, and protection in mind. It is made of stainless steel and aluminum, and has four buttons for use while underwater, so you do not have to fumble with attempting to use the touch screen or volume buttons for your pictures.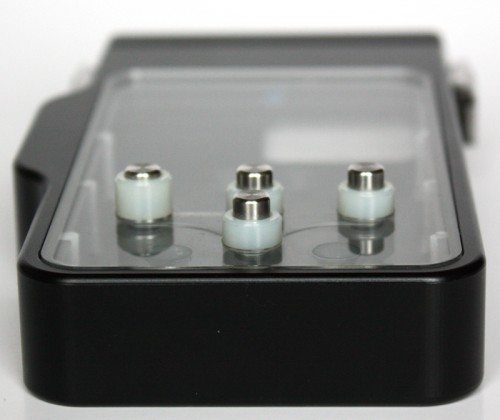 There are four buttons, as I mentioned, one for the home button, and three for use with the standard iOS camera app, or the free Ovision app, which I will delve into at the end of the review. The buttons need to be more sensitive, since even with the home button, it took several tries to get the button pushed down enough to get it to work. Since this is just a prototype, I hope they can get this fixed for their final product, as this was the biggest gripe I had with the underwater housing unit.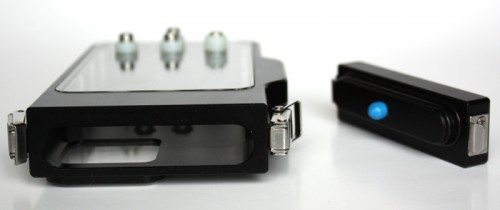 Installing an iPhone into the underwater housing is easy. You just flip up the latches, pull off the top, and slide the phone in. You then just pop the top on and lock up the latches again. Once installed, the phone stays firmly in place and will not move around.
When testing the case's underwater capabilities, I left it in my sink for a good 4 hours, and when opening the top again, it was bone dry inside. I would feel very confident that it would not leak while underwater.
You can also see holes where different things can be attached to the underwater housing, such as an aluminum grip. I would really like to see some sort of accessory for attaching the underwater housing to yourself, whether it be a wrist strap or a lanyard. The underwater housing is very heavy, and will sink quite rapidly. If you were to accidentally let go of it while fumbling around in deeper water, you may lose your phone for good without something to keep it strapped to your wrist. I wouldn't dare to take this out in more than 10 ft of water without something to keep it attached.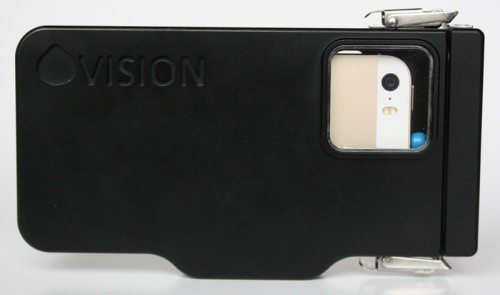 The back of the underwater housing has a nice logo and a nice sized cutout for the camera. You really cannot use flash with the case on, as it will glare, but it's not normal to use flash underwater, so it's not a problem.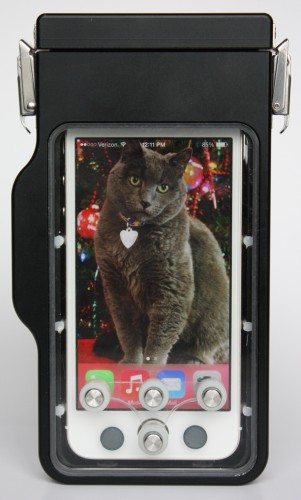 Here is what the iPhone 5 looks like while in the underwater housing. It is recommended that you set your screen lock time to never and place either your camera app or the Ovision app on the left or right side of the bottom tray so you can access it with the buttons with the housing on.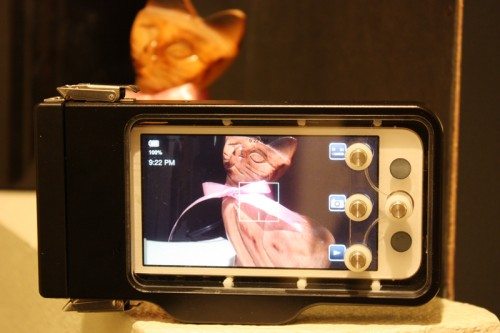 Never miss one of our posts again. Sent MON, WED, and FRI with the latest gadget reviews and news!
The Ovision app is as simple to use as the underwater housing unit. There are only three buttons; one to switch between video and photography, a shutter button, and one to view your photos. When viewing your photos, the bottom two buttons turn into directional arrows for scrolling through your photos.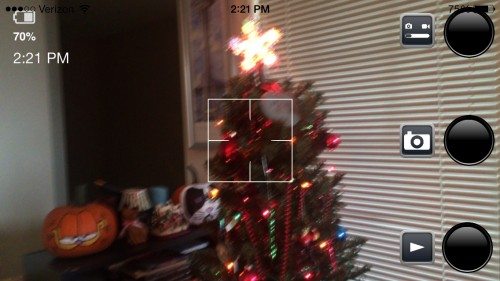 The display in the Ovision app shows you what time it is and what your battery percentage is. It seems to round to a percentage, since it shows 70% when it's actually 75%, and currently it shows my 91% at 100%, but it gives you a general idea of how much battery life you have left. The auto-focus worked just fine, the above picture is just blurry because I was taking a screen shot and my hands jiggled the phone around.
I feel if they can make the few tweaks I mentioned above, with button sensitivity and adding a way to attach it to your person, that the underwater housing can be a very good product. The price may be a little steep, but they used quality materials, and it certainly feels like a $100 case. Would I jump on their Kickstarter campaign if I used my phone underwater? If I knew they'd make the changes above, I possibly would.
Product Information
Price:
~$95-$120
Manufacturer:
Ovision
Pros:

- iPhone feels safe and secure inside
- Really simple to use
- App is simple and does its job well

Cons:

- Very heavy and sinks quickly in water
- Buttons are not very sensitive